Southwest Missouri boasts some of the best cattle country in the United States, a fact the cattlemen of Barry County proved true during the annual Southwest Missouri Cattlemen's Association annual tour on Saturday.
With tight cattle margins and dry pasture conditions in the county, genetic selection and profitability were the themes of the day.
Better Bulls
On Ronnie Vieth's small cow-calf operation near Purdy, bull selection provides the biggest benefit and the biggest challenges.
For a small herd, a lot of genetic gain can be won with a simple herd sire swap, but the opposite is true if the quality of the bull goes down instead of up.
"I look for bulls in at least the top 30% of the Angus breed in most carcass traits, and I pay attention to hair shedding EPDs as well as their foot scoring," Vieth said. "I prefer to have a bull that's been genomic tested to increase the accuracy of those numbers."
In an environment like Southwest Missouri, where quality cattle aren't hard to come by, there are any number of bulls that fit those parameters. One additional criteria makes it a little simpler for Vieth to narrow down his choices.
"Most of the bulls that fit those parameters will be eliminated based on price, and that's okay," Vieth said. "I spend a lot of time reading sale reports, going to sales and researching online before I find an option that fits and sometimes I get a bargain."
Vieth developed his bull selection criteria using herd data he obtained through many years in the Missouri Steer Feedout. When buyer comments came back from his first feedout in the late 1990s, Vieth noted their claims the cattle were a little thin and that there were too many smokey-colored steers.
His switch to more carcass-driven black bulls only increased his positive buyer comments, quality grades and overall herd quality in the years to come.
"The information I've gained from the Missouri Steer Feedout helped give us an idea initially of what to select for in our bulls and then in late feedouts I got a better idea of the improvements I had made," Vieth said. "I recommend everyone participate in the feedout at least once."
Healthy Heifers
The next tour stop at Cherry Warren's operation closer to Exeter brought maternal genetics to the forefront. The replacement heifer-driven operation brings different protocols to the table with just as much influence on superior genetics.
"I like for the bulls I use to be in the top 10% of their breed averages for most carcass and maternal traits," Warren said. "Scrotum size is also really important because I think that translates to a healthy heifer reproductive tract size."
Warren's use of artificial insemination and estrous synchronization helps make elite genetic choices more accessible, as well as giving his first calf heifers an especially good start.
"To me, heifers born out of first calf heifers represent my best available genetics," Warren said. "I've invested a lot of time, effort and money into them at that point, and they're valuable both to me and based on market price."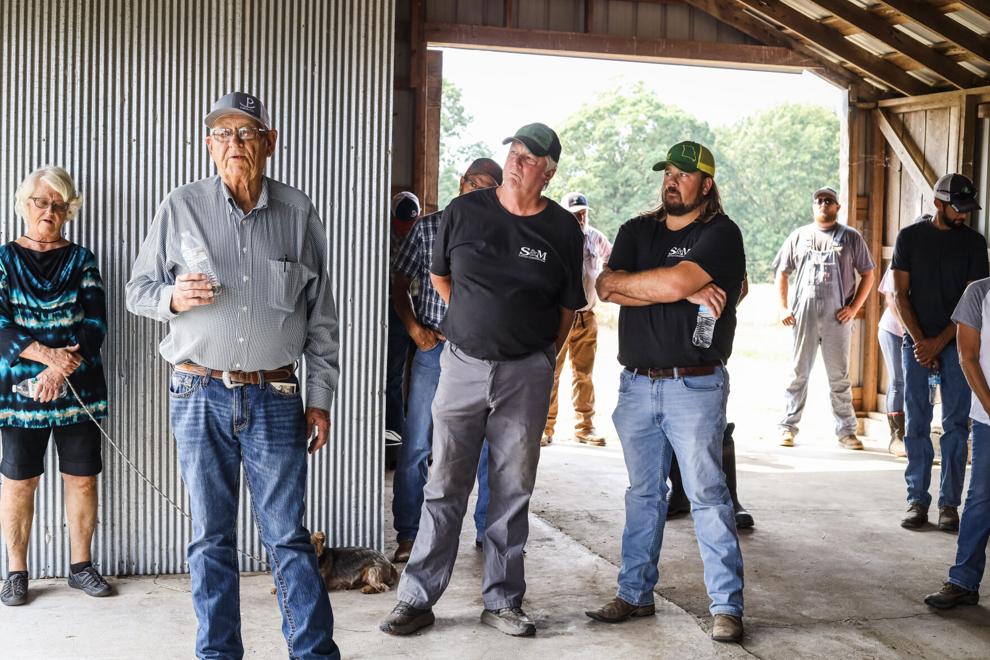 One change Warren said he made in the past few years that helped tighten up his calving season is the timely addition of clean up bulls to his synchronized heifer pens. Although generally doing so would cause some confusion about the parentage of the calves, this year Warren's breeding protocol used Hereford AI sires and Angus clean-up bulls. The results were fairly obvious.
"One thing that's made a big difference in the way I handle synchronizing heifers is when I put the clean-up bulls in," Warren said. "Letting the live bulls out as quickly as two days after a round of AI breeding helps us get tighter calving periods, especially with first-calf heifers."
A Futile February
One shared struggle for both Vieth and Warren's operations was the success of their February calving season, or the lack thereof. Temperatures well below zero and several inches of snow wreaked havoc on cattlemen all over the Midwest this year and neither of these operation managed to escape without losses.
"If you weren't outside within an hour or two of the cow giving birth, it was almost a lost cause for the calf," Vieth said. "We had several calves inside our house with my wife aiming two hot hair dryers at them and still, we lost some."
Even in areas where calf mortality was low, sickness and frozen ears caused problems. However, the risk of a dangerous snow again next year isn't enough to deter this year's planning for February.
"Losing even one is too many for me," Warren said. "Despite how bad it was this year, I'm still syncing heifers to calve in February next year. You can't depend on what the weather will be doing."
Warren said he's not taking the losses to heart when culling cows for the coming year, especially given the environmental considerations.
"I'm keeping all of the heifers and cows that lost calves in that snow storm," Warren said. "The conditions were bad and the deaths we had definitely weren't the fault of the cows."