Each year, our nation's neighbor to the north, Canada, produces millions of acres of spring canola, while Kansas' neighbor to the south, Oklahoma, is one of the top winter canola-producing states. As more producers look for profitable, sustainable crop rotation options amid decreasing wheat acres, canola warrants close consideration.
During the annual Agronomy Night, hosted by Wildcat Extension District in Independence, Kansas State University agronomist Mike Stamm made the case for canola production in Kansas.
In the late 2000s, the United States was quickly closing in on 1 million canola acres farmed, with Oklahoma and Kansas toward the top producing states. In subsequent years, high rates of winter kill and rough harvest weather began a gradual decline in in those acres, but the prospect for adding canola into existing rotations is still strong.
"To me, the biggest opportunity associated with canola is the diversification of our cropping systems," Stamm said. "Winter canola is a cash crop with some cover crop benefits."
Canola is a brassica with a taproot structure, similar to many crop varieties marketed as beneficial cover crops.
"Canola produces a residue that has a very low carbon-to-nitrogen ratio so that residue breaks down quickly," Stamm said. "To me, it makes and excellent seed bed to double-crop soybeans, sorghum or even corn in some areas."
Canola residue produces a mellowing effect in the soil, Stamm said. Its taproot structure allows it to procure and distribute nutrients buried more deeply in the soil than shallow-rooted crops. Canola in a rotation or cover-crop scenario can provide opportunities for increasing yield and quality for other crops in the rotation, Stamm said.
"We have data and anecdotal data from producers who say they see a yield increase after they introduced canola into their rotation for diversification," Stamm said. "We've certainly seen winter canola clean up trashy wheat in the south-central part of the state and initially that's the reason why we saw an increase in winter canola with producers looking to grow better wheat."
In a K-State study Stamm facilitated, fields in three areas across the state in continuous wheat production saw the greatest benefits for including a canola rotation.
"We did a one-year study at several locations in Kansas looking at the immediate impact of canola on wheat yields," Stamm said. "At our three locations, we saw anywhere from a 13 to 51 percent increase in wheat yields in the first year following canola."
Stamm acknowledged canola is currently in a challenging commodity price situation. However, he said the limited additional requirements to plant canola and its production benefits for subsequent crops make it a viable option for Kansas producers.
Canola can grow in a variety of row spacings, from 7 inches to 30 inches, which allows for flexibility in equipment, placement and subsequent crops.
"Canola is a plant that can compensate for open space," Stamm said. "It really likes to branch out into open areas and if there is a bare spot in the field it's a great spot for that."
While no new equipment is necessary to transition from growing crops like soybeans and wheat to canola, some equipment might need minor modifications.
"You won't have any duct tape left if you have trucks or combines with holes in them because canola has a very small seed and a lot of people say it will flow like water if it finds an open hole," Stamm said.
In no-till situations, additional residue management may be needed to ensure canola survives and thrives through the winter. Residue needs to be moved out of the seed bed in order to expose a small amount of bare soil around the seeds to increase surface soil temperature.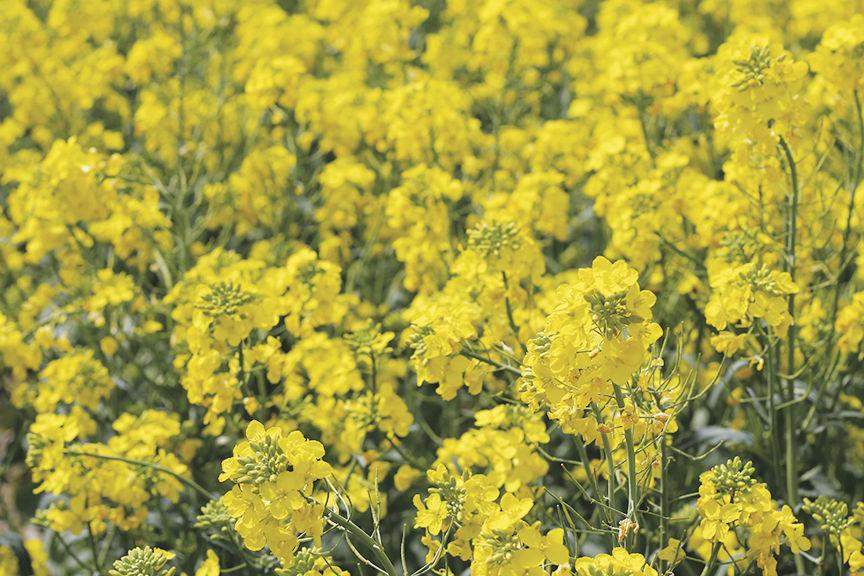 "Canola is a very small seed crop and shallowly seeded as well so soil moisture is critical in establishing a stand," Stamm said. "We want to get top growth so that we can overwinter."
Canola oil is an increasingly popular cooking agent with a high demand that Stamm said he sees an opportunity to meet locally.
"There's a great demand for canola oil in the U.S. and in the world," Stamm said. "Right now we import 80 percent of the canola oil that we consume in the U.S."
The closest market for canola seed in Kansas is located in Goodland and may require some community cooperation for efficient product delivery, Stamm said.
"There is a readily available market for canola but it will take some planning on behalf of local cooperatives, a group of farmers or just yourself to get the crop to market," Stamm said.
Although K-State and Stamm have studied canola in Kansas for over 15 years, it is still a relatively new production opportunity with many more intricacies to uncover.
"We're constantly learning how this crop can be grown and how we can do a better job of growing it," Stamm said. "There's a lot left to learn about this crop but I think we have made some significant strides."