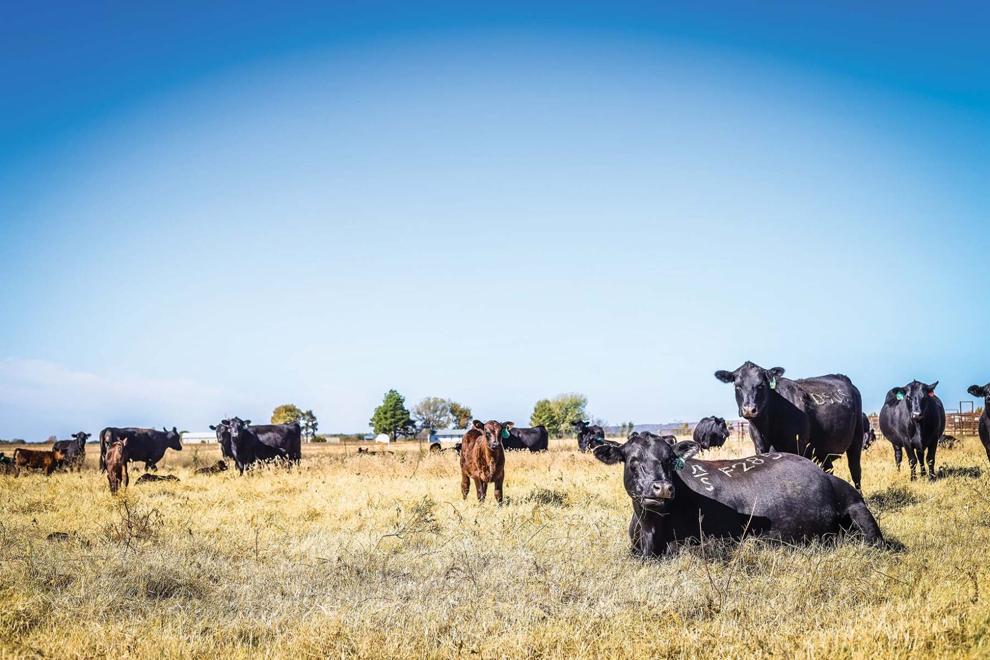 Optimism has never been higher in the cattle industry, at least according to Wesley Tucker, University of Missouri Extension ag business specialist. Steady beef demand and tightening cattle supplies alongside the promise of a smaller 2023 calf crop have beef producers holding their breath and flashing back to the glory years of the mid 2010s. However, high commodity prices, the threat of economic downturn and global uncertainty mean a stellar year is anything but a sure bet.
"Everyone keeps asking me if this is 2012 all over again. And I say absolutely," Tucker said. "We're forecasting less cow numbers next year, even less cow numbers a year after that, and really not being able to start growing the cow herd until 2027."
While historic price projections from 2012 closely mirror today's projected curve, Tucker said producers should remember the direct impact cattle production increases in 2014, 15 and 16 had on changing 2012's predicted outlook.
"We grew the cow herd like crazy in 15, 16, and 17," Tucker said. "We did what we didn't think we could do. Suddenly, we saved every old broken mouth cow that could have a calf, every heifer got exposed to the bull. We grew like crazy. And we were our own worst enemies."
In addition to an increasing cow herd, increasing beef production also made the last few years challenging for producers hoping to make a profit.
"We have had eight consecutive years of more meat production being on the market," Tucker said. "2023 will be the first year that we have went down since 2014. So we have been building supplies, they've been putting more meat on the market for consumers to eat. This will be the first year we've had less. But it is quite amazing that we have put this much more meat on the market and the consumers have paid more for it all along."
More meat at higher prices has kept beef producers afloat throughout the last few years, Tucker said. Where caution begins to override optimism is in the longevity of strong consumer demand.
"We've got such strong demand, and we've had such strong demand," Tucker said. "Does the consumer start to get a little tired of it[beef]? I hope not."
Beef demand is an increasingly worrisome aspect of overall beef production profitability, especially as talks of an economic recession in the United States gain momentum.
"We are sitting in 2023, which were forecasting 5% unemployment, but a down forward economy. If that can continue as long as unemployment doesn't go up, we can take a little bit of lower production as long as our consumers don't lose their job," Tucker said. "That is that is a real key here. But if this does tend to turn more negative than economists are projecting and our consumers start losing their jobs, then this gets a little bit different."
Although not impossible, Tucker said beef demand remaining high during economic downturn would be an action in opposition of historic norms.
"Every time the economy has turned bad the price of beef has dropped," Tucker said. "This next year, we are forecasting the economy to go bad, but higher beef prices. If that truly does happen, that will be the first time it's happened in the last 60 years."
In addition to the national economy, persisting high grain prices and trucking concerns could also change the outlook for the 2023 production year.
"Farmers are hoarding grain and they don't want to let it go. So the end users are going to really have to have the price to bid up to break it loose," Tucker said. "I will tell you too, we bit a bullet with the rail strike, the rail strike would have been horrific to us. Because we depend on that to move so much of our corn inland."
Any kind of transportation issues, from rail issues, to fuel costs and low water conditions on the Mississippi River could complicate the entire supply chain. Tucker said at the point we are at, any small change in transportation could have big impact on the beef industry.
Overall, Tucker said 2023 is a year where producers need to focus on lessening their dependence on the most volatile factors impacting the beef industry— feed, fuel and equipment. While prices are high, if input costs also remain high, without careful planning producers could be at risk of just "trading dollars."
"I really think this is the year to get our house in order and get our operation managed to boot to its most efficient production," Tucker said. "I think we all need to be thinking what is my drought management plan? I think one of the things I love for you to think about is with higher feed prices. Do I run a few less mama cows? And do I background, my calves a little bit bigger?"
While optimistic for the future of catle prices, Tucker said good management is key to maximizing profitability in both low and high input and overall cattle prices.
"I think we've got better prices ahead. But I'm not sure we got better profitability for everybody ahead," Tucker said. "I think some people are going to make bank and I think some people are just going to trade dollars."