Weather woes and less than desirable field conditions made 2019 and 2020 challenging years for commodity crop producers throughout middle America. In trying times there's no substitute for experience and that's one thing Weir, Kansas farmer Rod Watson, his father Don and son Jared can excel at together.
The Cherokee County family farm entered their first Kansas Soybean Association's yield and protein contest with a bang, winning not just their district, but topping the state as well.
"We placed first in the district with the with the field average of 79.9 bushels per acre," Watson said. "Which, I believe was the highest dry land yield in the whole state for 2020."
There's nothing exceedingly special about the winning field. Watson said the ground has been in the family a long time with consistent results year to year.
"It's a field that has simply typically been good ground, good dirt for us," Watson said. "It's not bottom ground but not upland ground either, just good quality flat dirt."
In 2019, Watson found a field with exceptionally good yields during cutting and even though he quickly stopped the combine, the area remaining wasn't large enough to meet the minimum requirements for entry. In 2020, he paid more attention to preparation when it came time to harvest.
"So this year we probably spent more time on the Gator looking at fields as well as a little bit more preparation time on stand counts, pod counts, population counts, and looking at field conditions," Watson said. "I narrowed it down to two fields, basically, that I thought were going to be high-yielders."
A third party verified the yield and monitored the progress as Watson cut the rest of the field before documenting the yield officially for the contest. Overall, Watson said 2020 was one of the best years for a bushel average over all of their soybean fields in a long time.
"This year just so happened to be a really good year," Watson said. "Every acre of bean we had, whether it was early, late, double crop after wheat — they were all good. There were no bad beans."
Watson Farm
The Watson family has a long lineage of farming in the Weir area with ground and guidance frequently passed down from one generation to the next.
"My grandfather was born here in 1900 and raised right down the road," Watson said. "He started farming in his twenties, and during the Depression he also worked in the mines and ran a road grader for the county — whatever he had to do to keep his family fed."
Work ethic is a key component of successful farming, and it's a lesson Watson's granddad passed down to his father Don, when he transition the farm in the 60s and 70s. The same lesson has been one Watson wanted to pass on to his own son, Jarod.
"I worked two jobs almost my entire life to get established, and I want my son to have option to do the same thing," Watson said. "Right now, he's trying to mold his role here with us."
While Watson spent his time off the farm in law enforcement, Jarod decided to attend Kansas State University majoring in Agronomy, hoping to bring back new ideas and perspective from school when he graduated in 2019.
Today, Jarod works as a crop scout when he's not helping his family on the farm and trying to convince his father to embrace a more scientific, tech-friendly approach.
"I'll look at fields, but maybe I'm looking for something completely different. I'm looking to see, is it due to germinate? Is the stand consistent? Is it out of the ground?" Watson said. "I'm looking at things in a whole different light where Jarod goes out and he's looking at more scientific side of it. He's inspecting the leaves and rolling them over and pulling roots. And, if he sees something wrong, he's pulling soil samples to diagnose the problem more in depth."
Watson said the family's long-time farm hands noticed that the same scenarios are happening today with Jarod farming alongside his dad what also happened when Rod began to transition back to the farm with his dad, Don. The reminder helps Watson keep an open perspective to pursuing new ideas that ultimately pay off in higher yields.
"The question for me always comes down to what my return on investment will be and whether I'm more willing to pay for good or services," Watson said. "Do I want to put my money into product and apply more or do I want to pay for a service that tells me where to apply less product to be more effective? We're always trying to find that balance."
So far, purchasing product is winning out, with the Watsons spending more on fungicides and seed treatments, all under Jarod's more agronomy-focused eye.
"You're trying to get the most bushels you can get, so anything I can put on the seed to help me get that one extra bean up," Watson said. "I'm not happy with a 90% stand, I want the 100% stand."
Overall, Watson said the family's success brought years of experience and new ideas together to get the best results — something he tracked with a simple approach throughout the year.
"I kind of have a mental checklist in my mind, a checklist of things. Were they planted on time? Yes, I get a good stand. Yes. Are they getting moisture? Yes. Am I meeting every nutrient need? Yes. Am I protecting the plant from insects and bugs?" Watson said. "And if I can check off all them boxes as the year is rolling through, at some point, I'll know things are doing pretty good."
Sweet dreams for Southeast Kansas kids
What began as a little winter afternoon project for Tess Watson and her grandson, has had big impacts on quality of live for over 300 Southeast Kansas kids.
Dream Big Little One, a non-profit organization serving Southeast Kansas and Southwest Missouri, started out in January 2020 with a simple fundraiser to meet a need Tess saw through her work with Kansas caseworkers.
"My grandson and I made cinnamon rolls together and sold them to friends to raise money to provide beds for kids sleeping on the floor in our area," Tess said. "I knew one batch of cinnamon rolls would make seven dozen — so we knew we would either raise enough money to do some good or be eating a lot of leftovers."
Initially, Tess's friends and family were happy to help but unsure of what they were supporting, besides delicious baked goods, of course.
"Everyone kept asking, 'What is this for, again?'" Tess said. "It sounds almost unbelievable to think there are any children in our area that doesn't have a bed to sleep on, but when it comes down to paying the water and electricity or having a nice place to sleep, parents have to make tough decisions."
When area parents were laid off or sent home due to COVID-19, caseworkers in the area saw an uptick in precarious living situations for kids. Often parents would give up their own bed to allow children to have a warm place to sleep, while others made due with pallets on the floor. T
he result makes it difficult for kids to focus during school or for adults to function in daily life. Initially, Tess problem-solved by creating a Facebook group where caseworkers could connect and find donated beds to pass down to the families who needed them the most.
"Initially, I would let everyone know when we had a donated bed available and the caseworker would come pick it up at my house to deliver it to the families," Tess said. "Then, the community heard about what we were doing and became even more involved, with businesses donating new mattresses, bed frames and pillows."
The project continued to grow from there, especially when Tess noticed that kids receiving the beds often didn't have anything else to call their own.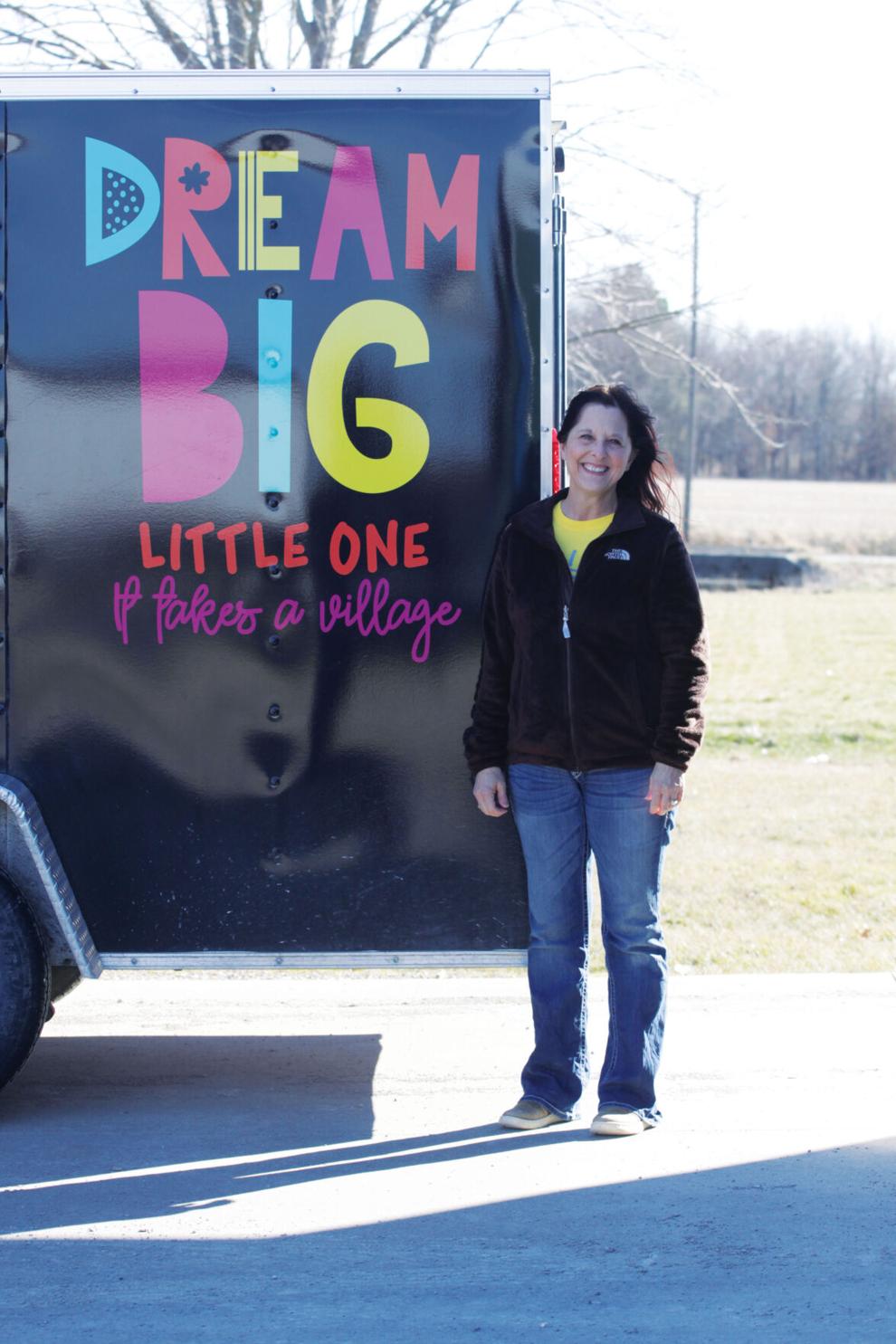 "Now we also give blankets and sheets, anything to give them a safe place to call their own and a good night's rest," Tess said. "It's incredible what a difference a good place to sleep can make in a child's life."
Today, the program has provided nearly 400 beds to families in need, and the Dream Big Little One Foundation isn't stopping any time soon.
"We're opening up a storefront to make it more convenient for families and kids to come pick out their beds and bedding for themselves, rather than having their caseworker supply everything to them," Tess said. "We also developed a new website to make it easier for anyone who wants to be involved to get information."
For more information about the Dream Big Little One Foundation, visit them online at www.dreambiglittleonefoundation.com.