Small town folks pursue projects with passion — not for the promise of fame and fortune — but mostly because tasks must get accomplished and they might as well be done right.
Retired Cherryvale agricultural science teacher Chuck Smith is one of those few, priceless individuals crucial to the success of rural communities; the kind that pursues every project presented with relentless passion.
For Smith, that special dedication to excellence started at a young age riding fences on the southeastern Oklahoma nature preserve managed by his father. The difficult but rewarding task sparked an interest in quality horseflesh and horsemanship — which led to an interest in rodeo, in agriculture and ultimately a degree from Oklahoma State University.
Which, after a stint in the Vietnam War, led Smith to Cherryvale, Kansas, and a more than 30 year career educating the surrounding community in all of the life skills you need to survive as a farmer.
Which, in turn, led to a love for tractors and a collection of toy tractors that spans the breadth of a spotless garage at the local legend's home.
Collecting Tractors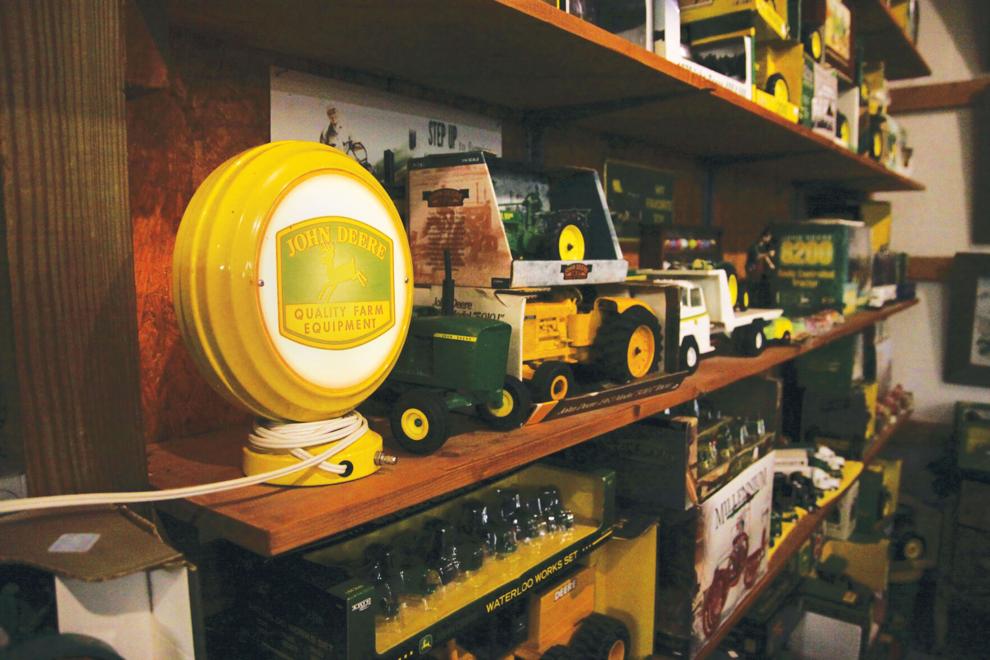 "I started collecting toy tractors in 1973, soon after I started teaching in 1968," Smith said. "At first, I collected all makes and models, but after a while I had too many and needed to narrow it down, so I chose John Deere and stuck with them."
Smith's collection includes all forms of John Deere toys, collectibles and memorabilia, but his main focus area is one-sixteenth scale toy tractors, particularly produced as part of the Precision Elite series.
The majority of Smith's collection was purchased new from local dealerships and preserved in the box as collectibles. Additional collection pieces Smith combed from estate sales, family friends and the internet have all been sent off to toy restoration specialists and returned to their original condition.
"Several of the toys, friends have found for me or I've picked up from sandboxes or left in the field," Smith said. "They needed some cleaning up but were made of heavy metal and after they were restored they looked good as new."
The result of those efforts is a showpiece collection of 200+ pristine small-scale tractors, combines and implements displayed in a still-new shop built in part to house the toys.
And, while Smith has developed a truly impressive amount of valuable collectibles, the most important part of the collection, from an outsiders perspective, is a shelf over to the side that's covered in a myriad of colors other than John Deere green.
Collecting Memories
It looks odd to see red amidst a John Deere collection and while many die-hard enthusiasts might think it's sacrilegious to taint a collection like Smith's with anything other than Deere, there's a purpose for it in this instance.
When Smith began collecting tractor models and toys seriously, friends, neighbors, students and more took note of his pursuit of the perfect tractor. And in turn, bits and baubles began showing up here or there — faded red model tractors from estate auctions, John Deere memorabilia from Cherryvale's old vocational agriculture building, foreign tractor models from the Smith family's foreign exchange students and more.
The collection rests to one side of Smith's main wall and each piece has an origin story, a memory associated with it that he holds dear — above brand allegiance and aesthetics.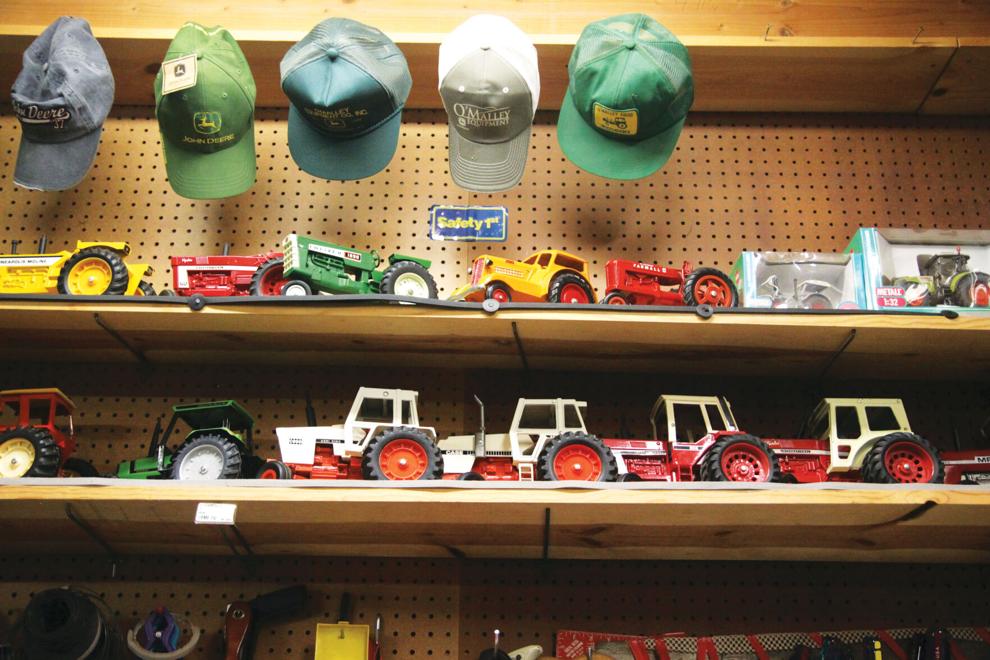 "This lawn ornament was completely faded and I had decided that it wasn't worth saving," Smith said. "As I was setting it out by the dumpster, one of my fellow teachers who taught art, came outside and asked me if I had plans for it. I let her take it home when she offered to try to restore it and now it's beautifully painted. She's incredibly talented."
Every piece in Smith's collection comes with a detailed origin of friends and neighbors who wanted to return the attention and affection Smith had bestowed on the friends, family, children and coworkers. And, they found a way to do it through tractors.
Leaving a Legacy
Any story mentioning Chuck Smith without taking time to highlight his career teaching agricultural science at Cherryvale High School, would be leaving out a huge piece of his legacy and contributions to community.
"I think my claim to fame is winning Horticulture, Entomology, Dairy Products and Dairy Judging all in one day with the same team at Aggie Days," Smith said. "We had a great group of kids that year — there's no substitute for intelligence and hard work."
Before he retired, Smith won the state award for vocational teacher of the year, as well as honorary awards for his more than 30 years at Cherryvale. However, his most rewarding career benchmarks were found in his students' achievements and in personal milestones accomplished over time.
"I was fortunate in my career to have a lot of fellow teachers who engaged me in competition and pushed us all to work harder, be better," Smith said. "That spirit of competition has always driven me — when I was in high school my superintendent told me I would never make it as a teacher and that only motivated me to become the best one I could be."
Today, Smith lives life a little slower than he used to, with fewer legs thrown over the saddle, less welding lessons taught and fewer bus trips captained, but his commitment to excellence and passion for agriculture lives loud in his former students and their families who now succeed in their own pursuits because of his example.
"My students still come by to visit me and talking with them makes the long days shorter," Smith said. "I know I have 5 or more that became ag teachers themselves and I enjoy hearing about their programs."
When the memories attached to the perfectly preserved plastic of Smith's collection begin to fade, the real-time impacts of his lifetime investments in the youth (and adults) of Cherryvale will serve as a reminder of his legacy.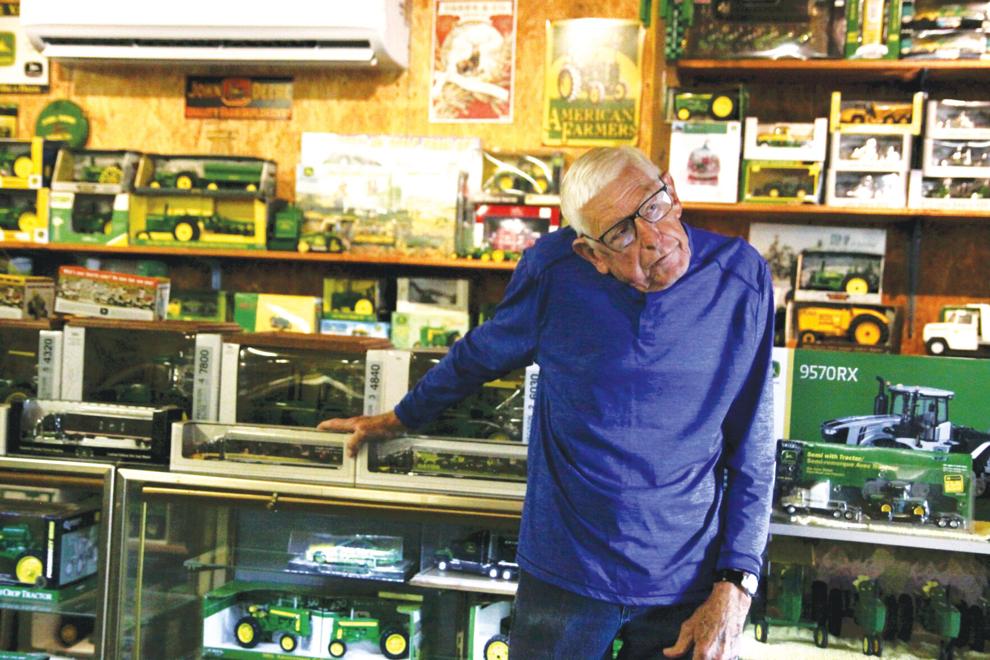 E.M. Tiffany described Smith's exact kind of impact best in his writing of the FFA Creed. "I believe that American agriculture can and will hold true to the best traditions of our national life and that I can exert an influence in my home and community which will stand solid for my part in that inspiring task."