Having grown up on a farm near Ralston in northeast Oklahoma, Kent Evatt wanted to raise his own children in a similarly wholesome environment but knew having enough acres to farm at a profitable scale was unlikely, especially while he was busy capitalizing on an engineering degree.
The solution he and his wife Becky came up with was to turn 14 acres of land on the north edge of Enid into the quintessential, postcard-perfect Christmas tree farm where visitors can soak up a bit of nostalgia while shopping for decorative items, food and gifts or taking workshops on do-it-yourself crafts.
"Conventional farming has become so efficient you can't compete if you don't have thousands of acres," Kent said recently to describe how their venture unfolded. "It's a low-margin, high-volume business, so we decided to explore what we could do with some type of specialty crop."
Beyond looking like an Instagram post come to life, Red Bird Farm represents one family's genuine commitment to living a throwback lifestyle.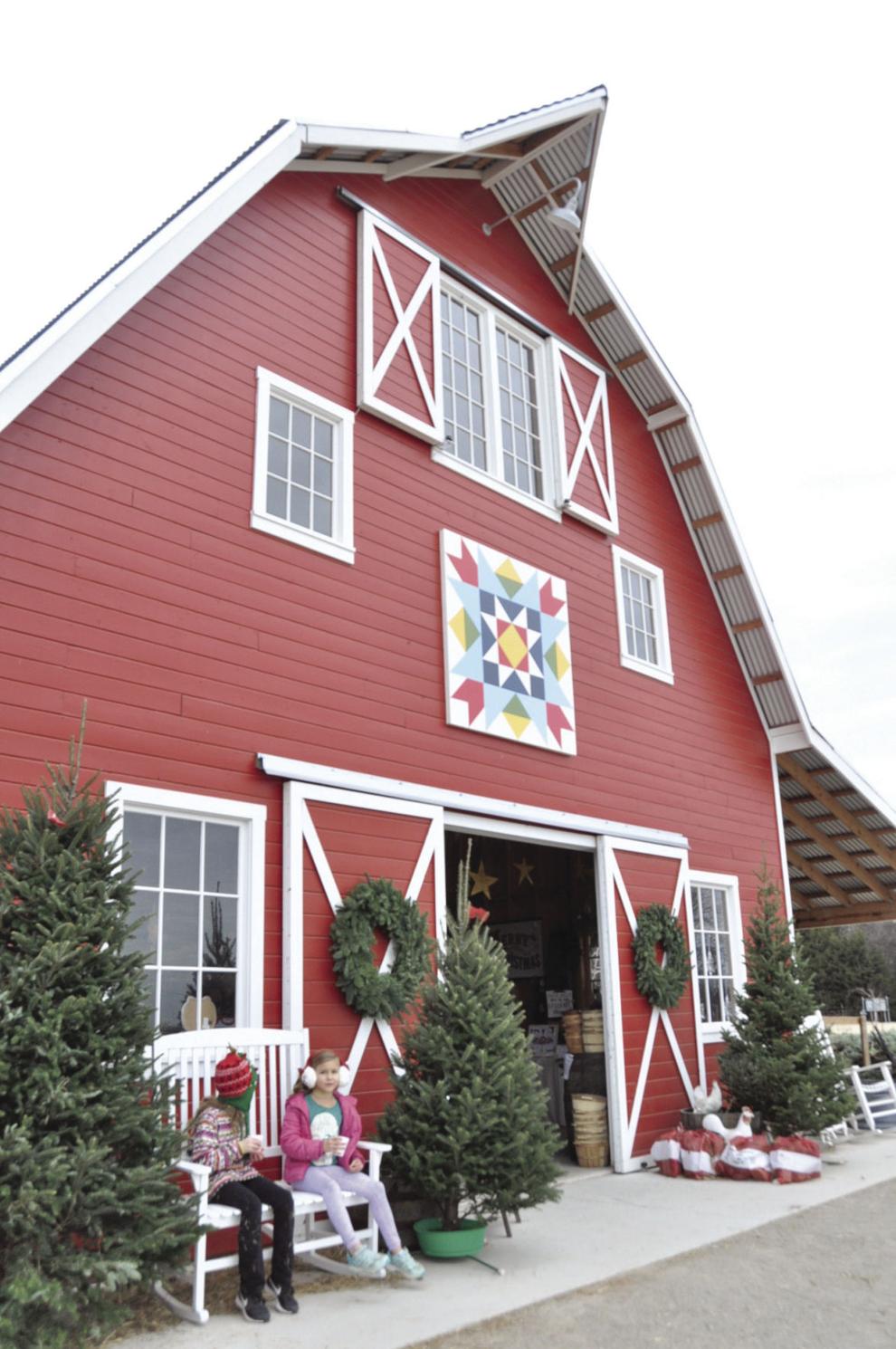 "We have Christmas trees, blackberries and grow a huge garden," Becky explained. "We butchered our own chickens this year, and we have egg layers. So in a way it's like grandma's farm all over again."
With four children ranging in age from 9 years to one still in diapers, they tag-team on parental responsibilities with the expectation that a few years from now their two daughters and two sons will take over more tasks around the farm.
"We knew we wanted our kids to grow up with faith and chores and develop the kind of work ethic that is disappearing from society," Becky said. "We just think work ethic is a huge part of molding you into a better person. With Kent's farming background, everybody had to chip in and help out, and that's definitely what drove us to start this."
While their acreage is small, starting a Christmas tree and U-pick blackberry farm from scratch was a tall order.
The first thing they did was sketch out designs for a traditional farmhouse and big red barn to build on the property.
"We like to look at things from yesteryear and make them fit our modern life, so it was fun sitting down together and drawing up plans," Becky said.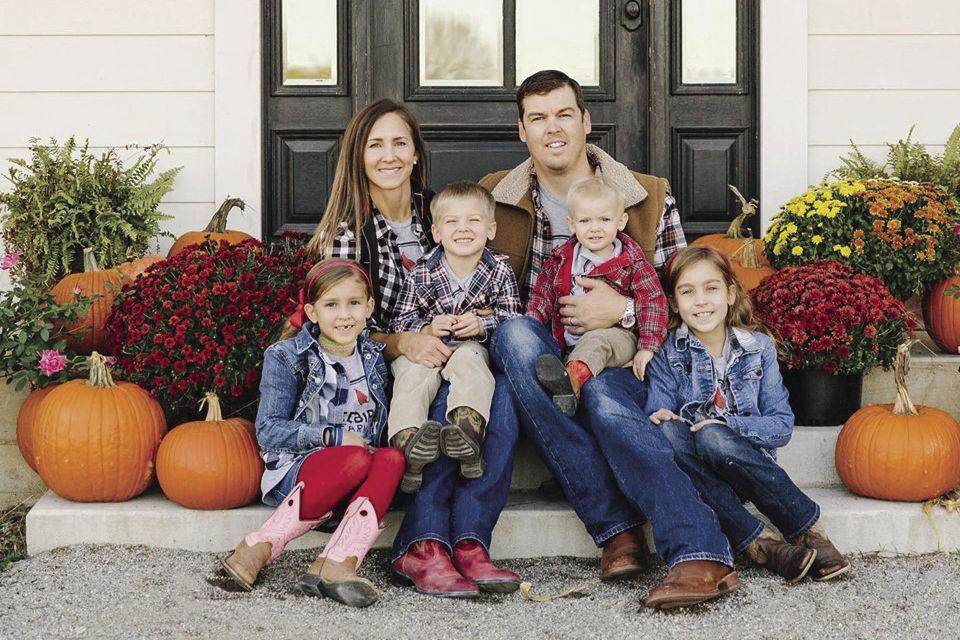 Around the same time, they planted their first 35 pine trees.
"The thing to realize before you even start is that you will be at it a long time before you ever get anything back from it," Kent said. "And if you're doing it in a market like this that doesn't really have any other tree farms, the big question is how many trees do you plant? If you undershoot it, it's not a problem you can easily fix five or six years down the road when you're ready to start harvesting the trees."
In northwest Oklahoma's drought-prone climate, it was also necessary to install a poly tubing drip irrigation system.
They lost a lot of trees the first year while watering by hand with buckets before putting in the irrigation system. They now have 3,000 trees on the property.
In addition, they planted 240 blackberry bushes on a rotating trellis that can be lowered to allow the blooming canes to be covered with a protective tarp in case of a late spring frost. The couple bought the trellis used from a grower near Inola.
Those are some of the big-ticket investments they've made, but Kent also picked up useful tips by serving as president of the 14-member Oklahoma Christmas Tree Farm Association. More experienced and established members have mentored him on things like tree trimming, pest management and pricing.
Some pest control methods have proven surprisingly low-tech. To keep deer away from the young trees, Kent found all he needed was two strands of fishing line strung on plastic push-in posts. Turns out deer shy away from jumping over anything they can't clearly see.
After years of preparation, the farm opened for its first holiday season this year. For now they are selling pre-cut trees brought in for re-sale. It will be another year before guests can select and cut their own from among the Virginia, Scotch and white pines, Norway spruce and non-traditional blue-ice cypress trees on the property.
For this year's sale, they spray-painted a few trees Oklahoma State University orange and Kansas State University purple with special nonflammable, non-toxic tree paint and also brought in extra livestock to exhibit alongside their own chickens and guineas.
Live trees sell in Oklahoma for around $8 a foot to as high as $11 a foot in some markets.
"Enid is a smaller market that's not as affluent as Edmond or a Tulsa suburb would be," Kent noted. "We also know it's in the back of everybody's mind that they can always re-use a fake tree."
It's difficult to estimate how much profit that figures out to per tree, especially considering the years it takes to see a return on investment.
At the same time, their business is clearly about more than dollar signs. It's a lifestyle choice, and one they enjoy sharing with the community.
"We want to hone our own self-reliance and bring as many people as we can along with us while we do that," Becky said.
This year she started bringing in guest instructors to offer workshops on things like flower arranging and cake decorating. The classes are popular and often sell out.
"We break out the chocolate fountain and have lots of candles lit in the barn, so we try to provide a really nice atmosphere and make it fun for them," Becky said.
Next year they are planning more classes, including one on raising chickens, which can be surprisingly intimidating to someone living in town.
"The goal of our classes is to give people a little more self-confidence to do some of this stuff on their own," Kent noted.
Becky likes to joke she's "allergic" to technology, but even so she has picked up some useful insights on social media marketing by reading countless books on the subject. Her two favorites are Business Boutique by Christy Wright and Building a Story Brand by Donald Miller.
The couple also got a big boost after entering a local business plan competition, hosted by Autry Technology Center. They ended up winning the $10,000 grand prize.
"In a small town like this, now everybody knows about us, so the pressure's on to deliver," she said with a grin.
Becky's next goal is to finish an agricultural diversification grant application to submit to the Oklahoma Department of Agriculture.
Meanwhile, the state's agritourism program has already helped them navigate rules and regulations and provided promotion and support. In addition, the state recently passed legislation to limit liability for agritourism ventures, which they believe demonstrates its strong support for agritourism.
With a prime location along U.S. Highway 81, Red Bird Farm is hard to miss and just naturally draws interest from passing motorists. The couple had an overwhelming turnout at their first fall "harvest market" in October, during which guest vendors set up shop next to the barn store. They've also been pleased by the number of customers who came out in early December, many bringing carloads of family and friends.
Becky is now planning an Easter egg hunt in the spring as the couple continues looking for ways to engage the public.
Retirees operate many of the state's tree farms, but the Evatts are in the somewhat unusual position of juggling the farm's demands with a full-time job and childcare duties. After Kent gets home from a full day of work, he typically helps with dinner and bedtime for the kids before going out after dark equipped with a headlamp to do chores.
Still, he considers it worthwhile as he looks forward to the day when they'll all be working side-by-side running a true home-based, family-owned-and-operated business.