Being an expert at farming rarely comes natural to anyone, the same can be said for Bill and Sheri Noffke of Skyview Farm and Creamery in Pleasanton, Kansas. Over time, it's been worth all the investment it took to build a barn and business the couple can call home.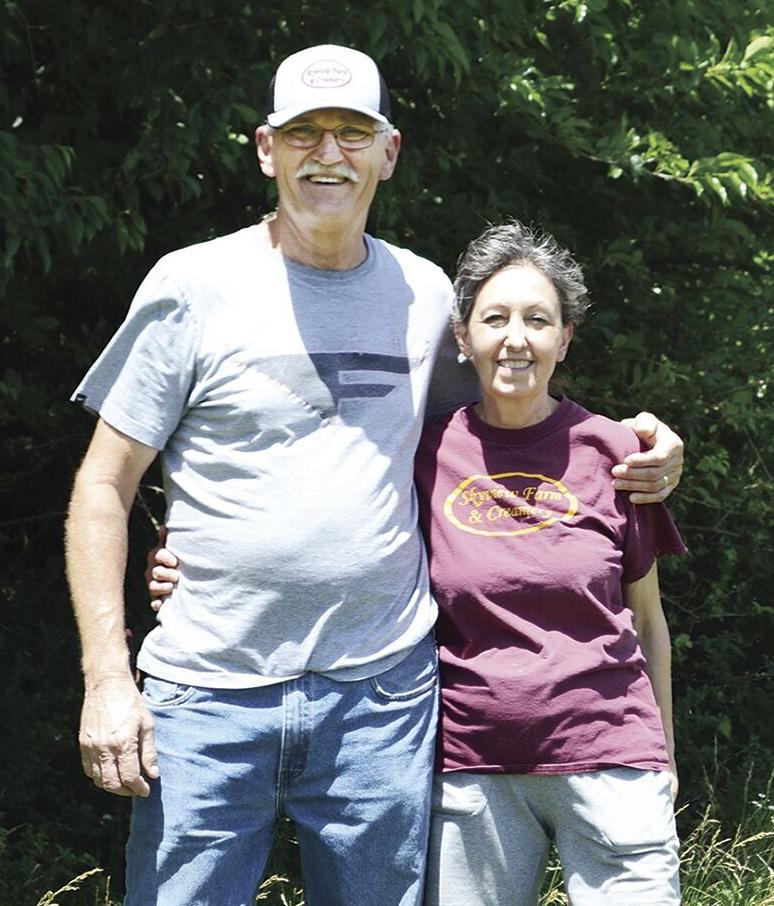 Humble Beginnings
A land deed and a dream brought Bill and Sheri to Pleasanton 22 years ago. The couple lived in Kansas City for 7 years, neither coming from a farm background. Together, they decided they wanted land and wanted to farm, but didn't know what exactly where to start.
"We somehow both had a little inkling that it would be cool to have land and animals and farm," Sheri said. "We get the animal, then we read the book. We did one animal at a time."
Pioneering their own path, the couple started with – and still produce - laying hens and quickly cycled through additional broiler chickens, grass-fed cattle and hogs before settling on a small hobby farm of Jersey cattle, purchasing their first cow in 2002. Taking the milk produced by those first few animals, Sheri would haul it up to the house and learn how to make her own cheese using home recipe books.
Soon enough, family and friends learned about their newfound passion and came in droves to purchase fresh dairy products and see the cattle milking process.
"Our original goal was to sell enough of our products so that our food was free," Sheri said. "Whatever we sold would pay for the inputs, the grain and the chicks and all that kind of stuff."
Bill and Sheri settled on the Jersey breed for their calving ease. Choosing dairy meant the labor investment would be a bit higher. Milking happens for two hours in the morning and evening, but it's worth it.
"No animal had to die," Sheri said. "The other animal that you can choose where no animal has to die is laying hens. But there's a lot of competition in the labor market."
Because of the popularity gained through word-of-mouth, it soon became unmanageable to carry buckets from the barn to the house twice a day with the amount of milk the cattle were producing.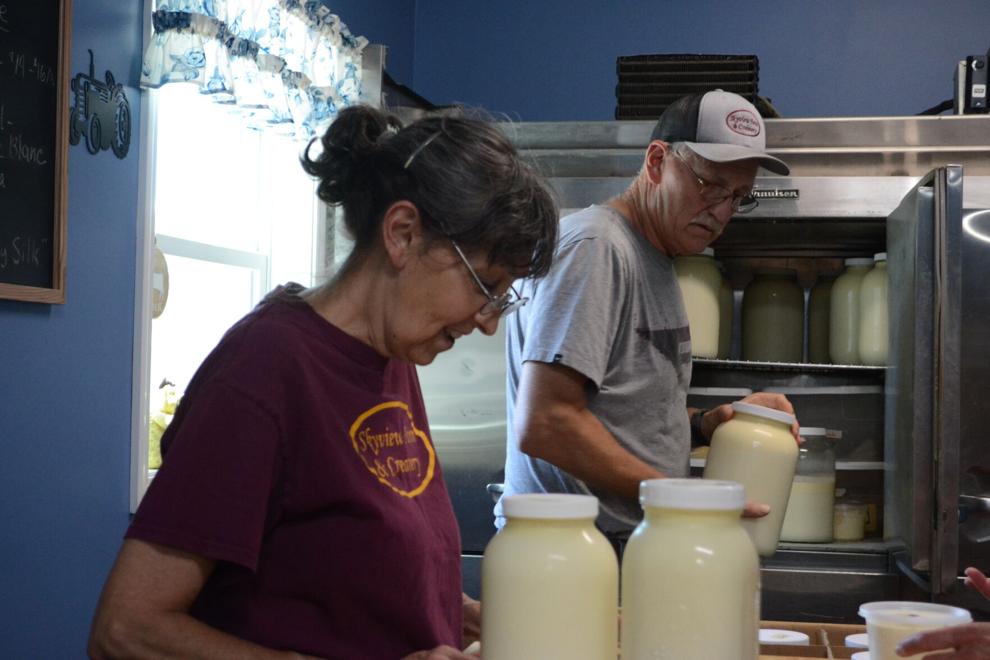 "It got overwhelming, so the idea was to get it out of the kitchen," Sheri said. "The significant part of our income is actually the raw milk. There's a certain volume that you have to do in order to make it worth all the investment."
Reading to Reality
To ease up on the strain of milk and cheese production in the kitchen, Sheri and Bill decided to build a separate barn to expand and make processing easier. Skyview Creamery became a Grade A dairy farm under the Kansas Department of Agriculture in 2011. The first batch of cheese was finished on August 16 that year.
"I think we were just reinvesting the first five years," Sheri said. "We were not making much of the money out. What we're doing now is probably pretty unique."
One of the challenges during the cheese-making process is finding the correct pH level. The two types of cheese cultures used by Bill and Sheri are mesophilic and thermophilic. Thermophilic culture is heated to higher temperatures to preserve shelf life for longer aged cheese. Alternatively, mesophilic culture is more popular for low-temperature fresh cheeses. However, mesophilic culture requires a little more precision with pH levels.
"The microbes that you add the culture, it multiplies when it's at the right temperature and the byproduct is lactic acid," Sheri said. "The pH of the cheese gets more acidic. When it gets to a certain point, you've got to stop it."
Learning about pH levels and lactic acid wasn't an overnight discovery. In truth, it took three years to find the right mesophilic blend. It wasn't until 2014 with batch number 254, that they learned how to test for pH levels and create a high-quality cheese.
The best way to learn for the couple has been by reading books and asking questions. Some of Sheri's favorite books and authors include Home Cheese Making by Ricki Carroll and Mastering Artisan Cheesemaking by Gianaclis Caldwell. The latter eventually visited the farm in 2014 and provided suggestions for improvement – including the use of a pH tester.
"The major thing from the home cheesemaking book to a commercial operation that we had to learn that we didn't know," Sheri said. "We learned. Not all of the cheeses were bad. Obviously, we got to batch 254. Some turned out really good."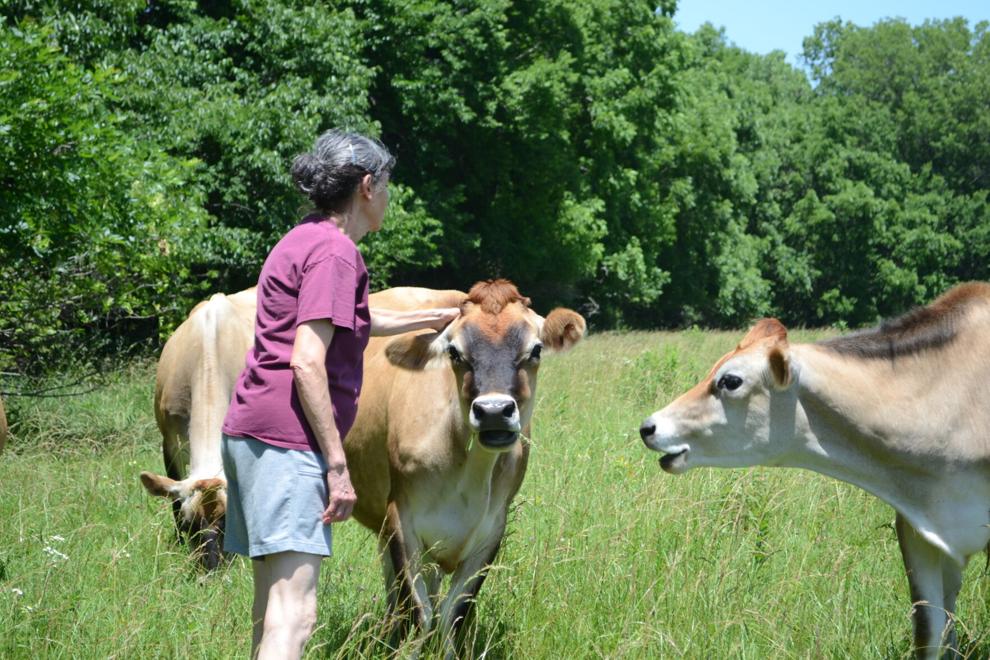 Sheri said it can sometimes feel like a college class. You don't know what you don't know, but you take notes all the time and you learn.
"While farming is somewhat a romantic notion, it's not all peaches and cream," Bill said. "There's a lot of obstacles to overcome. Everything doesn't always go the way you want, but you have to be persistent."
Persistence has certainly been the name of the game. It can be extremely rewarding to produce dairy products and meet directly with customers, but the less glamorous aspects of the farm were quickly realized by Sheri when she first dealt with a calf breech birth for several hours.
"I went in the house and all my muscles were like Jell-O," Sheri said. "Everything, because it's so intense is like, I can't do this; I have to, but I can't do this. It becomes one of those things you just have to do it."
Personal experiences make it real and make it relatable. Many consumers that visit the farm from the Kansas City area are excited to know how a dairy farm is run. Sheri quickly took notice and has since published a weekly email newsletter detailing the weather, lifestyles, funny stories and challenges that the family encounters on a day-to-day basis. Sheri, who loves writing, puts together the newsletter each week with a current rate of 1,000 subscribers and growing.
"People that have always been raised in the city that looked at land and agriculture and having animals and land and stuff," Bill said. "They look at it and it's like, that's real. That's kind of what we fell into."
Farm Fresh Product
Bill and Sheri run a total of 16 Jersey cattle. There are eight current milk-producing cows averaging anywhere between 25-35 gallons per day, depending on the grass and weather. Dairy products from Skyview Creamery include 14 different kinds of cheese, Jersey silk, yogurt and raw milk with raw milk as the highest-selling item. All milk is sold direct to consumers when they come out to visit the farm and the couple sells 100-130 gallons per week.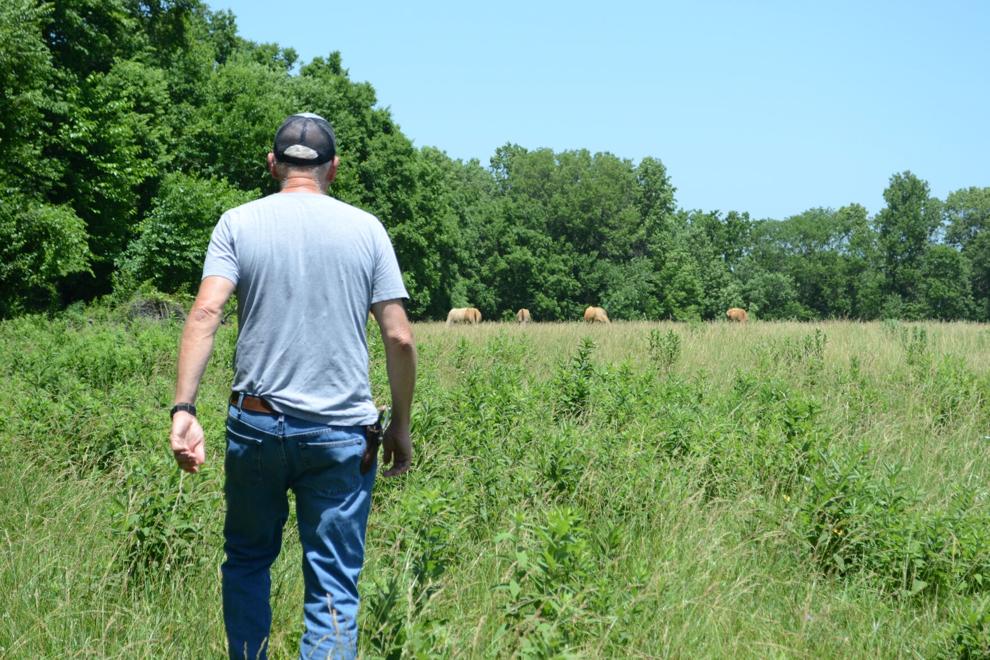 "For thousands of years people have been drinking raw milk," Sheri said. "Clean, chilled, raw milk is healthy for you. It's not dangerous."
Selling that much product keeps Bill and Sheri on their toes. Their busiest days of the week run Thursday through Saturday when customers are coming in and out. Raw milk only keeps for 10-14 days and with Kansas City only an hour away, it is very common for groups to stop by and purchase 20 gallons a week.
"It's comfortable as far as the workload for us to make one cheese a week and one big cheese a week which is 75 gallons," Sheri said. "Then maybe a batch of yogurt and a batch of maybe mozzarella or something else"
While a vast majority of products are sold direct, wholesale accounts for 10-15% of the inventory and is delivered through the Kansas City food hub to eight Kansas and Missouri locations. Building a successful enterprise over the past 11 years takes an unyielding passion for the animals and resilience to put dairy products on the shelf.
"We've learned a lot," Sheri said. "I was a teacher, he was a builder. It really takes both of us. There's stuff that he's doing that I couldn't do by myself and I'm doing stuff that he couldn't do by himself either. It's pretty dependent."
It comes down to the relationship with the customer. Bill and Sheri have held longtime customers of 15-17 years throughout their journey and they continue to connect with younger generations. Oftentimes, tours are offered to local 4-H, FFA and school groups for five dollars a person, but is redeemable in product.
Seeing a vision come to life with what the couple has built together has been a beautiful transition. It's a valuable reminder to not stretch too far and remember to pace themselves.
"It's kind of a quality of life thing," Sheri said. "We're kind of in the driver's seat. You kind of have to not burn out. I see people get ambitious and then the next thing you know, they're not doing it anymore."
At the end of the day, Bill and Sheri have found their passion working with animals and creating a small town, farming lifestyle. Dairy operations can easily become personal. All 16 cows are called by name morning and night with a routine schedule to follow. Moving forward, the couple has a desire to keep the farm personal but profitable.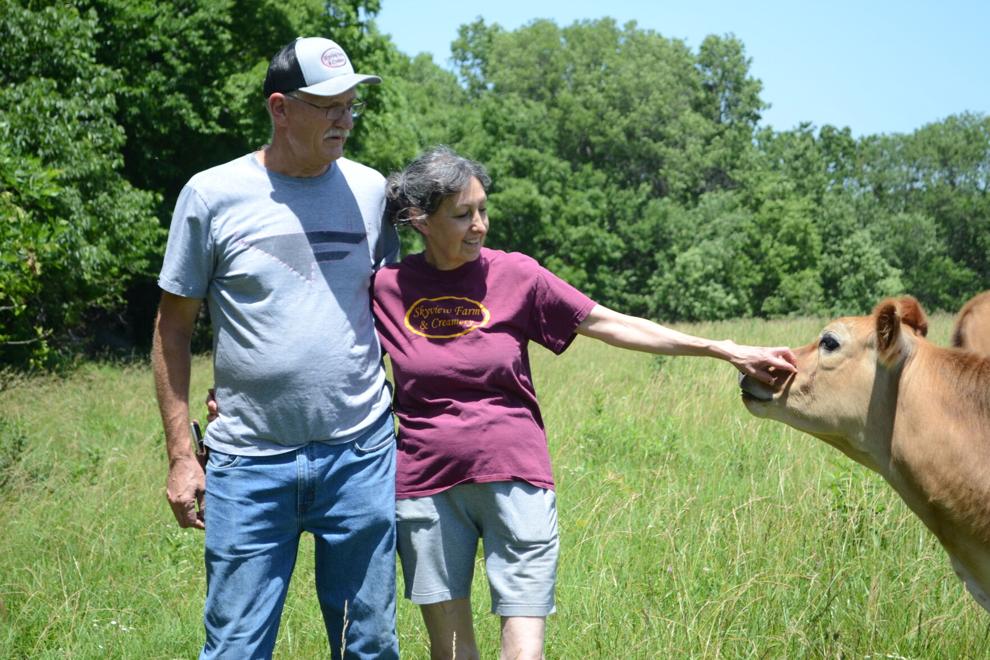 "I live here," Sheri said. "I want it to smell good. We could do things and do more agritourism and put a gazebo but it's like no, I live here. I don't mind having guests, but there's a balance between having a successful business and having it so you can't go home because you are home."
Customers and visitors will often remark how cool it is to have a dairy operation with friendly cattle and even friendlier producers.
"Cool takes work. It doesn't always just happen unless it's God," Bill said. "But if we do it, it takes work."
To shop a full list of products, visit www.skyviewfarm.net.