Galen and Lori Fink have been setting trends in the cattle industry since they bought their first cow in 1977. Today along with their daughter Megan Larson, they run breed-leading seedstock operation Fink Beef Genetics in Randolph, Kansas and have pioneered several industry programs while selling bulls to customers across the country.
Getting Started
Working two low paying jobs – Galen as a herdsman at Kansas State University and Lori as a secretary and fieldsman for the Kansas Angus Association – they knew they had to start slow and make sound business decisions.
"We bought one cow in 1977 and just grew really slow," Galen said. "I left the university in '90 and from then on we've been on our own."
The first decision was choosing a breed. While Lori had grown up in the Angus industry, they also saw benefits in the breed.
"The Angus we look at as more of a maternal breed," Galen said. "They add some carcass, but is basically a maternal breed used to maintain cow size. It's a good breed for crossing with other breeds to make maternal genetics."
Looking to expand, the couple added the Charolais breed to the operation in 1999.
"We wanted to have a second breed to complement our Angus customers," Galen said. "To put more pounds of growth and muscle into the end product. We knew we could make the Angus a lot bigger, but that would take away from the maternal characteristics."
The couple paid close attention to their genetics program, working to build a proven herd instead of chasing industry fads.
"We've tried to pay attention for 20 plus years on foot and udder quality," Galen said. "Some of those traits are now getting measured within different breeds, but we were trying to pay attention to all the solid functional things all the time with EPDs."
In their Angus program, the Finks focus on using bulls with data-driven performance behind them.
"It's getting harder and harder now to get high accuracy, but we try to look at all balanced traits," Galen said. "We don't want to just chase marbling or light birth weight. We try to find bulls that are balanced in all the traits, which is hard to do. We're getting forced more and more to use younger bulls. But at one time we tried to use only bulls that were 5, 6, 7, 8 years old, all the way up to 30-some years old because we had the data and we knew what we were going to get for our customers."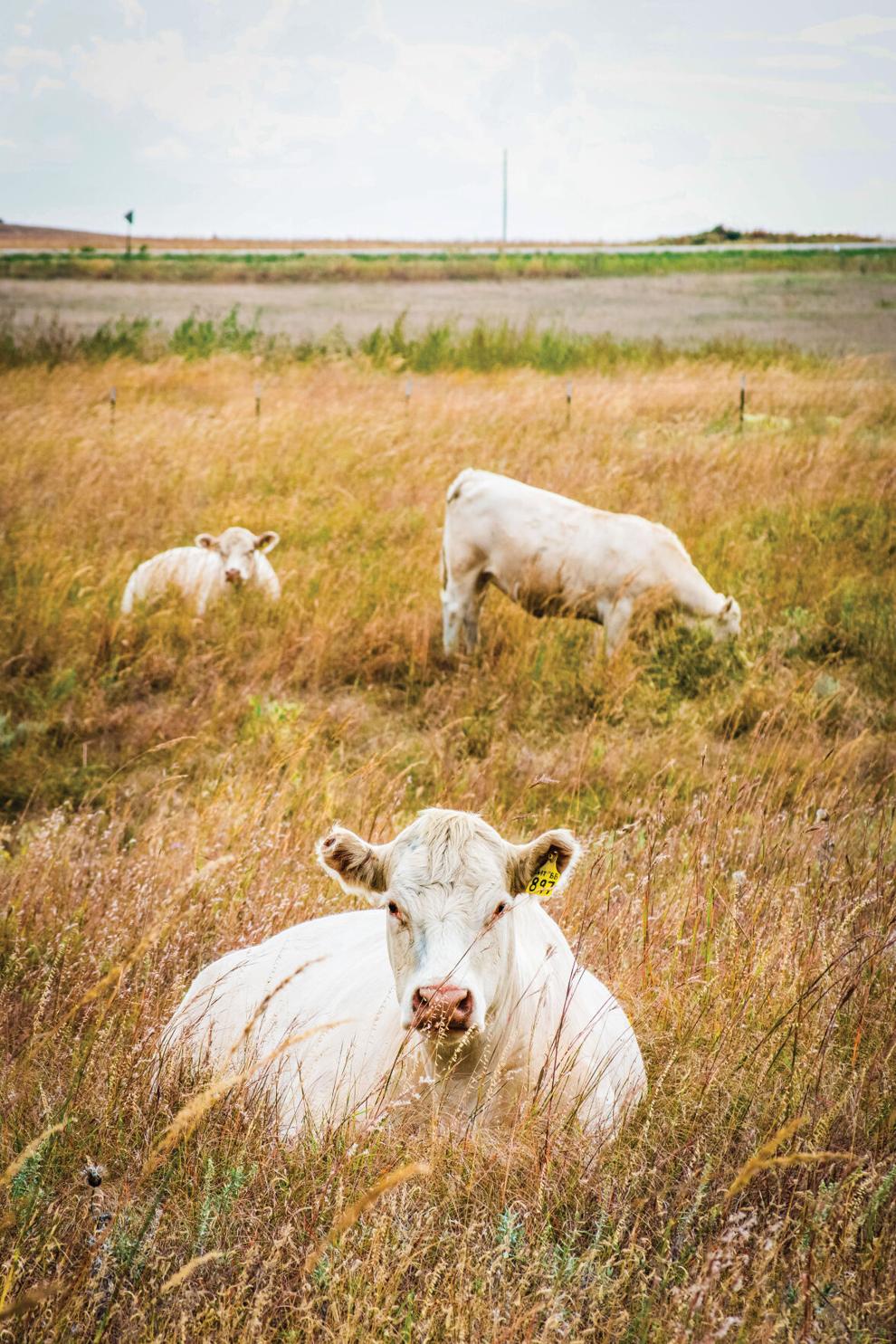 With their Charolais program, the couple focuses more on carcass traits.
"The Charolais has been more of a terminal approach because we're not trying to make cows out of them," Galen said. "We focus on more carcass and growth."
To give their customers more options, the Finks have added some Red Angus to the herd, and have played around with crossbreds and specialty breeds like Akaushi.
Industry Innovators
The couple first turned to embryo transplants when looking for cost effective ways to grow their herd.
"We started messing around with embryo transplants in 1981 or '82," Galen said. "Not many were doing it, but we looked at it as a way to expand numbers because we wanted to have enough to go out on our own."
In 1988 they became one of the first operations utilizing recipient herds from their customers.
"At that time in the industry, there wasn't enough embryo transplant going on," Galen said. "Some folks that were doing it were also running commercial cows on their own place and putting them in their own cows. We didn't own any land and we didn't own a bunch of cows to put them in. So, we came up with the idea of putting embryos in some of our customer's cow herds. That's nearly what everybody does anymore."
At its height, the Finks were implanting 1200 embryos a year, though that's now leveled off to around 800 a year.
"In those early years of embryo transplant, we were Guinea pigs, so to speak," Lori said. "We were trying to help the veterinary department that was working on the process of embryo transplant, how to make it happen. It was so different in those early years and so challenging and to actually have been there and done that and lived with the results, that's pretty amazing."
Fink Beef Genetics customer service program also sets them apart. Fink Beef Genetics was also one of the first operations in the world to offer customers a three-year guarantee on feet and semen, Galen said.
"We try to call every customer, especially newer customers at least three times a year," Galen said. "We usually try to visit each new customer within a year or two of when they first buy from us. It takes time and money, but it goes back to that personal relationship. If you take the time to go see people and spend an hour looking at their cows and stuff, most people appreciate that."
Over the years, the Finks have implemented video sales and full BSE exams for all bulls up for sale. Last year, they removed reserve pricing from their annual sale.
 "Some things you can jump on probably too fast, but in this business, everybody has the same opportunity," Galen said. "Most times they can all AI the same bulls, they can do everything the same. So, we've taken the approach that we need to continually be trying to do something a little bit different."