Each year, over a million head of cattle from Texas to Tennessee enter the care of Flint Hills families for a brief season of intensive grazing from April to late July or August. It's a daunting task — bearing the bulk of responsibility for America's beef — and it falls to a select few landowners, brokers and managers.
Like most difficult jobs, the real fun begins at the end, when the cowboys can round up the results of their hard-worn efforts and pass the cattle down the line — looking altogether fatter, happier and more expensive than they received them.
For Mike Wiggins of Eureka and Mike Landrith of Bartlett, cattle shipping season is an opportunity to reconnect with old friends and celebrate another successful season as partners.
"We've been friends for years and Landrith started bringing cattle up here for the grazing season in the early 2000s," Wiggins said. "We started grazing around 125 for them that first year and today we loaded out around 500."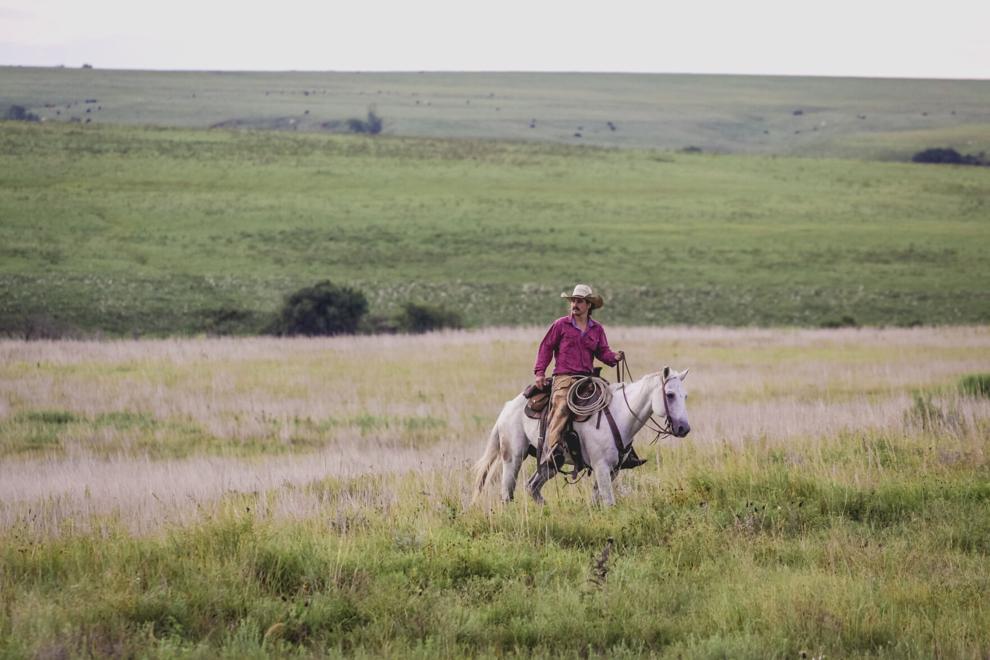 The Wiggins and Landrith families originally began their friendship in Labette County, where Wiggins was teaching agricultural science at the high school and pairing up with Landrith on the weekends as team roping partners.When Wiggins was called home to take over his family's Flint Hills ranch and long-term land leases, the pair's friendship evolved into a business relationship.
Today, the partnership's focus on perfecting a profitable cattle-grazing season continues to link their families despite the miles between them.
"We had a good year this year with quality gains and low death loss," Landrith said. "While the cattle were still on our place, we separated out any steers that had to be doctored more than once and only carried the best up to Wiggins to graze."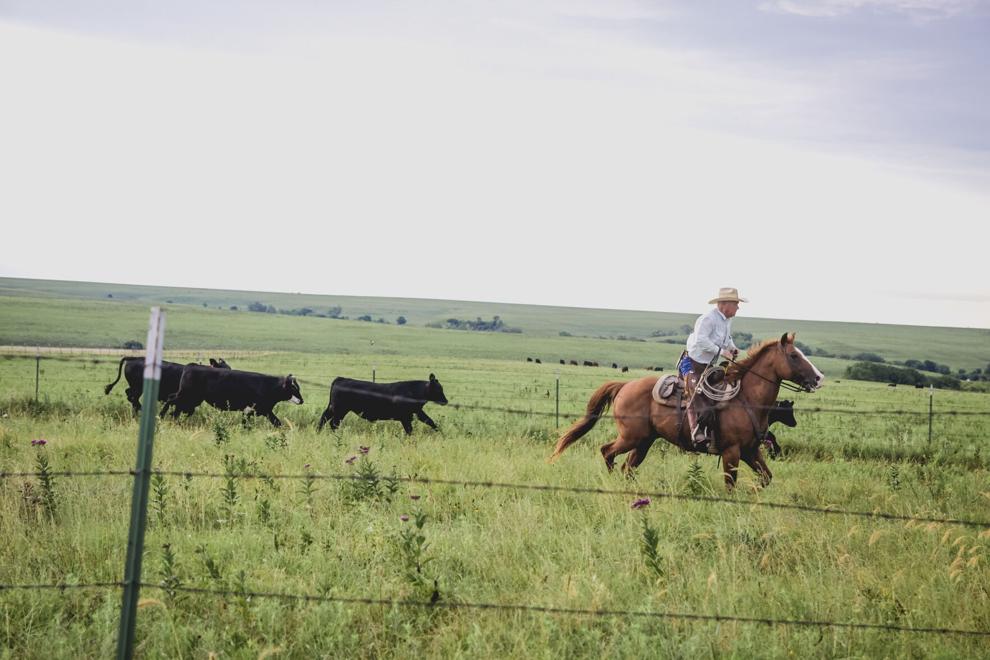 The attention to detail carries over on both sides of the partnership. In 2017, when a continuous string of dry days threatened to end the grazing season early, Wiggins operated a pump system day and night to ensure Landrith's cattle could continue grazing through to the next rain.
A similar scenario happened this year, as many Flint Hills grazers contemplated pulling cattle from the land early when a dry period made new grass scarce around the first of July. Rains were spotty and infrequent throughout much of the summer grazing season this year, but Landrith's cattle were in the right place at the right time, something Wiggins said is nothing new for their partnership.
"Mike Landrith is just one of the luckiest guys I know as far as when and where it rains out here," Wiggins said. "I can have other cattle on other properties and miss the rain entirely but when the situation gets dire, the places his cattle graze always seem to get the rain they need."
While Landrtih and Wiggins mostly mark their years of partnership in personal events, like their kids ages or family milestones, rather than actual dates, 2014 was a particularly memorable year for cattlemen across Kansas. For the Wiggins family, 2014 is a year landmarked in the home by a gift from Mike Landrtih.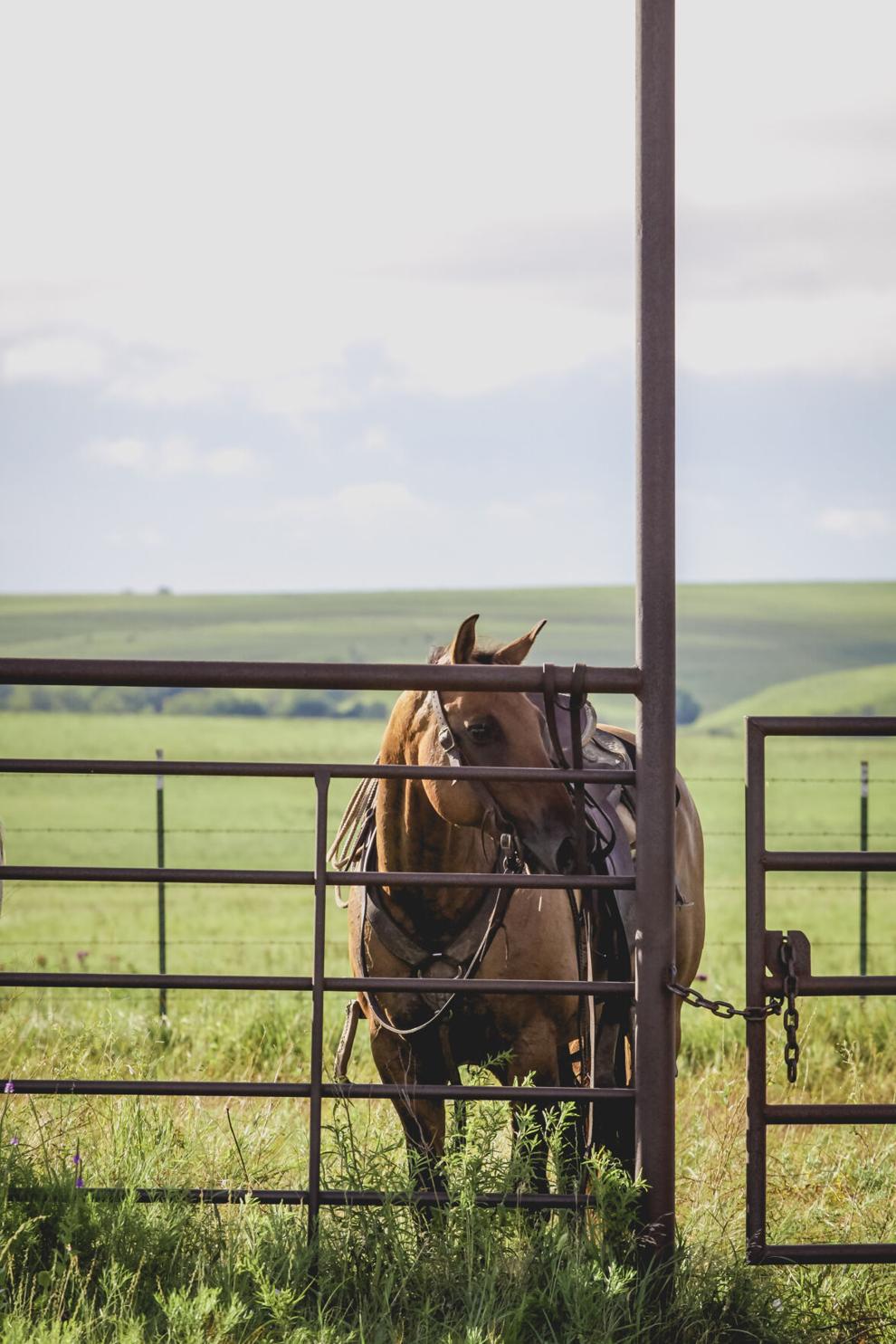 "In 2014, we had to graze considerably less cattle on the land to protect the quality of grass during the drought and I gave Landrith a hard time about getting a bargain on rent when he came to ship cattle," Wiggins said. "A few weeks later, he showed up with a limited edition rifle as a gift to make up some of the difference, and today that gun is mounted in the house between both of our brands."
Partnerships with a foundation in friendship aren't hard to come by in cattle country and often result in better quality beef for consumers down the line. Landrith focuses on cattle quality and Wiggins focuses on cattle care with the results benefitting order buyers, feedlots and on straight to the consumer.
"We've spent years with the Wiggins family and we're fortunate to have the relationship we have with them," Landrith said. "We're looking forward to many more years of the partnership and more days shipping cattle to come."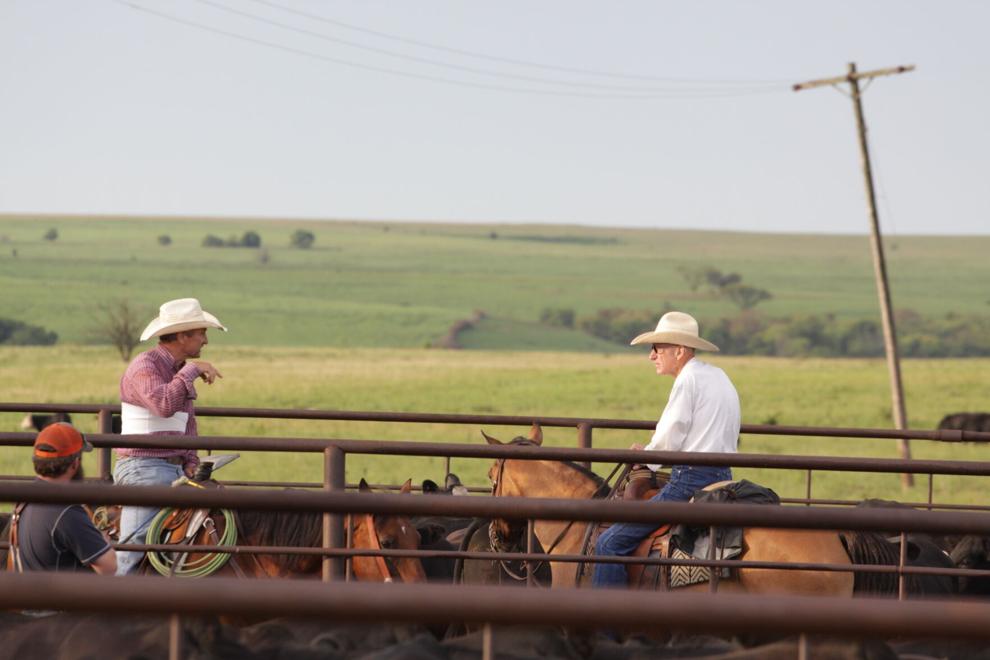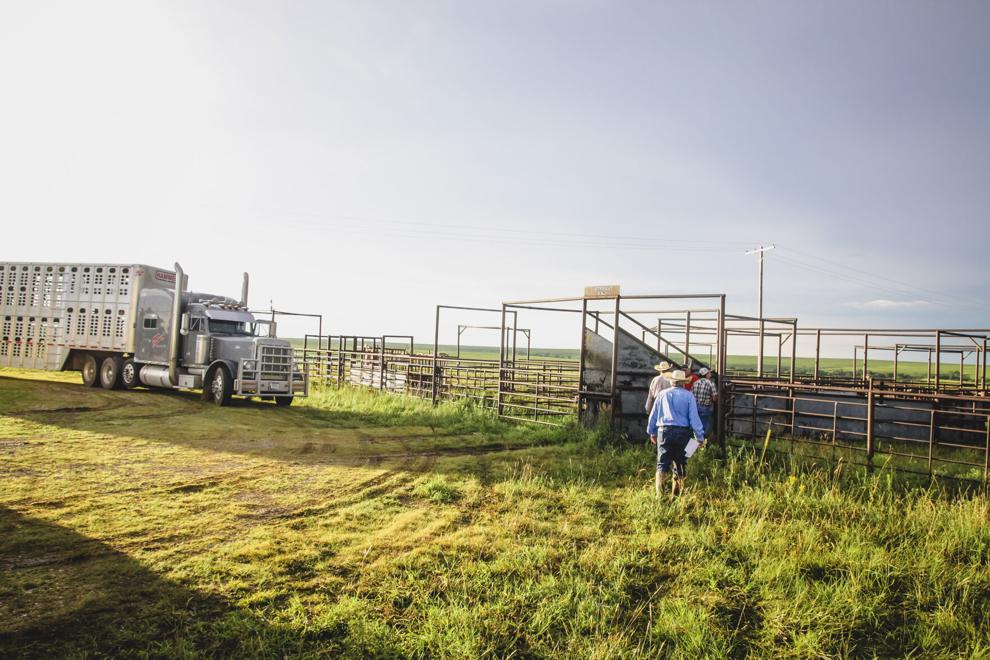 Herd in Greenwood County by Ron Wilson, Poet Lariat
A Greenwood County roundup took place the other day. 
It's that mid-summer time to gather yearlings in this way. 
It was several months ago, double stock cattle were turned in, 
And now it's time to gather `em and ship `em on again. 
The annual stocker roundup, held in the summer weather, 
Is also a chance for these cowboys to get together. 
They got up in the early morn to make the coffee perk, 
And gathered in the pasture to do their cowboy work. 
The cowboys mounted up and were ready to begin. 
Their horses worked like clockwork to bring the cattle in. 
They quickly and efficiently moved cattle `cross the range, 
Into the trucks and trailers for the markets to exchange. 
You see, these families have worked together through the years, 
A'carin' for the pasture and gatherin' the steers. 
So it is with thankfulness that this reflection ends, 
For they weren't just gathering cattle – they were rounding up old friends.