A successful youth livestock project ultimately sets the student up for future success. For brothers Ben and Jake Gleason, learning through livestock projects laid the foundation for a lifelong business.
The brothers grew up just outside Topeka, Kansas, alongside their siblings on the family's cow-calf operation, Sunflower Genetics. When it came time for their involvement in 4-H and FFA, an altogether different species caught their eyes.
"It started off as a 4-H project basically and Ben is the one who initially created the business for an SAE for high school FFA," Jake said. "While we run the cattle operation as a family, the pig and sheep portion of our livestock is run by Ben and me, along with our brothers Joe and Sam and our sister Becky."
In the eight years since Gleason Livestock's first sale, Ben and Jake's business has expanded from just four sows to raising around 50 litters of pigs per year, along with managing around 80 crossbred ewes. The brothers primarily raise Duroc, Berkshire, Spot and crossbred pigs for livestock shows across the country.
With winners at ultra-competitive venues from the World Pork Expo to the Houston Livestock Show, the brothers are raising show stock with genetic potential far exceeding their first show project experiences.
"We didn't grow up buying high-dollar animals," Ben said. "We definitely bought the cheapest projects we could. In fact, we picked out some of our first pigs for county fair on a commercial floor."
For the brothers who both competed on collegiate livestock judging teams, walking through the massive variety of options in a commercial pig operation was part of the experience and a place they honed their livestock selection skills.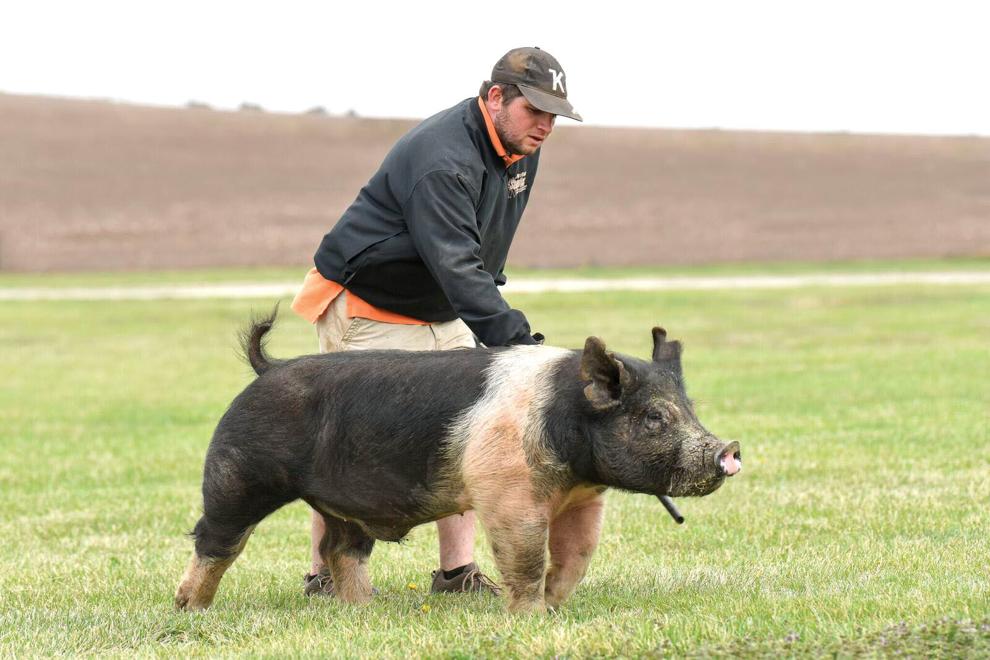 "The volume of pigs to choose from when we were scouting out on the commercial floors was always a fun part of looking for our projects," Jake said. "I still remember going and picking out pigs we thought might compete well."
In their show pig operation especially, the brothers take the time to ensure the pigs they sell have the best opportunity for success — from genetic capacity to high-quality feeding and care.
"I really enjoy the breeding and improvement part of our business and watching the pigs get better after every new generation," Jake said. "Whereas, Ben really likes the feeding side of showing pigs and engaging with the kids and families who buy pigs from us."
Accessibility is important to the Gleasons — for kids to have quality animals available to them that don't completely break the budget and to access the right kind of nutrition information to help the animals meet their potential.
"I do a lot of house visits with kids where we check on the pig's progress and I help them adjust their feeding," Ben said. "You can see both the pig and the kid change as time goes on."
In the last few years of the brothers' livestock show careers, they transitioned their pig operation from one with the pigs primarily kept outside with shelter, to an indoor facility where the pigs could be separated and monitored more closely. The lessons they learned about feeding and finishing through that transition are ones they continue to share with the next generation of showmen.
"Just a little bit of effort can make a big difference on a pig," Jake said. "You can see results pretty quick."
The beauty of a project like pigs is youth can be self-reliant and take full responsibility for the project, thanks to the size and costs associated. Initially, Ben found a lot of freedom in showing pigs because it was an activity he could pursue on his own.
"I think for a lot of the time when I was showing in the Eastern Kansas Swine Show Series, people knew me as 'Ben with the good red pigs and no parents,'" Ben said. "It wasn't that my parents didn't come to the shows — they always came in the afternoon to watch me in the ring — it was that showing pigs was something I could easily pack up my stuff and do on my own in the morning while they were accomplishing things on the farm."
The Gleason brothers have made and continue to make memories together through their business. For Jake, selling the winning Berkshire barrow at the 2015 Houston Livestock Show is a highlight he continues to grow from.
"That pig was kind of just a story because I picked him out of the crate and we hadn't even docked his tail or notched his ears yet," Jake said. "I was in the loop with the family, so I got to watch him grow up through pictures almost every day and then I got to watch the actual show on a live feed so watching the winning moment was really cool."
For Ben, breeding and consulting on the a division champion crossbred guilt at the 2018 World Pork Expo tops the charts as his proudest moment.
"There's just so many pigs at the World Pork Expo, and there were eight classes of guilts in that pig's division so when she won the last class I was in shock," Ben said. "When we went back in and won the division, it didn't hit me until I got back out to the pens that we had done it."
Together, the brothers balance each other into relatively seamless teamwork toward a common goal to produce the best quality livestock possible while working toward juniors' success and growth.
"It's not fun all the time but as long as you're passionate about it, it makes the work worth it," Jake said. "We've enjoyed doing this together because, yeah, our family has the cattle, too, but everybody's opinion goes into that part of the operation — Gleason Livestock is something that's ours, that we can control."
In the future, Gleason Livestock hopes to continue their legacy of supporting competitive showmen and quality genetics.
"It's always nice to make money, but at the end of the day, it's about the kids who are showing," Ben said. "They're the ones who drive our business because if they're not being successful, we're not successful."