Keeping boots out of bins is the key goal for Grain Weevil inventors Chad and Ben Johnson. The grain bin robot entering the last phase before commercial availability in 2023 started out with a spark of an idea and quickly snowballed into a product with the potential to revolutionize safety and efficiency for the ag industry.
"My son Benjamin, and I had never been in a grain bin before we started," Johnson said. "We thought it would just be a fun project to do for our friend and started tinkering on it. As we started experimenting, and exploring, we really decided that this was an important project for more than just our friends."
Initially, Ben Johnson, an electrical engineering major home from the University of Nebraska, was showing a robot he had built for fun to his father and a friend, who remarked how great it would be if the robot could go into his grain bin for him.
That dream will soon become a reality.
Challenges & Opportunities in 2022
"2022 had a lot of highs for us and a lot of challenges for us," Johnson said. "We made a lot of progress on functionality of the robot and getting it ready for passing our safety exam."
With a near-ready robot successfully running tests on all kinds of grains in a select few farms across the country, Grain Weevil was nearly ready to perform and complete safety certifications as the last step before commercial availability, before supply chain issues slowed progress.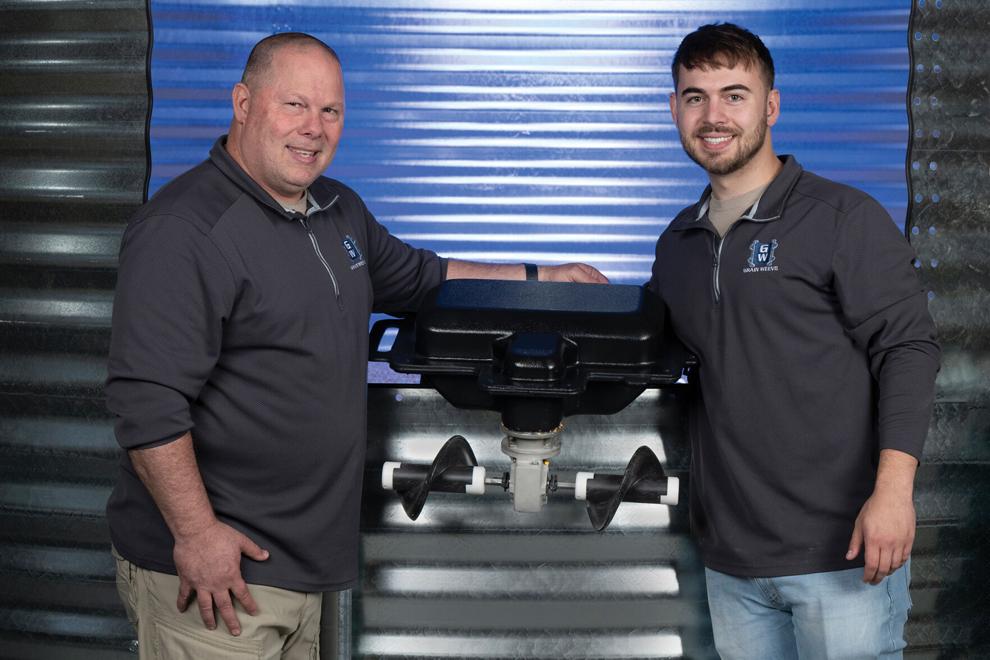 "Instead of taking 10 to 12 weeks to do a full new rendition of our robot, it took us almost 10 months for this version, waiting on parts and pieces to get shipped," Johnson said. "We had to do a lot of other research and development while we waited on our new batteries and our new gearboxes and all the new parts and pieces to come in."
This January, Grain Weevil has moved into a pre-production model, meaning a ready-to-work model after prototypes have been evaluated and perfected.
The pre-production model will soon be standardized and work to pass key safety tests, a process that will take 16 weeks for completion.
"I think the biggest challenge has been passing the safety certifications," Johnson said. "It's not really impossible for us to pass, it's just that we don't really fit. Because we're the first robot, we don't fall under all the same electrical device standards. Navigating that pathway has been the biggest challenge."
One factor paving the way for Grain Weevil, especially in support funding as they face standardization and safety certification, was prize money earned as the winner of American Farm Bureau's 2022 Ag Innovation Challenge.
"The Innovation Challenge is extremely important, important for ag tech startups like ours, because it's millions of farmers," Johnson said. "It's our clients, the people that we're building this robot for. And, it was actually the first time we did live pitches to tell people about our company, since we'd started during COVID. All of our pitches before that were online and that was kind of interesting and unique."
With the eyes of thousands of potential customers on them, Johnson said the pressure to perfect the Grain Weevil in a timely manner was even more profound.
"It's hard for us because we have to do this right," Johnson said. "It's very difficult to build a machine that can survive in the grain bin and there were a lot of physical challenges. We would break motors, where the shaft would just snap right off. We've got this whole list of failures that take place while we're in our doing our testing."
Grain bins are a challenging environment, not only on humans, but also on hardware and software for the robot. Machine learning has come a long way, but agricultural applications for robots are a fairly new and unexplored field.
"I'd have to say the hardest part on the robot side has been the autonomous capabilities to build out," Johnson said. "There's so many variables with sliding grain and grain moisture makes a huge difference on how the robot operates. The robot has to know that so teaching it takes hours and hours and hours and hours of operating time for that learning to develop."
How Does it Work?
Grain Weevil is a small portable robot that weighs between 40 and 50 pounds with an auger drive propulsion system, which maneuvers and manipulates the grain as the robot drives through the bin. The robot navigates patterns that utilize gravity to help it level the grain in the bin, as well as break up crust and clumps and even aerate wet grain.
"Pretty much anything that you would need to do with a shovel inside of a grain bin is what the robot can actually do," Johnson said. "Right now, the robot can level a 48 foot grain bin in around the same time as a human, which seems pretty amazing."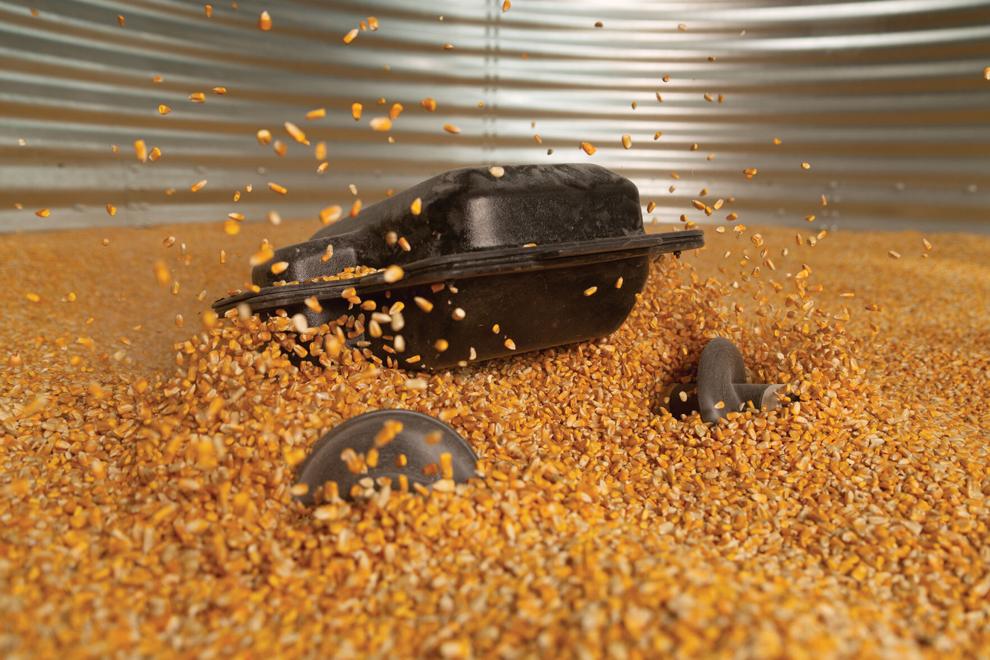 Grain Weevils come in only one size, as during testing Chad and Ben found the robot worked best and most efficiently as part of the overall harvest work flow.
"As you're filling the bin up, you put the robot in to run while you're putting truckloads into the grain bin. And it acts as a spreader right on the surface of the grain. Then it spreads, ensuring consistent airflow throughout the grain ben layer by layer. So that's kind of the highest volume workflow."
During that work flow, each robot can manage four to five grain bins depending on the size, or roughly around 250,000 bushels per robot, Johnson said. In larger facilities, multiple robots can be programed together to perform the task more quickly.
"One of the biggest challenges that we have, other than the harsh environment on electronics, is software," Johnson said. "The robot is fun to drive, but not for very long."
No farmer has the time to sit for eight or nine hours in a truck to drive a robot back and forth inside a grain bin. In Grain Weevil's market-ready phase, the robot drives itself.
"It will be mostly autonomous, where you can supervise it, check on it on your phone, those kinds of things," Johnson said. "What we're working on now, is the ability for the system to be able to locate the robot within the grain bin. And that allows us to run full autonomous, avoid the obstacles like cable sensors, or other accessories that you have in your grain bins."
Grain Weevil uses a winching docking station to ascend the grain bin, so at its final stages, a farmer would only need to set the robot near the grain bin, start it and then check in periodically via an app. The robot even recharges on its own in between projects.
Local radio signals omit the need for a high speed broadband connection, although having Wi-Fi availability does afford the operator some extra bells and whistles. A strong local connection is paramount to helping navigate and locate the robot in the grain bin's difficult environment.
"In the grain bin, you've got the round metal buildings, you got big, massive square flat storage facilities, and thousands upon thousands of pounds of organic material, dust and dirt," Johnson said. "All of the environments that make it horrible for humans, make it hard for us to communicate with a robot as well."
One of the first questions Johnson is frequently asked, is about different robots or different augers for the variety of crop sizes farmers deal with.
"In reality for the robot in we've done. corn, soybeans, popcorn, white corn, hard yellow peas, milo, wheat, white northern beans, and it makes absolutely no difference," Johnson said. "There's some operational things like in rice, you want to slow down the RPM. In soybeans, you want to run faster, so the operation of the robot changes a little bit per grain. But the actual robot itself has had no problems on any different grain types."
Father, Son & Farmers
While Chad and Ben Johnson are not farmers themselves, the father-son team counted on friends, family and neighbors for feedback on the project, and grew an even more profound respect for the work to be done on the farm.
"It's probably been the best thing possible for us to not know anything about grain bins, we could make no assumptions," Johnson said. "We relied heavily on the farm that challenged us to build the robot at the beginning. And when we finally got our first robot to work, it was March of 2020. And I mean, it was ugly, duct taped together, and 3D printed. It's not the prettiest thing you've ever seen. But it worked."
That original working robot required even more feedback and scrutiny, so the Johnsons carried it with them to the largest gathering of local farmers they could find.
"On a Tuesday night, our local movie theater and the local Corn Growers Association was showing the Silo film for families here in our community, and so we went and set up a little display," Johnson said. "We had the robot there, we had that little video showing, and then a whiteboard and sticky notes. And we asked questions. What do you want us to do? What questions do you have what? Why won't it work? We just got hundreds of sticky notes and questions and it was a great way for us to start gathering information."
The first interaction was a success and the Johnsons left the gathering with lots of new ideas to incorporate, but they had some surprises in store for just how excited farmers were about the project.
"Someone videotaped our video with their phone and put it on Twitter," Johnson said. "We got 80,000 views, and about 400 direct messages in the next month or so. And so that kind of told us that this was much bigger than just something that we would build for our friends."
After hundreds of informal interviews with farmers, messages and in-person interactions, Johnson said it's clear just how vital a tool like Grain Weevil can be for farmers, and the pressure is on to deliver the best possible solution, soon.
"Just about every person that we talked to that had anything to do with farming has been in an accident, knows someone who's been in the accident or has lost someone close to them because of grain bins," Johnson said. "It's a very powerful mission for us."