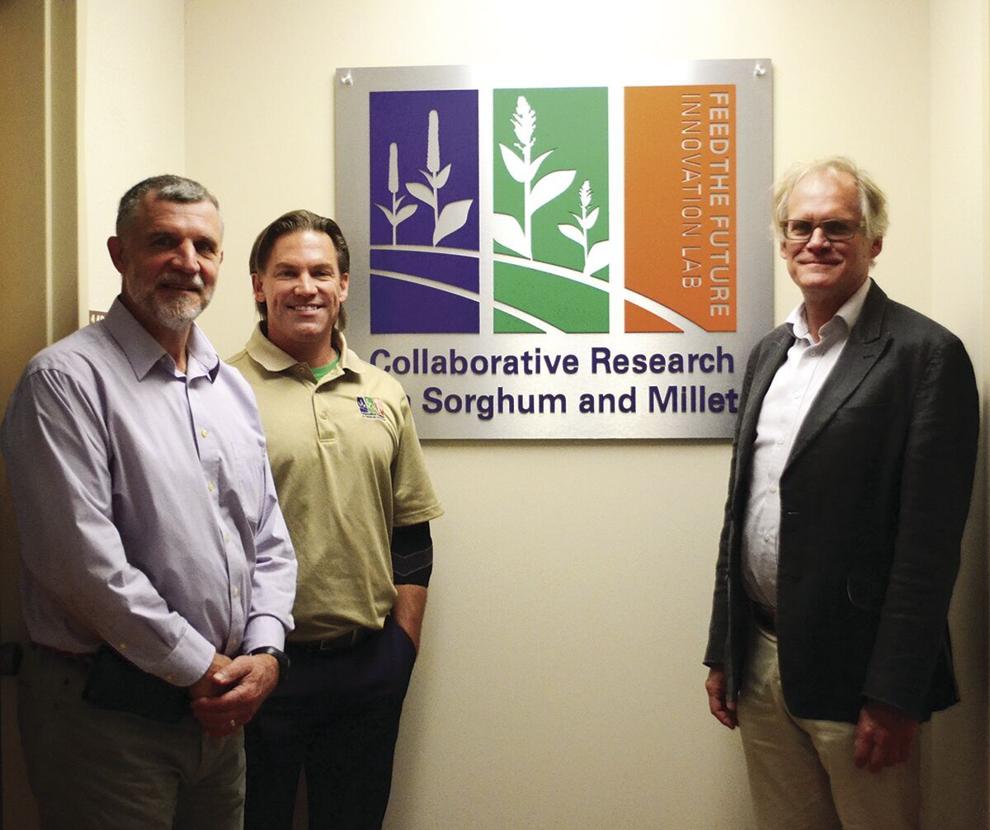 Feed the Future is an initiative by the United States government to conduct research on behalf of global hunger and food insecurity issues. One such area is the collaborative research program on sorghum and millet innovations located at Kansas State University in Manhattan.
K-State is one of five U.S. universities involved in a global network with the United States Agency for International Development to improve the sorghum and pearl millet value chain. The Feed the Future initiative began in 2013 and is nearing the end of its 10-year trial period.
"These past 10 years have really been a continuation on one hand, but a reinvention of international collaboration between U.S. university faculty members and USAID, including collaborators in a number of low-income and middle-income countries," said professor and director of the Sorghum and Millet Innovation Lab at Kansas State University, Dr. Timothy Dalton.
The Sorghum and Millet Innovation Labs work together to improve crop resiliency in vulnerable communities within semi-arid regions. Food systems to reduce poverty and hunger are currently being developed in Senegal, Niger, Haiti and Ethiopia with regional benefits to Burkina Faso, Togo and are additionally providing spillover value to U.S. producers.
Sorghum and Millet Objectives
"The objectives are really to focus along the sorghum and pearl millet commodity chains all the way from plant breeding and genomics," Dalton said. "That's really where most of our work takes place, probably a little bit more than 50% of all of our work takes place in that."
Food product commercialization is the end goal in the eyes of the consumer. Sorghum and pearl millet are nutrient-dense crops with high protein and starch availability. Some common value-added food products include sorghum fortified flour, millet cereals, and yogurts. Research and collaboration is continuous between the USAID, K-State and over 25 global partner universities and USAID equivalent foreign programs.
"That hub is truly global in the sense that we leverage all the science and expertise, particularly here in the U.S. and in Kansas, because we're such a sorghum production and value-added kind of state leveraging that with a lot of partners in Europe" Dalton said.
Global research doesn't just benefit foreign communities, the program has trained hundreds of students domestically and internationally to enter the workforce and go on to be heads of institutions with an understanding of plant breeding and the commercialization of next-generation seeds. Those seeds respond to extreme climate change in sorghum and pearl millet production zones.
"We're able to help teams do a lot of genomic analysis of those parental lines, and help them speed up the breeding process, both in-country, but also it has a lot of spill back benefits to the U.S. system," Dalton said. "When you talk about next generation seed, we're moving materials through to actually what we call phase four, which is commercialization."
Next-generation seed initiatives run through four phases: research, field testing, availability and commercialization. During field testing, researchers are looking for high yield, protein digestibility, forage quality and disease-resistant genes. Locating genes that are resistant to sugarcane aphids and other such pests are significant finds.
"We know that there's a lot of disease pressure in Ethiopia," Dalton said. "We're able to, as a laboratory, identify within the gene, why some varieties were resistant because they possess the special gene, which had developed over time."
Not only is sorghum a high protein and nutrient-dense product, but it is designed to thrive in a dry climate.
Research and Consumption
"The frustration here in the U.S. is that it goes up and down," Dalton said. "A good year for farmers is a bad year for researchers. From the national survey, producers were saying, 'We invested all this money in sugarcane aphid research last year, and we didn't have an outbreak.'"
Sugarcane aphid was a significant issue many years ago where researchers worked to identify the resistance gene to prevent future yield decline, but sorghum and millet have very different uses globally. In foreign countries, products are used largely for human consumption and to provide relief from food insecurity.
"The world is kind of split," Dalton said. "In Africa, Asia and Latin America, 95% of sorghum consumed as human food is turned into flour. It's popped, it's made into drinks, and 5% may be used for (animal) feed. While in the U.S., we're lucky if we're going to hit 5% in human food consumption of sorghum. 95% (of U.S. sorghum production) goes into ethanol, trade and feed."
While countries like the U.S. have an abundance of resources and funding in agriculture, there are countries overseas that aren't afforded the same opportunities. Creating a system that is cohesive with the nation's economy is vital to ensure success down the road.
"We've got such tremendous yield gains that are leading the world," Dalton said. "But can these low-income nations harvest it? That's kind of one of the big themes that we tackled 10 years ago, by setting up projects and we have to say it's been successful."
Future of Sorghum and Millet
"The window is really opening up for sorghum in being able to address some of these challenges that countries are facing," Dalton said. "I think globally there's a big future for sorghum and in pearl millet as well."
In 2018, 22 innovation labs across the globe came together to host the first of its kind, 'Sorghum in the 21st Century Global Sorghum Conference' in Cape Town, South Africa with nearly 500 individuals in attendance. Today, after recovery from the COVID-19 pandemic, those labs will come together once again for the 2nd annual global sorghum conference hosted in Montpellier, France on June 5-9, 2023. This conference is a source of pride and a significant milestone for the K-State SMIL team. Sorghum is a relatively small global community in practice and research.
"We're getting into this kind of frontier," Dalton said. "Because of land degradation and the need to find a more drought resistant cereal crop that would provide both for the human consumption as well as into the poultry and livestock sector."
Keeping the research alive, the SMIL team at K-State has invested in teaching the next generation about the benefits of non-traditional crop alternatives.
"There's been a strong push in the state for internationalization getting undergraduate students in tune with what's happening around the world," Dalton said. "The college of ag has been so supportive because they see a key to their mission of internationalization and preparing students to be savvy in this global environment."
Going into the final year of the Feed the Future initiative, the team at K-State can look back to see the milestones passed in genomics research and the professional networking opportunities created on sorghum and pearl millet production across the globe.
"I think that's one thing that I feel very proud of," Dalton said. "We've been able to impact and have a good contribution to the U.S. industry while pursuing our international needs."
For more information visit https://smil.k-state.edu.