It takes more than just skill in a project area for a Kansas 4-H member to earn the title of 'State Project Winner.'
Each year, 4-H youth of all ages submit Kansas Project Report forms, and one state winner is selected from the senior division (ages 14-18) for each project. In addition to learning new project skills, these youth must also demonstrate growth and strength in leadership, organization, civic engagement, and above all, communication.
The Kansas 4-H Youth Development celebrates the top achievers in each project area at the Emerald Circle Awards Banquet, hosted by the Kansas 4-H Foundation. Winners are selected based on their project report forms, which are records created by the 4-H members of their most significant accomplishments in a specific project area throughout the year.
Project report forms progress through county, regional and statewide screenings before the state winner in each project area is recognized at Emerald Circle.
In previous years, Emerald Circle was attended by state project winners, their families,extension agents, and some of Kansas 4-H's biggest donors, but this year, organizers merged Kansas 4-H Discovery Days and Emerald Circle — which took place at the same time at K-State.
Approximately 200 additional 4-H youth attended the event, which included the recognition of state project winners, keynote speakers and Call Hall ice cream. The change, organizer said, was partially driven by the goal of increasing awareness of the state project awards and giving the younger members something to aspire to.
"We have an impressive set of young people who have accomplished so much in their 4-H project work," said Beth Hinshaw, a 4-H Youth Development specialist in the southeast region. "Being named a project award winner is one of the highest individual achievements within Kansas 4-H. All it takes is one spark to ignite that passion in a 4-H project that can then create so many learning opportunities and even the possibility of a future career."
Being a state project winner indicates prior excellence and points to future potential, Hinshaw said. Youth must display leadership skills and hearts for service by organizing events like community service projects, project meetings to share their expertise with younger 4-H members, and other unique efforts.
These project winners are also eligible to attend the National 4-H Congress in Atlanta in November.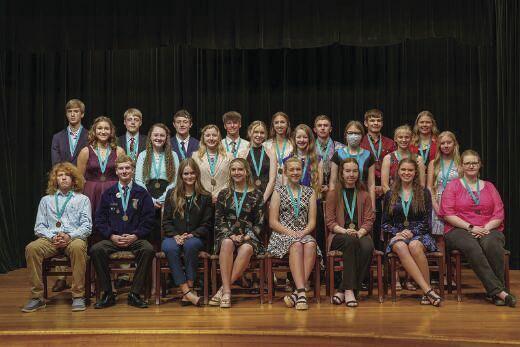 The list of this year's project winners, in alphabetical order by category, are:
Beef – Wyatt Fechter, Howard
Civic Engagement – Aleah Staggenborg, Marysville
Clothing and Textiles – Claire Mullen, Lawrence
Communications – Kyle Ruehle, Dodge City
Dairy – John Langill, Seneca
Dog Care and Training – Callie Jones, Abilene
Entomology – Maddix Small, Neodesha
Fiber Arts - Amy Crow, Wichita
Foods and Nutrition – Elizabeth Seeger, Moundridge
Health and Wellness – Sukesh Kamesh, Kingman
Horse – Natalee Bray, Scandia
Leadership – Claire Walker-Helsel, Wallace
Meat Goats – Adelle Higbie, Overbrook
Performing Arts – Alex Young, Marion
Photography – Eric Shapland, Scott City
Plant Science – Adam Snowball, Abilene
Poultry – Kaylen Langhofer, Plains
Rabbits – Clara Johnson, Nortonville
Reading – Acacia Pracht, Lindsborg
Sheep – Tyler Gillespie, Colony
Shooting Sports – Shelby Smith, Fredonia
STEM – Josiah Stockebrand, Yates Center
STEM: Energy Management – Ashton Bearly, Ludell
Swine – Jenna DeRouchey, Wamego
Visual Arts – Daegen DeGraff, Concordia
Wildlife – Lynnea Nelson, Carbondale
Wood Science – Morgan Vogts, Waverly.