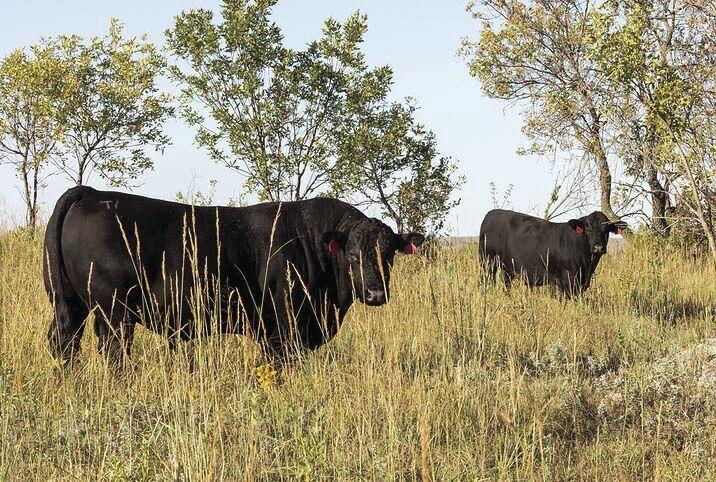 Cattle looked a lot different in 1941 than they do today, but cattle producers' desire for improvement, to breed better, more productive livestock has remained the same. Kansas producers' commitment to the pursuit of better bulls lead to the creation of the Kansas Bull Test, today the longest running bull test in the United States.
"The whole reason it started is basically so that guys could performance test their bulls," said Kansas Bull Test manager Andy Marston, "It started before a time of EPDs and one way to test your bulls to see how they made up against everybody else's was to put them in a bull test. As time has gone on, programs like this really give these guys that have, maybe not necessarily enough cattle to have their own bull sale, but it gives them an opportunity to feed their bulls out and see how they compare with other breeders and then gives them an opportunity to sell. I think that's I think that's the biggest part of this is it gives you know just gives these guys an opportunity to market some bulls that they wouldn't have access to if we weren't around."
Breeders fill out an application to have their bulls be part of the Kansas Bull Test. Bulls are delivered to the test site the third week in October and are sold at auction the second week in April.
"These cattle have been fed all over the state," Marston said. "Today, they're fed at Larson farms in Green, Kansas."
For the test, bulls are fed in dedicated breed groups, with pens for Angus, Simmental, SimAngus, Charolais and Gelbvieh/Balancer. The test feeds the bulls for targeted weight gain from the time they arrive until sale day in April.
"The bulls have to weigh 650 pounds by the time they bring them to the bull test and then they're fed a mostly roughage and silage ration," Marston said.
"We try to grow them at three to three and a half pounds a day. By the time we're selling them there should hopefully weight over 1,200 pounds. You know, of course some individuals do a lot better and some individuals don't do as good. That's what we're trying to sort out when we do that test."
Producers purchasing bulls at the Kansas Bull Test sale in April, not only get access to bulls with excellent EPDs, they also get access to in-the-field performance data and quality genetics.
"We have what we call the bull test index, which is basically just weight per day of age and average daily gain. And the bulls that make the sale for sure have to average or have to be at least 100 on their Kansas bull test index which is half their average daily gain and half of their weight," Marston said. "I go through the bulls and look for individuals that are you know, good numbered or good looking or calving ease — bulls that bring something to the table."
Bulls from past Kansas Bull Tests have scored in the top 1% of genetic traits in the respective breeds. Each year, the test sees notable improvement in the bulls that attend.
"The bull, that tested the highest in 2022 was 116 on his index. And he was pretty head and shoulders away from everybody else. I think we had a Simmental bull do like 127 and as far as the standout goes, he was pretty remarkable," Marston said. "As far as the EPDs go, there's a lot of these bulls ranked in the top 1% of the breed for some EPD traits. And, especially when they're highly sought after EPD traits, that really increases their value."
As for the longevity of the Kansas Bull Test, Marston credits the enduring commitment of Kansas breeders to progressive genetic improvement.
"Good quality bulls and breeders that are progressive on their EPDs, and on trying to find bulls with really good EPDs and doing genetic testing, I think is really what makes it go every year," Marston said.