Farmers from across Southeast Kansas gathered in Humbolt last week for food and fellowship at the Geffert family farm as part of Kansas Corn's annual statewide listening tours.
Despite a challenging growing season, corn growers accomplished lots of good over the last few months — primarily in the areas of export development and education.
Kansas Corn CEO Greg Krissek was positive about the organization's ongoing efforts to expand export opportunities directly from Kansas.
"We've gotten to the point where one-third of the corn grown in Kansas is leaving the state," Krissek said. "Iowa is not really an exporter of corn anymore — their ethanol plants and livestock feed means they are consuming in-state equivalent to what they produce."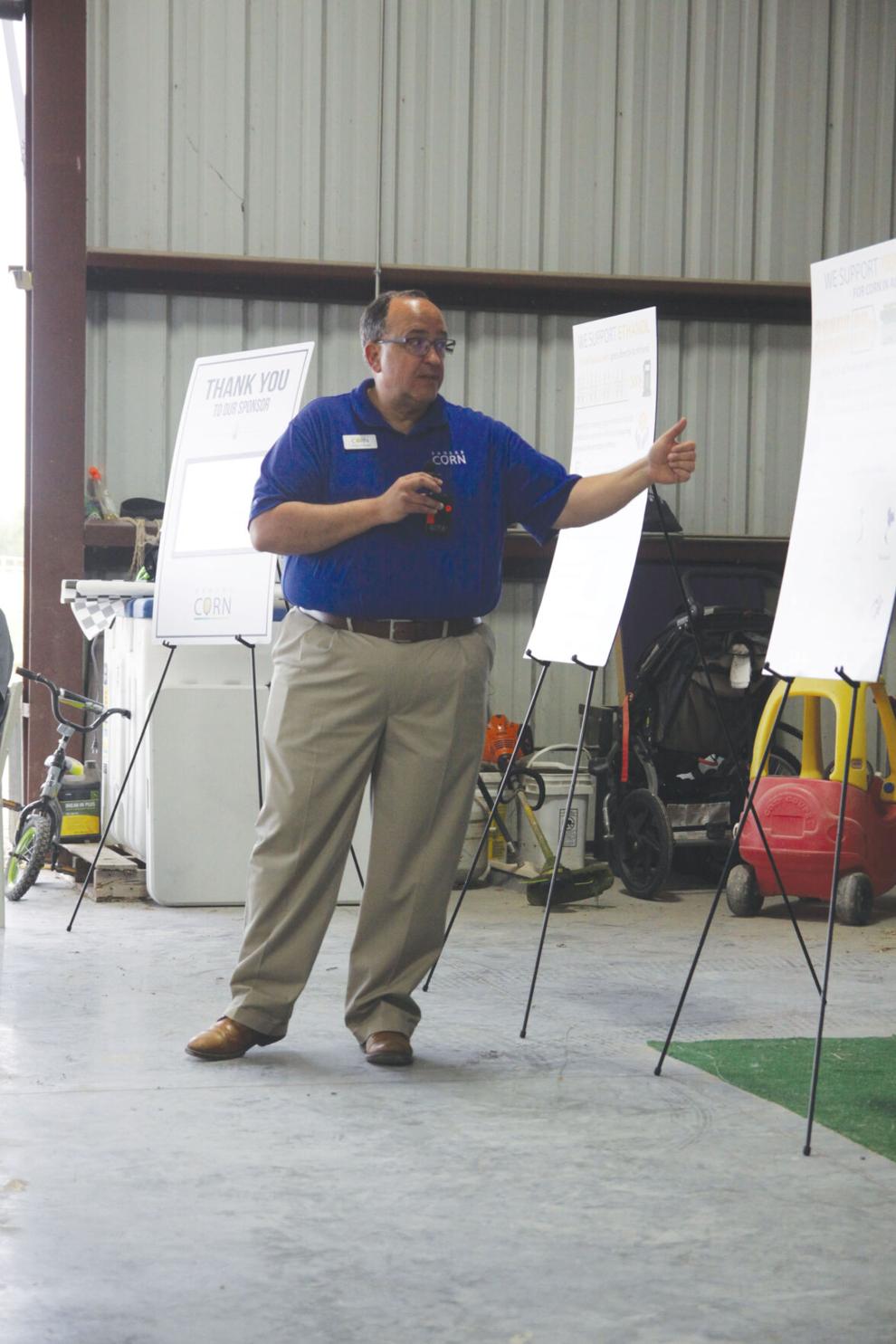 Krissek went on to identify Mexico as a key importer of U.S. corn mention the existence of several Kansas locations already trading directly with Mexico. While exports of corn are important to the overall success of the crop in the state, he said corn bi-products can also be a critical outlet.
"We remain very supportive of corn as exports in all forms," Krissek said. "That includes corn as corn, corn as beef or pork or poultry and that has been distillers grains as well over the last 15 years."
Kansas Corn education coordinator Erin Rios was on hand to talk about anoth critical aspect of Kansas Corn — one that took a staring role in the organization's success this year. Kansas Corn has offered K-12 programs dedicated to Science, Technology, Engineering and Math curriculums taught using corn examples for several years now, with many teachers coming back year-after-year for more information to teach students about Kansas agriculture.
"We've realized that teachers are really excited to teach about agriculture but often don't have the funds or resources to do that," Rios said. "So, thanks to the checkoff and our farmers, the teachers are getting that support from Kansas Corn."
Despite its popularity, the program faced challenges alongside educators across the state in 2020 due to the COVID-19 school shutdown.
"This past year we were able to support over 49,000 students with our curriculum," Rios said. "March through May is normally our busiest time of year but of course this year we faced the statewide school shutdown."
The education department at Kansas Corn built on their existing lesson catalogue, as well as creating new online lesson plans for teachers and parents to teach kids about corn growing at home. During the spring shutdown, the Kansas Corn staff developed a new online lesson every day for educators across Kansas to utilize in online classrooms.
"We added on to our online lesson library and increased it from around 40 lessons to over 70," said. "Our lessons were viewed online by 3,729 people during the shutdown — a more than 50% increase over last year."
In the new year, Kansas Corn plans to continue its supporter of educators across the state, as well as finding and developing new markets for Kansas corn products. For more information about Kansas Corn kscorn.com.