Kansas Farmer's Union in partnership with K-State Extension, the Farmer Veteran Coalition and the Kansas Grazing Lands Coalition hosted a four-part fall farm tour series designed for beginning farmers to network and interact with educational speakers in different parts of the state. Last Monday, Southeast Kansas tours capped off the four-week series with visits to Leafy Green Farms, E3 Meat Company and ReproLogix.
Leafy Green Farms – Pittsburg
Driving by the municipal airport in Southeast Kansas, a passerby would never realize there was an entire farm stuffed inside a shipping container supplying fresh greens to Crawford County locals. California-born entrepreneur and military veteran, Brad Fourby runs Leafy Green Farms, a vertical hydroponics operation just west of Pittsburg.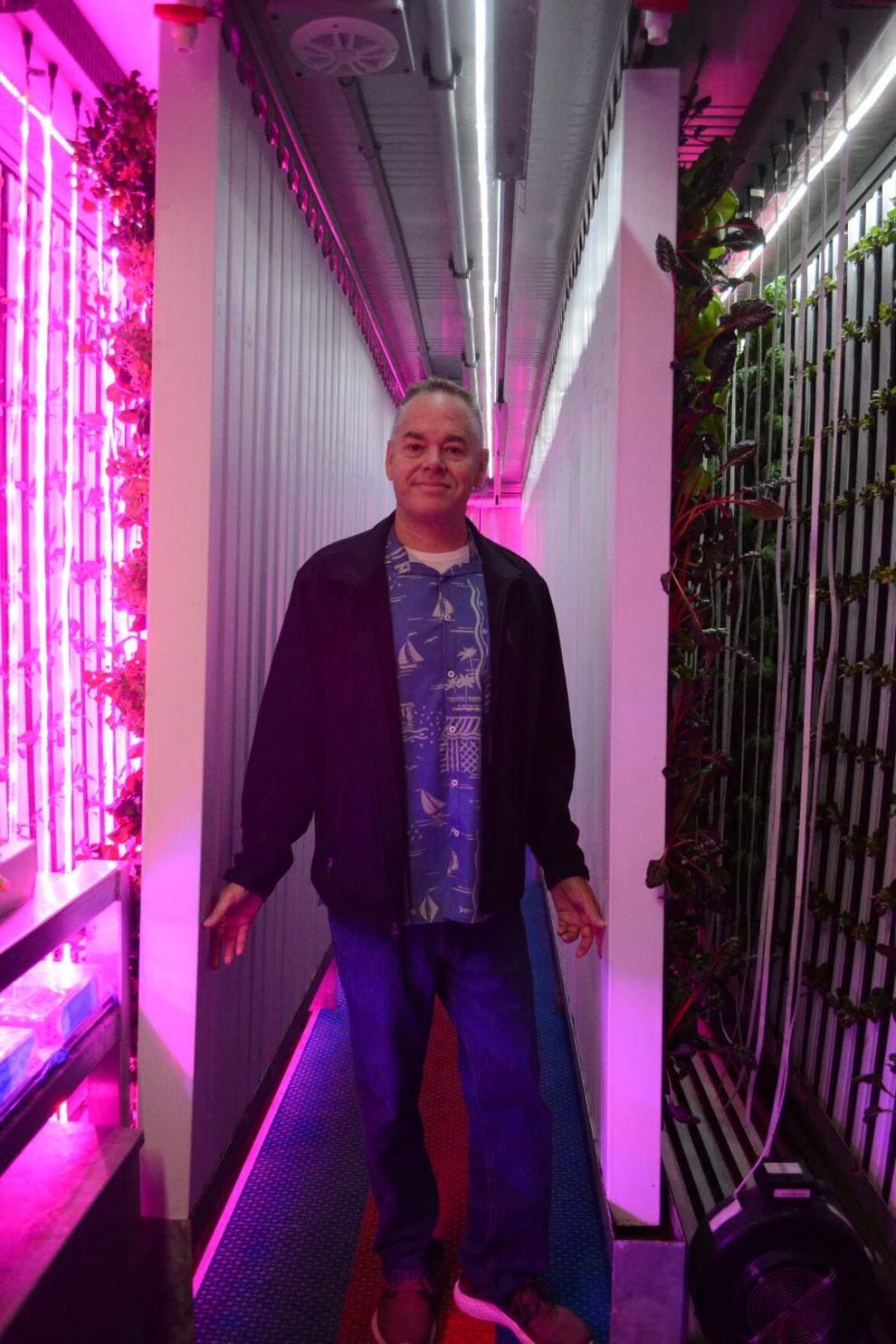 "I went through some trials and tribulations," Fourby said. "That used to be the challenge. The banks and the Chamber of Commerce wanted me to show them green on the walls. That was always our job, to show green on the wall."
Fourby knew he wanted to grow his own food after watching videos on YouTube and discovering vertical farming as an economically viable option compared to purchasing land. The idea of vertical farming, to Fourby, was 'sexier than horizontal farming' and the cost of production was attractive when the farm was estimated to cost roughly $100,000 per container.
Three shipping container farms are currently in production with a fourth one on the way. Each container weighs approximately 18,000 pounds. On the inside, all crops are grown in vertical towers running on a 365-day growing season.
"I just have everything set up. I normally run them from about six at night to about five in the morning, just depending on the species of plant," Fourby said. "The farm itself takes about 20-25 hours worth of manpower a week."
Vertical farming techniques are capable of growing two acres worth of food utilizing the smallest space possible, a mere 320 square feet. Fourby, as a veteran with a navy background, said having everything placed and in order was a great design choice for streamlined harvesting.
On average, from seed to harvest, plant growth takes between four to six weeks. Sustainability is an important factor as all Leafy Green Farm crops are grown with zero assistance from herbicides or pesticides.
"The entire farm only uses 10 gallons of water a day," Fourby said. "It's a very small amount of water and our humidifier gives us one gallon back every day."
To top off sustainability, crops are planted in peat moss fiber pods and kept temperature-controlled and on schedule year-round.
"You don't really have the same worry and stress that every other farmer has with the weather," Fourby said.
Since the beginning of July 2021, Fourby continues to strive towards his goal of 2,000 species of leafy greens. His most popular and rare product thus far is Wasabi Arugula.
"I'm always trying something new," Fourby said. "People ask me what my favorite crop to grow is and I always tell them, it's the next one. I love growing whatever comes next."
The joke around the farm, Fourby says, is if your kid doesn't like arugula, your kid has never grown arugula. Moving forward, Leafy Green Farms would love to have a role in the classroom demonstrating a learn-by-doing approach getting kids to grow and produce their own food. Fourby wants to challenge the way youth think and build up better nutritional habits over time in younger generations.
"This farm was really designed for a rural community and that's why we really got into this farm to help the rural stores that just don't get support or get good food deliveries," Fourby said. "We can really be at the source instead of it being grown in Mexico, processed in California and shipped to Kansas. We're growing it all right here. It's grown locally and eaten locally. That's our market."
There was a vast amount of initial interest from locals. Leafy Green Farms currently works directly with the local Community Supported Agriculture distributors to supply Southeast Kansas food pantries and grocery stores with sustainably made products.
"What we're trying to do in Crawford County is raise the nutrition level," Fourby said. "With income levels, you can see it is a direct correlation, the income level of a county and their nutrition and health is almost the same across the board. With that, we started thinking. We're going to help raise the nutrition level by infusing super healthy food into our marketplace."
E3 Meat Co. - Fort Scott
Rancher Jake Gross takes pride in E3 Meat Company, a certified beef operation selling sustainably raised beef products and pet treat byproducts. The company sells direct-to-consumer in Kansas and ships products to E3 chophouse locations in Steamboat Springs, Colorado and Nashville, Tennessee. E3 Ranch in Fort Scott is the blueprint for all E3-certified ranches and Gross is prepared to step up to the challenge of advocacy.
"The problem we're having right now in this society is we're not telling the story of the American rancher," Gross said. "When I played football, they said, 'Your best defense is a great offense.'"
When consumers purchase meat labeled as 'All-Natural' the definition is rarely specific. The current law states that All-Natural foods are minimally processed with no added ingredients. For E3 Meat Company, the term goes on to include no added hormones, antibiotics or steroids during the life of the animal.
"It costs us more to raise that steer than it does conventionally," Gross said. "We're not putting the growth hormones in it so it costs about 20-25% more to raise it."
In Gross's experience when selling direct-to-consumer, if producers are being fully transparent, then the product sells itself – and consumers are willing to pay more for it. Gross encourages cattlemen if they want to maximize their dollar, to ensure that the same process is being strictly followed for every animal in the lot.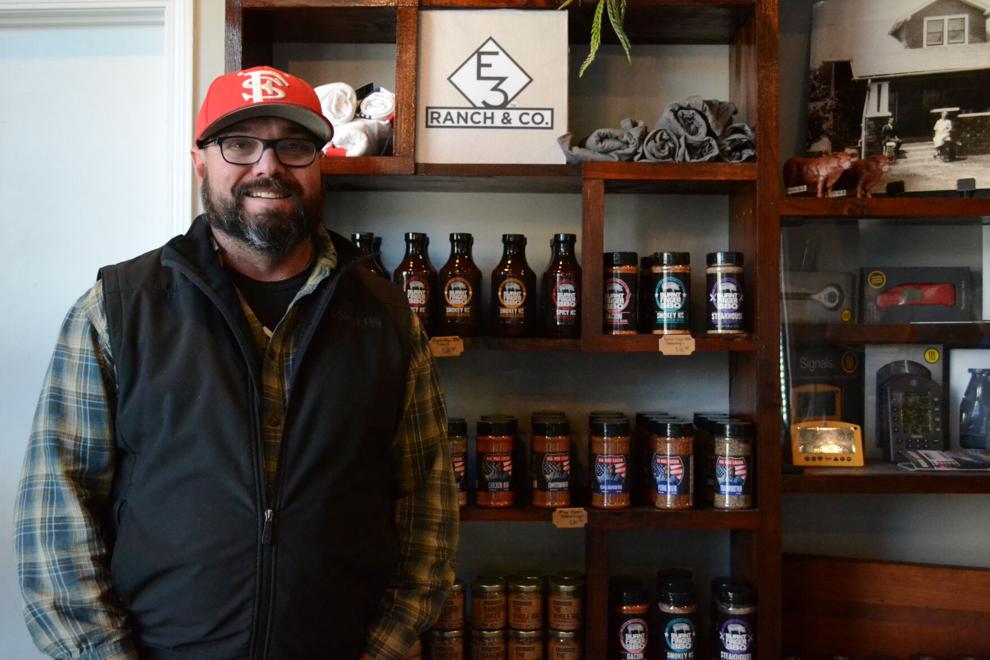 "The big goal is consistency," Gross said. "By controlling the breed and controlling where I feed them and how I feed them, I would also control all the genetics. It's super important how you feed and where you feed. It's just as important as genetics."
Small changes in day-to-day operations can significantly alter the final taste of the meat. By maintaining consistency from farm to fork, consumers are more easily able to attribute taste to a specific brand.
"People are like, 'Wait a second, why does your hamburger taste so different'," Gross said. "Because it's fed differently. We're not just doing just trim, I'm doing rounds and whole muscle cuts."
E3 Ranch certified black and red Angus cattle are grass-fed and grain-finished. Gross takes pride in a holistic approach and strives to be a good steward of the land.
"You've got to have those vitamins and minerals going on those calves," Gross said. "It's just like babies and our kids. Give them room. Don't stress them. Give them a great diet."
Another simple way to market, Gross said, is by creating a brand and clothing apparel line that people can get excited about.
"Having your own brand in your own town, you'd be shocked on how many kids if you designed it correctly, will start to wear that," Gross said. "It's a great way for free to promote your brand. And it's also a great way to tell the story of the rancher and agriculture. My challenge to everyone is to be prepared to tell the story."
Popular items for E3 Meat Company include a '0% Vegan' shirt and canine treats among other unique accessories. Products include bone-in prime ribs, steaks, butcher cuts, BBQ cuts and burgers – leaving no animal by-product to waste.
"We want to have the best-tasting healthiest products out there," Gross said. "We'll put a sticker on it for approval the day we ship it out of our facility."
E3 Meat Company's future goals include building up the brand to where those meat products are available anywhere in the country.
ReproLogix – Fort Scott
ReproLogix, a reproduction technologies operation in Fort Scott marked the last stop on the tour. With both a bovine and small ruminant division, ReproLogix is committed to providing quality services including conventional embryo transfer, in vitro fertilization, donor management and conventional surgical flushing. Staff member, Claire Timlin led tour attendees across the grounds explaining day-to-day activities. First up was a close-up demo of the oocyte collection process, starting with sampling the cow.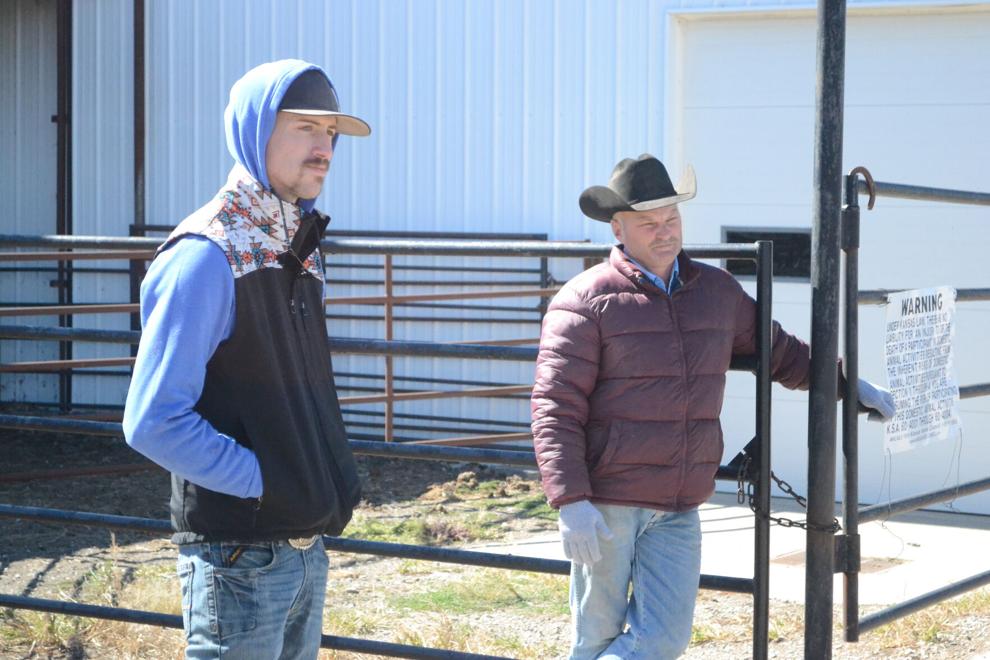 "We'll give [the cow] lidocaine epidural similar to if you're in the hospital having a baby it's the same kind of epidural process," Timlin said. "It just helps really make the count more comfortable and it makes it a lot easier for our arm technicians."
ReproLogix is primarily focused on the technique of in vitro fertilization. Arm technicians will search for oocyte follicles to scoop up in a sample for the lab technicians.
"Stephen is going to clean the cow as best he can before he begins. That helps prevent any contamination further on down the IVF process," Timlin said. "He's going to be inserting that ultrasound into the vagina while manipulating the reproductive tract from the rectum. Then he'll press that needle through the vaginal wall into the follicles on the ovary and suck out the content."
From the barn, the samples are directly transferred to the lab technician to identify Follicle Stimulating Hormones.
"As the follicles are growing, the bull kind of selects for one dominant follicle," Timlin said. "The FSH actually kind of overrides that in the system. You can get the growth of several follicles that are nice and large and easy to aspirate. FSH isn't necessarily going to give you more eggs, it's going to make those eggs slightly better quality and easier for the aspiration technician to visualize."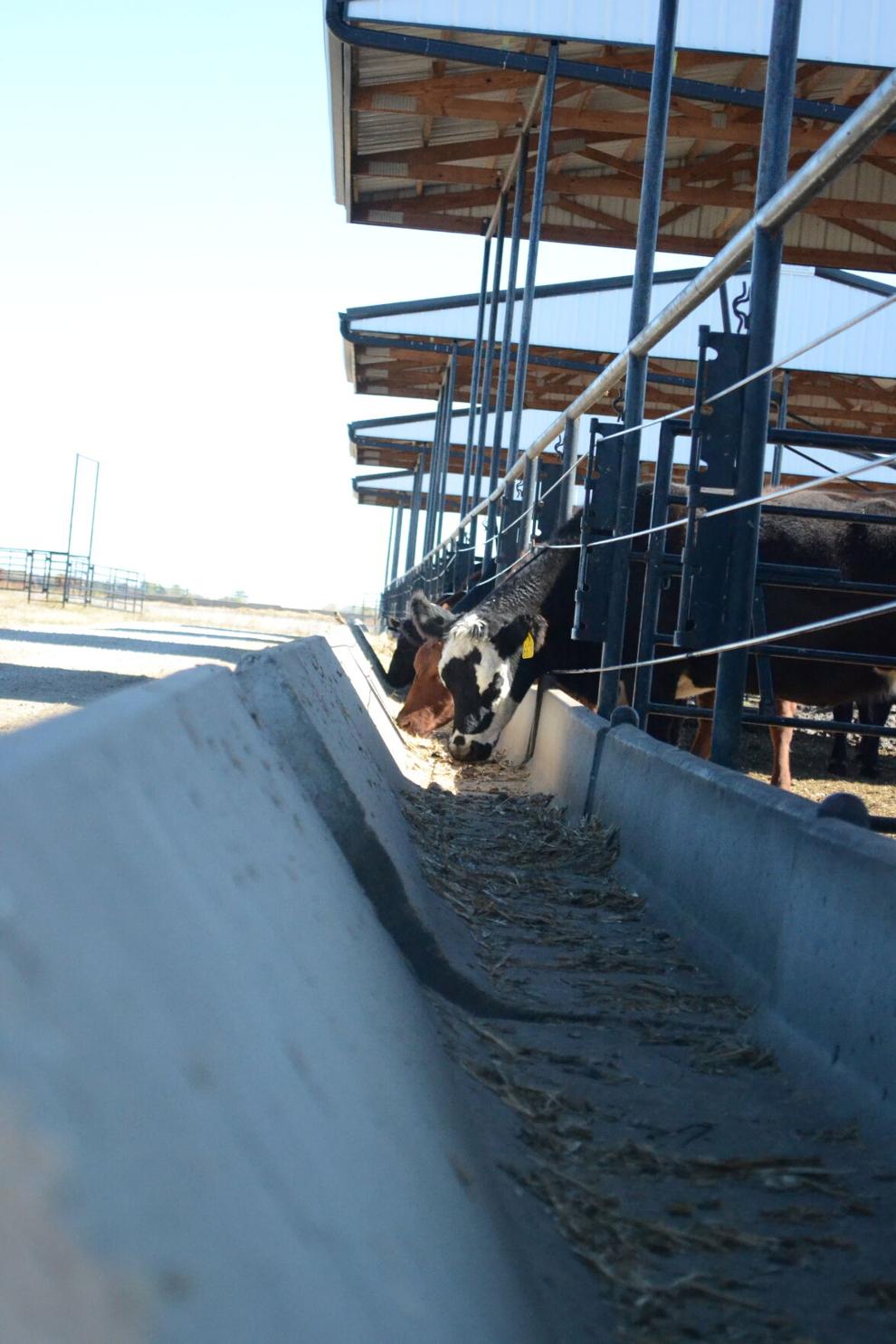 When transferred to the lab to search for cytoplasm and cumulous, the oocytes need to stay at a consistent, warm temperature. Surfaces are kept warm and lab technician Jocie Kleiman ensures that samples are effectively cleaned and oocytes identified promptly.
"Starting with their cytoplasm, you want to make sure that it's healthy looking and extends all the way to that zona," Kleiman said. "Whereas you see this junk one, this would just be a discard right off the bat. It's kind of pulled away from that zona. It's got no, what we call cumulus, around it, which is actually what feeds outside and keeps it alive."
Oocytes are classified into three categories. Grade one will have the most cumulus and a strong healthy cytoplasm. Oocytes classified at grade two will have fewer rings of cumulus and grade three is either a single ring of cumulous or seen as very patchy.
"Your best production is going to come from your grade one and grade two," Kleiman said. "Don't discount the grade three, they can produce things, it just won't be as such a high rate as grade one and two."
Clients are responsible for picking the sires they want to use and delivering the semen. Staff will usually complete the IVF process in 30-35 cows per day with the busiest seasons in fall and spring.
"The thing about these repro technologies is there's not a one size fits all way to do this, it's really going to depend on what your operation goals are, where you want to get your genetics," Timlin said. "Some cows are really prolific and do well in IVF. Some may not do great in IVF, but can conventional flush really well. So that might be your better option."
There's much variability in the IVF process. Loss can occur from the cow to the petri dish, from the metabolic maturation media to fertilization or from fertilization to culture with the most loss happening during maturation media to fertilization of up to 5-10% loss.
"You can typically expect about 25-30% production from your cow being the number of oocytes that went into (maturation) media to the number of embryos produced," Timlin said.