"I've done so many things, there's no end to it. I just lived a life and lived it great."
The king of cowboy trick riders and ropers has gone to the great beyond.
Well-known throughout the Flint Hills and around the world, J.W. Stoker, legendary trick rider and roper, passed away.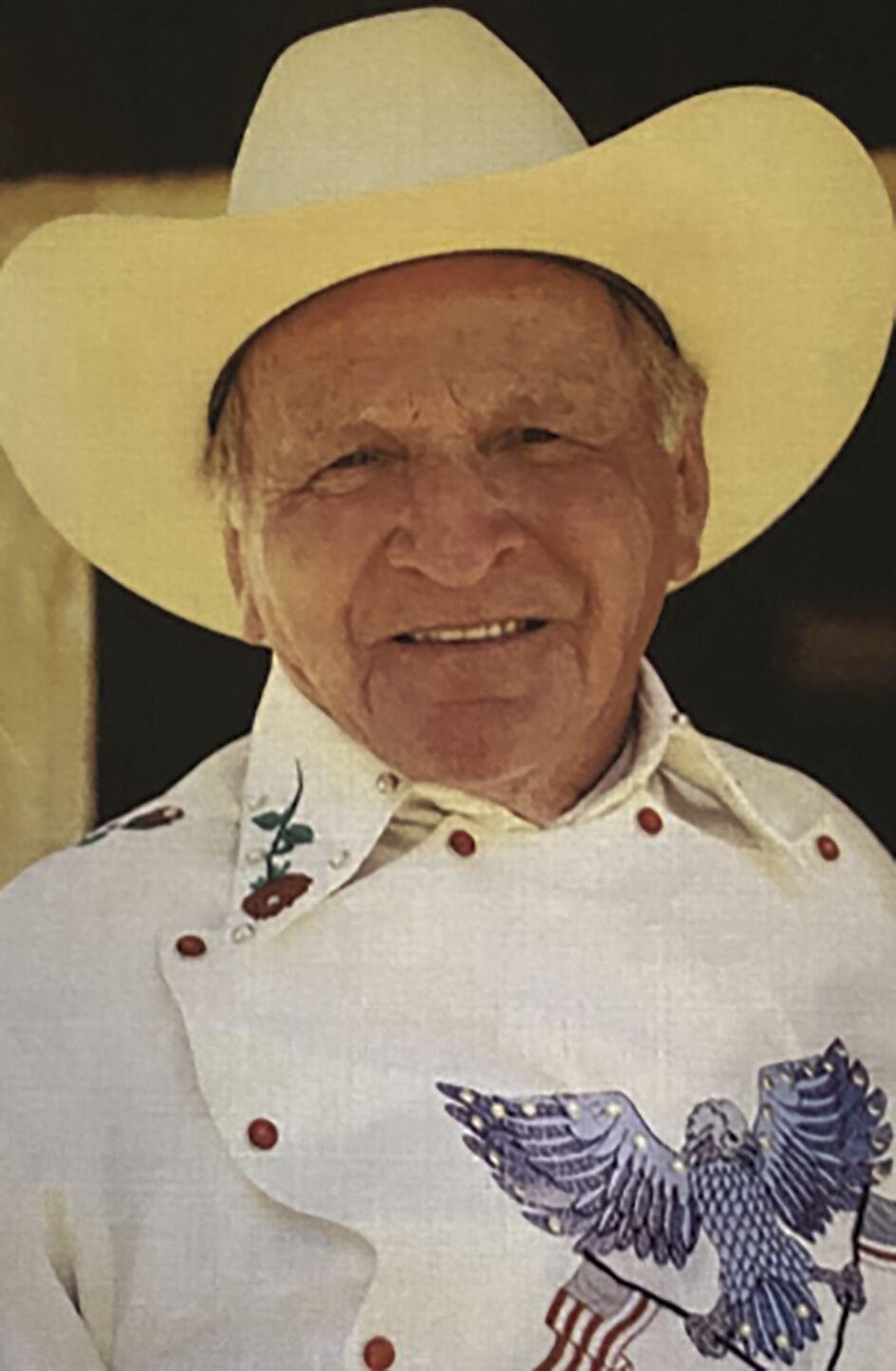 An all-around cowboy-horseman active until his final days, Stoker, 94-years-old, died April 21, 2022, at Weatherford, Texas.
Although Stoker entertained crowds worldwide, he had close Kansas ties and performed frequently in the Midwest.
Born on a Colorado Springs ranch September 30, 1927, Stoker was inducted into the ProRodeo Hall of Fame at his birthplace community. Receiving that Professional Rodeo Cowboys Association (PRCA) recognition in 2011, Stoker built a career spanning more than seven decades. He was equally adept as a trick roper and trick rider with several nearly-as-famous trick horses.
In 1931, the Stoker family moved to Overland Park, Kansas. With his younger sisters, Frankie and Bessie, Stoker developed trick roping-riding interests at a Tom Mix Circus in Kansas City.
Pinky Barnes is credited with coaching Stoker in roping skills at Kansas City during 1938. The next spring, Stoker, 10-years-old, became a trick roper in the Clyde S. Miller Rodeo Show.
Miller hired Stoker's parents to help with the show, and his sisters joined the act making it a family affair.
When he was 12-years-old, Stoker appeared on the Wheaties cereal box as Juvenile World Champion Trick Rider.
Turning professional in 1942, Stoker rodeoed steadily until the United States Army needed him. He served with the Soldier Show Section during the Korean War, entertaining troops.
Upon his Army discharge in 1953, Stoker went on the road performing with black lights. His use of invisible ultraviolet lights was the first such routine in professional rodeo.
Stoker worked the biggest rodeos including Cheyenne, Madison Square Garden, Calgary, Boston Garden, Denver, Fort Worth, and Salinas, California.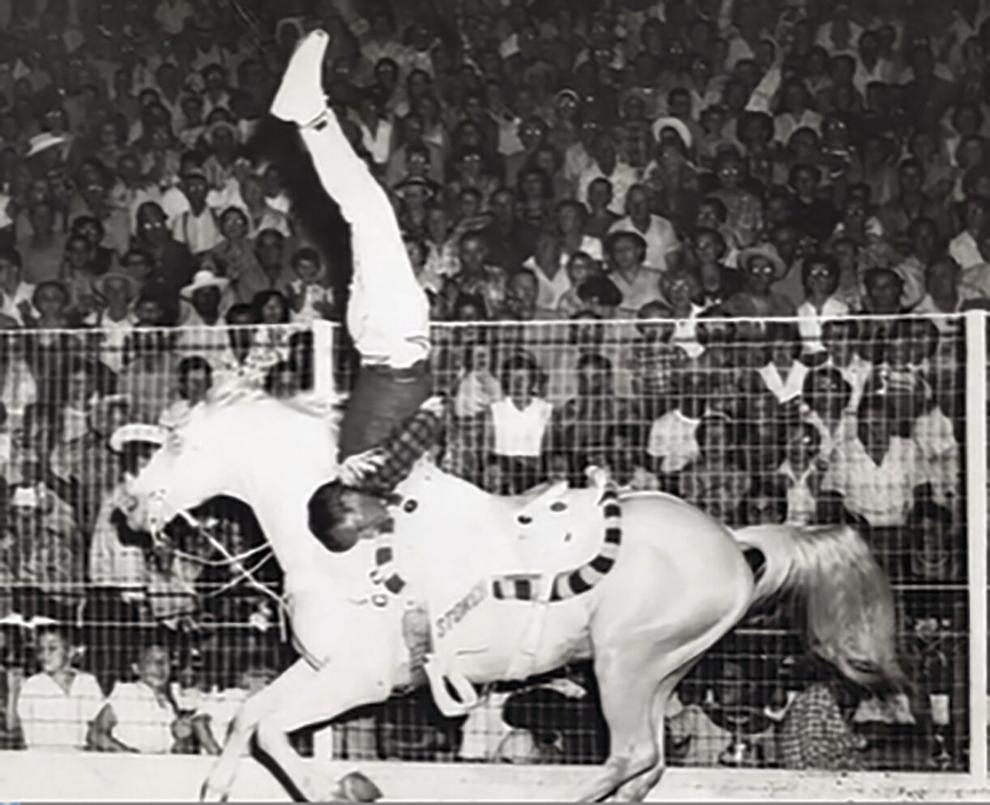 He entertained at the Flint Hills Rodeo in Strong City, the American Royal in Kansas City and other Kansas communities.
His talents of trick riding, black light rope spinning, and fancy horse catches also have been witnessed in other countries. Among them were Japan, Dominican Republic, Cuba, Korea, Finland, France, Australia, and Venezuela.
Presenting his acts in the 1940's movie The Kansan, Stoker performed in the 1956 movie Bus Stop starring Marilyn Monroe.
A stunt rider for Roy Rogers' shows, Stoker let Rogers ride his palomino horse, Punkin, at many major rodeos. In 1980, Stoker was a stunt double in the Clint Eastwood movie Bronco Billy.
Performing for the Queen of England at one time, Stoker trick roped in President Harry Truman's inaugural parade in 1948. He entertained President Ronald Reagan and future President George H.W. Bush at the 1984 Republican Convention in Dallas.
In 1973, Stoker spent seven months working for Casey Tibbs' Wild West Show in Japan. Later, Stoker worked publicizing tourism in the state of Nevada.
Winning the 1978 Will Rogers Centennial Trick Roping Contest, Claremore, Oklahoma, Stoker performed at the 1988 Winter Olympics, Calgary, Alberta, Canada.
A featured guest on NBC's Today Show and the Charlie Rose Show in 1990, Stoker was an entertainer at the Smithsonian Institution. He appeared from 1990 to 1999 in Michael Martin Murphy's West Fest. In 2003, Stoker entertained at The Great American Wild West Show in Las Vegas.
Stoker's wardrobe included more than 50 fancy fringed-rhinestone shirts, 25 pairs of handmade boots and 25 western hats.
Stoker broke tradition being honored two consecutive years (1985 and 1986) with the PRCA Specialty Act of the Year Award.
He was inducted into the National Cowboy Hall of Fame in 1999, the Texas Cowboy Hall of Fame in 2007, and the Texas Rodeo Cowboy Hall of Fame in 2015.
In 2019, Stoker was recipient of the Lane Frost Award in honor of his contributions to the image and growth of rodeo.
Mayoral proclamations were made by the cities of Weatherford, Texas, and Overland Park, Kansas, designating "J.W. Stoker Day" in both locations.
In his later years, Stoker made numerous appearances at the Rose Bowl Parade with Trish Lynn and the All-American Cowgirl Chicks. Stoker was instrumental in coaching the team and developing the trick riders.
"The Cowgirl Chicks were his pride and joy," said Stoker's niece Debbie Miller of Emporia. "J.W. loved to brag about their accomplishments. He was immensely proud of the work they did to keep the art of trick riding and roping alive."
Mrs. Miller's mother Bessie Fugate as a young girl entertained with her brother J.W. Stoker and their sister Frankie for several years.
Mrs. Fugate and her husband Jim Fugate operated Jim's Cowboy Shop at Emporia in partnership with Mrs. Miller and her husband Brad.
Hunter Fugate, Stoker's nephew, is an Emporia native and formerly competed in rodeos and jackpot team roping events.
Jake Miller, son of Brad and Debbie Miller, learned trick roping skills from Stoker. "While in college at Weatherford, Texas, Jake had the opportunity to entertain with J.W. and the Cowgirl Chicks," Mrs. Miller said.
Among those Stoker coached was Rich Gratny who at one time held the Guinness World Record Largest Trick Roping Loop.
Stoker spent his final years working with his beloved horses Romeo, Hollywood, and Blanco. Throughout his entertainment career, Stoker trained a number of horses with Hot Diggity likely best known by Kansas acquaintances.
"I've had several good horses, but I'd have to say Hot Diggity was the best," Stoker credited. "I could trick ride and rope on him, and he was a finished high school trick horse himself." Hot Diggity lived to be 34-years-old.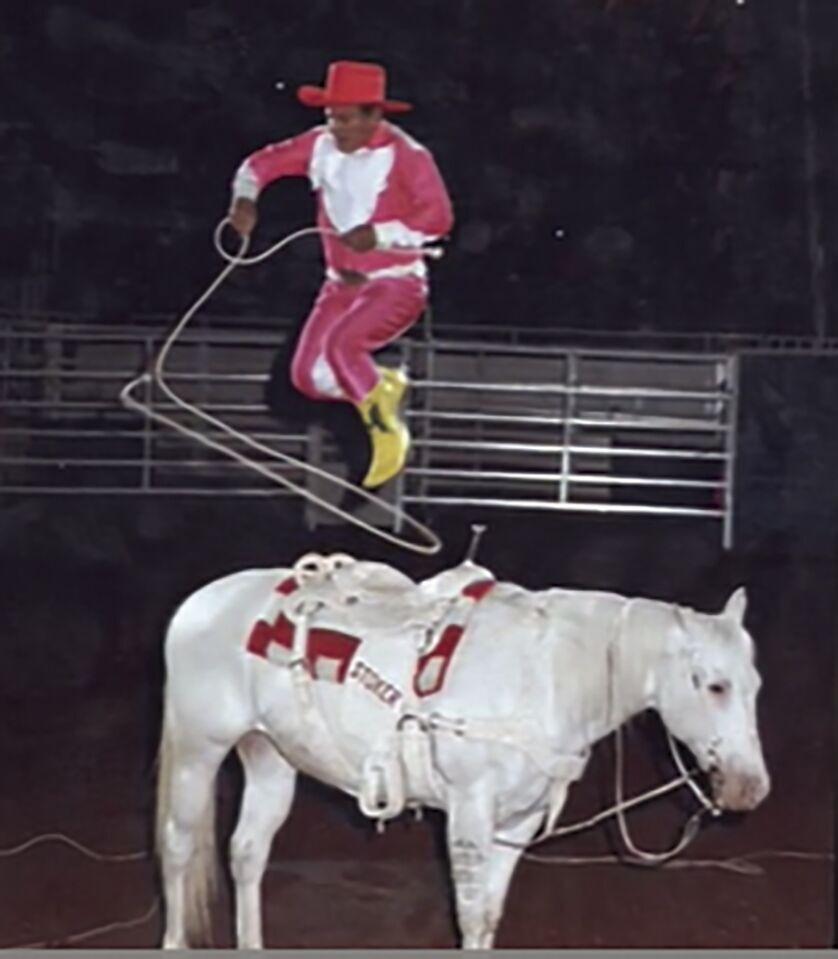 "I lived a good clean life, didn't smoke or drink," Stoker said last year. "That's why I am still able to keep busy taking care of the horses I love."
"J.W. continued to perform special engagements and make appearances into his 80s," Mrs. Miller said. "He even taught a roping lesson from his bed a couple days before he went to be with the Lord.
"J.W.'s dream was to keep the Western culture alive through teaching young people trick riding and roping," Mrs. Miller said. "Throughout his life, J.W. quietly coached dozens of trick riders and ropers. He was willing to teach anyone who asked.
"Personally, considered his greatest achievement. J.W. Stoker's legacy endures through those he so graciously shared his talents," Mrs. Miller said.
Funeral services were April 30 at the Aledo, Texas, Cowboy Church. Rodeo announcer Bob Tallman spoke, and singer Red Stegall provided an address by video.
A glass hearse drawn by four white horses brought Stoker to the church.
Later, a horse drawn wagon carried Stoker around the arena, while trick ropers including Jake Miller performed. Romeo, Stoker's Paint Horse stallion, was present in the center of the arena saddled with his trick saddle.
On May 4th, a private family service was conducted in Overland Park by Stoker's nephew Donald Hill. Jake Miller presented a song tribute and there were military ceremonies honoring Stoker's service in the Korean War.
Stoker's wish was to be buried near his parents.
Donations in Stoker's memory can be made to All-American Cowgirl Chicks, 4101 William D. Tate, Suite 100, Grapevine, Texas, 76051. That is to create the J.W. Stoker Memorial Scholarship to assist young people in attending trick riding and roping camps.
Stoker was preceded in death by his parents, Frank and Wilma Stoker, and his sisters, Frankie Hill and Bessie Fugate, and nephew J.C. Hill.
Six nieces and nephews survive him: Karen Krehbiel, Donald (Sondra) Hill; Ronnie (Gina) Hill; Wallace (Rhealene) Hill; Debbie (Brad) Miller; and Hunter (Geri) Fugate. Stoker also is survived by 15 great nieces and nephews, and 27 great-great nieces and nephews.