At the corner of Highway 400 and 7 in Cherokee, Kansas, a little red and white roadside store has played host to a number of past local businesses. In early 2019, Coal Valley Angus ranch's Jackie and Ronda Coltrane moved in intent on opening up a family-friendly outlet for the community to enjoy their Prime and Choice grading home-raised beef.
While Coal Valley's beef operation had previously focused solely on developing high quality bull genetics, Jackie and Ronda saw a prime opportunity to capitalize on genetic traits they had focused on and been devoted to for 10 years — namely marbling, ribeye area and other carcass-centric traits. Coal Valley Marketplace offered the perfect solution to expand their business while supporting food security in their local community.
"We have literally created the dynamics of pasture-to-plate on our operation," Jackie said. "No matter which way we go, we have created an opportunity so that every calf born at Coal Valley has a marketing potential based off our genetics, and that was one of our main goals in establishing this market."
A 'Ma & Pa' Style Market
For the Coltrane family, the market experience needed to feel like an authentic, small-town general store with service to match. Jackie calls it the "Ma and Pa" feel, but the gist is that when customers come in to Coal Valley Marketplace they're treated like any other Coltrane. If they're driving by on the highway after hours, they can give Ronda or Jackie a phone call and pick up meat in minutes.
It's a system that requires a lot of energy and effort, especially as customer volume increases, but it's an important aspect of the Coltrane's business model and more importantly, their personal values and commitment to the community.
"We have a lot of very good, loyal customers who understand the quality of our meat," Ronda said. "And I believe our business has grown tremendously by word of mouth from those customers."
Ronda, Coal Valley Marketplace's main manager and organizer, spends most of her time at the store, where she answers customer questions about the wide variety of products the store keeps in stock. Everything from high-grade steak cuts to beef sticks, hamburger meat and hotdogs to locally sourced pork and chicken cuts as well filling the freezers.
"We have a dedicated Choice freezer and a Prime freezer, and many of our customers will come through and ask about the difference between the two," Ronda said. "With our vacuum sealed packages, I'm able to pull out samples of both and talk the customers through the differences in marbling, flavor and tenderness."
For many customers, the lessons in meat quality are something to be remembered regardless of where they purchase meat, but most end up coming back to Coal Valley Marketplace. With meat quality made obvious through clear, protective packaging, Jackie said most customers are pleasantly surprised to hear just how local the products they're purchasing really are.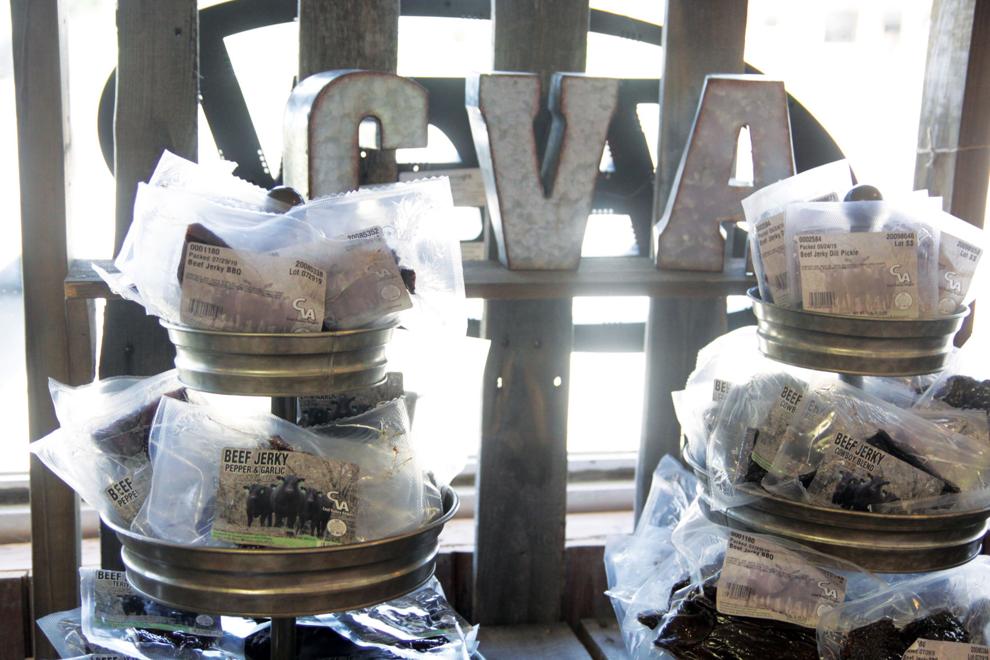 "There is no beef that comes through this door —and there will never be — that is not tied to Coal Valley genetics," Jackie said. "It's a big deal to us to know where the beef comes from and to be able to share with our customers that all of the beef in our store was born and raised within a 10 to 15-mile radius."
In the future, Jackie said he hopes their commitment to maintaining the marketplace with local, Coal Valley-influenced genetics will create marketing opportunities for their bull buying customers as well as their immediate family.
"At the inception of this venture, we'd been using very high quality carcass genetics for years," Jackie said. "The bulls in our bull pen that didn't meet our high standards were going for salvage value at the sale barn and we wanted to be able to capitalize on the genetics we'd worked toward."
COVID-19 Challenges
Coal Valley Marketplace opened in January 2019 and by January 2020, the store had developed a roster of frequent customers, both locally and return travelers moving between Wichita and Missouri. Ronda had developed a well-practiced ordering schedule and relationship with their Oklahoma-based processor when meat suddenly became a limited commodity due to COVID-19.
Intent on keeping prices reasonable for local customers, while maintaining a locally available food outlet was difficult in light of the beef processing situation across the United States, Ronda and Jackie agreed to make sure their prices reflected their processing costs as well as the actual value of live cattle.
"As long as we can create a profit and make it work, we're going to keep our prices as affordable as possible," Jackie said. "Six to eight weeks ago, when they closed the schools, is when we saw business really begin to pick up, and we were able to keep everything in stock throughout until this week, where we sold out of ground beef for a few days before we could get more in."
The influx of business would have been difficult to sustain had Ronda not been building up their clientele and meat offerings prior to the first real wave of concerned consumers. While Coal Valley already had a standing schedule with their processor, they decided early on to extend their booking to ensure their access to processing, and by extension, their community's access to beef in the future.
"We're scheduled with our processor through December 2021, and that works for us because the cattle to fill those slots are already close to weaning," Jackie said. "What this demand will allow us to do is further tighten up requirements in our bull pen."
Cattle Connection
Farm Talk originally caught up with Coal Valley Angus in 2012, when Jackie and Ronda were beginning to transition their purely commercial family operation into a more refined seedstock operation, using tailored genetics and more advanced breeding practices like artificial insemination and embryo transfer.
In just over 10 years, the genetic potential Coal Valley Angus has been able to achieve is an impressive testament to their dedication to identifying and multiplying quality genetic traits.
"You can buy a bull today from Coal Valley and we don't know anything about the genetics of your cattle, but we do know marbling is a 44 percent heritable trait," Jackie said. "Most of Coal Valley's bulls are in the very top percentile for marbling, so if you're keeping replacement heifers, you're stacking those genetics."
The principle definitely proved true on-ranch at Coal Valley Angus, whose cattle currently have a 56 percent Prime grading rate, a notable achievement when compared to the national average of just under 10 percent.
For Jackie, the inspiration to change came during a 2007 trip to the sale barn that made him question his ability to control the pricing he was receiving for his cattle. Determined to regain some profitability for his family and to do justice to the quality of cattle he was producing led him to pursue other marketing outlets and eventually to revolutionize the kind of cattle their ranch was producing completely.
"We have customers come in that may not know much about cattle or about genetics, but they can identify the differences in our beef based on flavor," Ronda Ronda said. "For one customer, it was so much so that he wanted to know about the type of cattle we raise so he could also raise his own beef, despite living in the middle of town."
Quality counts in Coal Valley's eyes and in those of their customers, with everyone from meat inspectors to moms commenting on the noticeable quality of Coal Valley beef. But, the commitment to the genetics that make great beef possible don't happen over months or even years, they're a slow and steady process the Coltrane family has invested in for over a decade.
"It's hard to develop a business like this meat market, " Jackie said. "It's hard enough just to develop the cattle, it takes a lot of discipline and it's not at all about fads, but in the end, every difficult choice we've made has led us here and we've been surely blessed with the results."