In America's not-too-distant past chickens were once a staple of household food production. When refrigeration and expedient delivery changed the nation's food landscape, small-town hatcheries also fell by the wayside.
Today, Lebanon, Missouri's Cackle Hatchery remains one of the last few "hobby" hatcheries in the United States. The now-fourth generation family business preserves the genetics of over 200 varieties of poultry and distributes hundreds of thousands of chicks to small farms and families each year.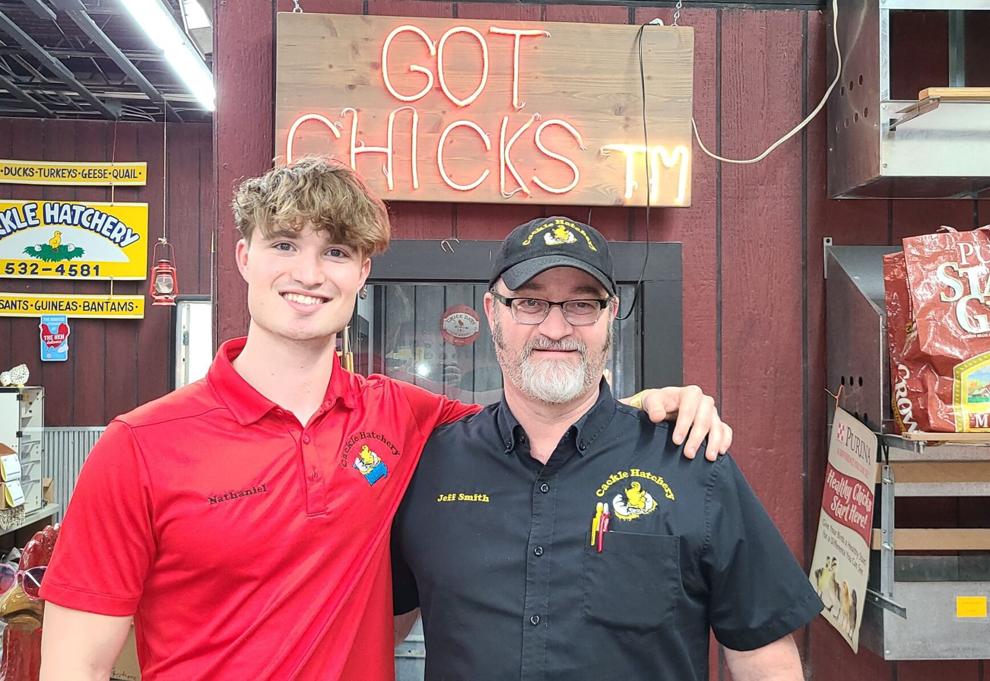 "My granddad started Cackle Hatchery back in 1936," said current manager Jeff Smith. "At that time almost every little town in United States had a hatchery in it, maybe even several because everybody had chickens and everybody produced their own eggs to have their own meat."
In 1964, Smith's father Clifton — the current owner of Cackle Hatchery — took over, with Jeff stepping into the family business 20 years ago. In June, Jeff's son Nathaniel will begin full-time at the hatchery and begin another generation of family involvement.
"We've been located in Lebanon, Missouri at the same location since Cackle Hatchery began," Smith said. "We are one of the few businesses actually in Lebanon that still has the same owner, same location, same business for that length of time. We are one of the few surviving what I call a hobby hatcheries."
While most small hatcheries closed their doors by the mid-1960s, Cackle Hatchery continued to provide chicks to customers through local feed stores and by mail. The moniker of "hobby" hatchery is a representation of Cackle's customer base, not the scale of the current business itself.
"When I say a hobby hatchery, in other words, we're not producing 10,000 chicks to go to this barn or 5,000 to another," Smith said. "We're producing birds and breeds and varieties that a backyard hobbyist would want or the homesteader or maybe a small farmer that's got a small flock."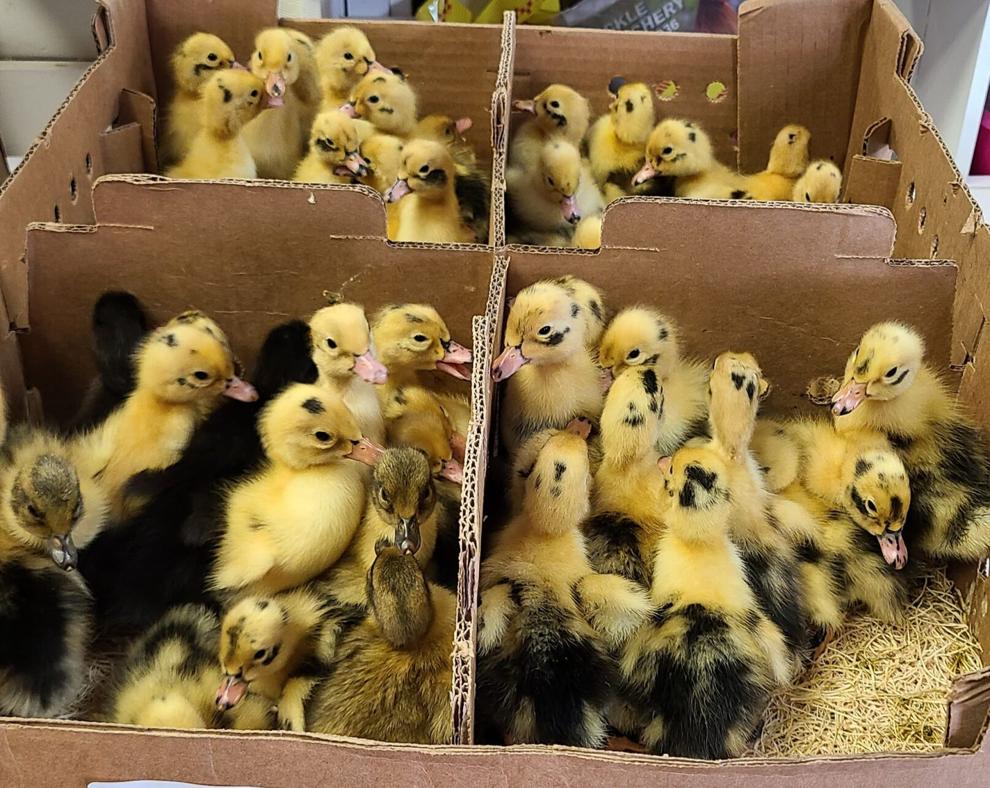 Growing Great Chicks
While the individual order sizes may be small, the volume and variety of poultry Cackle Hatchery produces each year is exceptional.
"We have about 300,000 eggs every week that we bring in from our farms," Smith said. "During the busy season, we usually have 1 million eggs in our incubators at one time, that's about our capacity."
Cackle Hatchery's eggs are produced on over 75 contracted farms nearby, with breeding stock blood tested and selected to their specifications. Chickens in the hatcheries farms are not manipulated into a set breeding season with lights, instead allowing each breed to reproduce on its own natural cycle, a choice that stretches the chick season out over about seven months.
"It is very seasonal," Smith said. "We don't put lights on anything to trick them into thinking it's summer already and help get their hormones geared up to a higher production. We let everything kind of go through in a natural cycle."
Once the eggs leave the farms, they begin a 21-day hatching cycle, spending 18 days in Cackle Hatchery's on-site incubators and three days in a hatcher before they hatch. Once the chicks have cleared their shells, the most scientific and systematic portion of the chick process begins.
"We have some breeds that I can tell just by a few little differences in their coloring, whether they're male or female," Smith said. "And then we have some that are sex-link, where you can cross certain types of breeds and it'll produce a totally different color for the female versus the male."
Making genetic decisions can be one of the easiest ways to accurately determine chick sex, especially in breeds with feather sex-link traits, where long or short feathers denote the chick's sex. Smith said some of their flocks are set up with feather sex-link traits to make determining chicks in straight runs or sexed lots easier.
In situations where the breed does not have sex-linked traits, Smith said Cackle sometimes employs trained professionals to vent sex chickens, which is a process that takes a skilled eye to perfect. Overall, sexing chicks in a short time period after birth is a very difficult and lowly accurate venture, especially with time constraints.
"If you want to buy something that you're almost 99% assured that you're not getting a male you could take, for example, our black sex link," Smith said. "That one basically is 99.9% accurate, as far as being a female. That's one thing we always have to try to help educate people to know. When you buy females it's really only about 90% accurate, and we do have some breeds that are really realistically only about 80% accurate, on average."
"There's some mainstays like the Barred Rock or Rhode Island Reds, Smith said. "There are Easter Eggers which lay different colored eggs, and those are popular. There's a lot of Rare Breed types that are really good show quality that are very hard to come by out there. We have some really really nice show quality Buff Standard Cochins, which are very hard to find."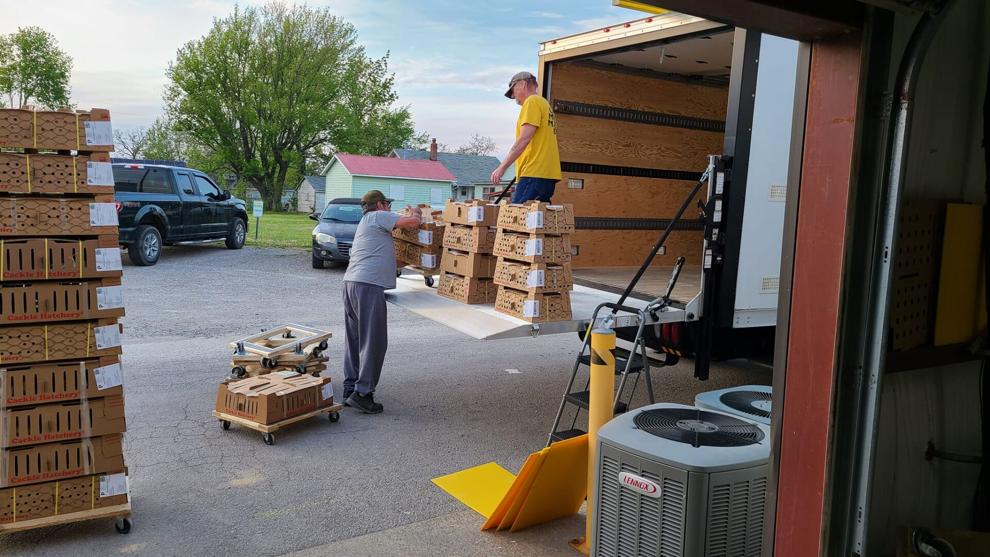 Poultry by Post
Regardless of which breed a customer selects, the chicks will be sorted, packaged and out for delivery quickly.
"We have feed stores you know that buy from us wholesale and then we have about 60% of our business is a direct sale, either through internet marketing or catalog sales," Smith said. "We are a mail order business. We use the United States Post Office as our distribution system."
Mailing livestock is a unique opportunity for baby chicks, who have a narrow window after hatching where their natural makeup protects them from the hazards of shipping.
"When baby chicks hatch they have 72 hours worth of egg yolks still in their system," Smith said. "Mother Nature has kind of built in a protective mechanism where they can withstand some deviation in heat and coolness.
We have about 72 hours to get them hatched out and processed and delivered by the post office."
This period of flexibility for chicks enables Cackle Hatchery to mail chicks anywhere with a U.S. zip code, including Puerto Rico and the Virgin Islands.
Hatchery Highlights
Cackle Hatchery's business is one like many ag businesses with seasons of incredible activity followed by dormancy.
"In early spring, everybody wants chicks and they want them now," Smith said. "A lot of people go ahead and book their orders in November and December for the next spring so they're first in line they get to pick a date that they're wanting before they're all booked up."
Selecting carefully and early is important for ensuring the utmost purchase satisfaction. However, preparing a location and being ready to receive chicks is equally relevant.
"We do a lot of due diligence on our end making sure that we've really encouraged buyers to be prepared and understand what they need to do before these chicks arrive," Smith said. "And because when they do arrive, they're on the end of their life cycle and they need to have the proper heat and proper environment in order to have be successful with them."
If receiving chicks through the mail sounds risky or picking out chicks live in person would be preferable, Smith said Cackle Hatchery is often open to the public.
"If anybody ever wants to make a trip here we have kind of an interesting little store, where they come look at chickens," Smith said. "The best time to come actually is on a Tuesday or Thursday. That offers the best opportunity to see the most breeds at that time."
Staffing shortages amid the busiest season of the year have led Cackle to close the store on Mondays and Wednesdays to devote more staff to expedite shipping.
For an even more festive opportunity, Cackle Hatchery also hosts an annual chicken festival, held on October 6 and 7 for 2023. The event features guest speakers and chicken-themed fun and games for all ages.
Smith said the legacy of Cackle Hatchery is one he enjoys sharing with Lebanon locals, customers and friends.
"On a personal note, it's, rewarding to be able to continue a family business and I've got the opportunity to have a business where I create jobs," Smith said. "I get to work closely with my team. I look at this as my mission, why I'm placed on this world. So I feel a lot of personal fulfillment in that and being able to use creative thoughts and actions, working on creatures that God made and trying to keep them healthy and improve them. There are so many rewarding aspects on my end."