The captivating color of a herd of Texas Longhorn cattle splashed across rural Missouri need to be seen to be believed. The striking beauty is the legacy of Pony Creek Longhorns, a venture originally undertaken by John and Marcia Butel for endless color and beauty to admire from the front porch.
"I think I was a little girl when I first saw a Longhorn and that fascinated me," Marcia said. "That just kind of stayed in my head. I never dreamed that I'd have some."
In 2016, she was united in marriage to John Butel who helped make that dream a reality on her land in Cleveland, Missouri.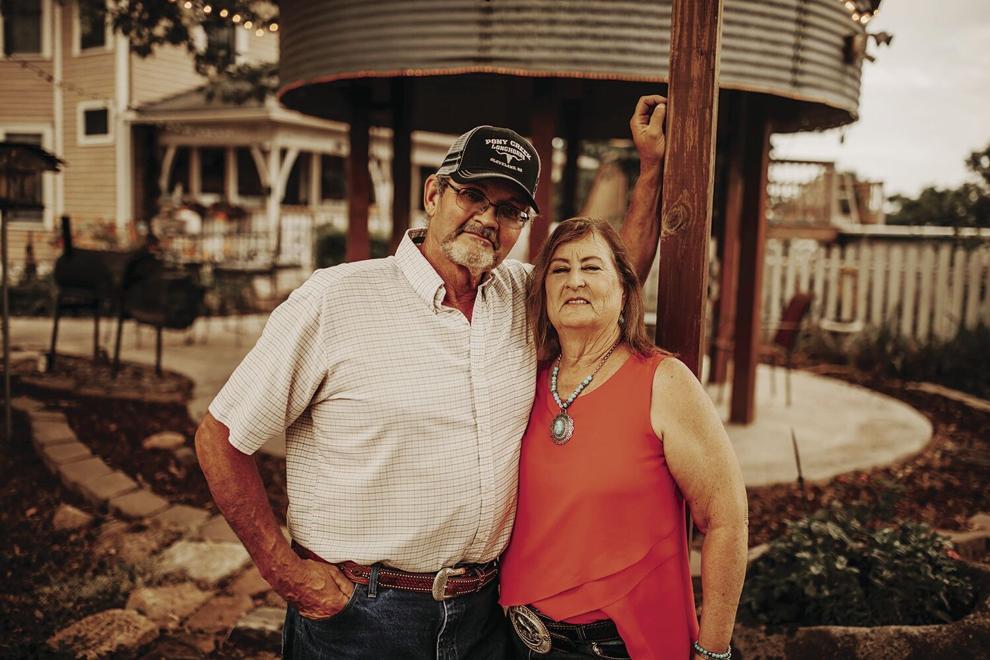 "I honestly think one of the coolest things about Longhorns is they're majestic. They just kind of lay around and they just look cool," Marcia said. "That was my thing. One thing led to another and because I'm a very competitive person showing horses and everything, I really wanted to do that with some cattle."
Both John and Marcia were raised in the show ring exhibiting different animals. While Marcia was a competitive horsewoman, John exhibited Simmental cattle and was awarded Grand Champion for his steer at the county fair 51 years ago. John has additionally served as a local fair board member to support the next generation of livestock exhibitors.
Longhorn cattle weren't even on the radar until 2020, when, in the midst of the pandemic, John and Marcia sparked the idea for a unique operation. They said they're just getting started.
"I think in my head, a lot of what you do with horses you do to a cow," Marcia said. "One of my goals with John is to have any (Longhorn) babies get halter broke. They're going to be handled so that we can do all the things that we want to do."
Since Longhorns are not as common among Midwestern ranches, John and Marcia are able to connect with a niche group of hundreds of Facebook friends after becoming a members of the International Texas Longhorn Association and the Best of the Trail Association.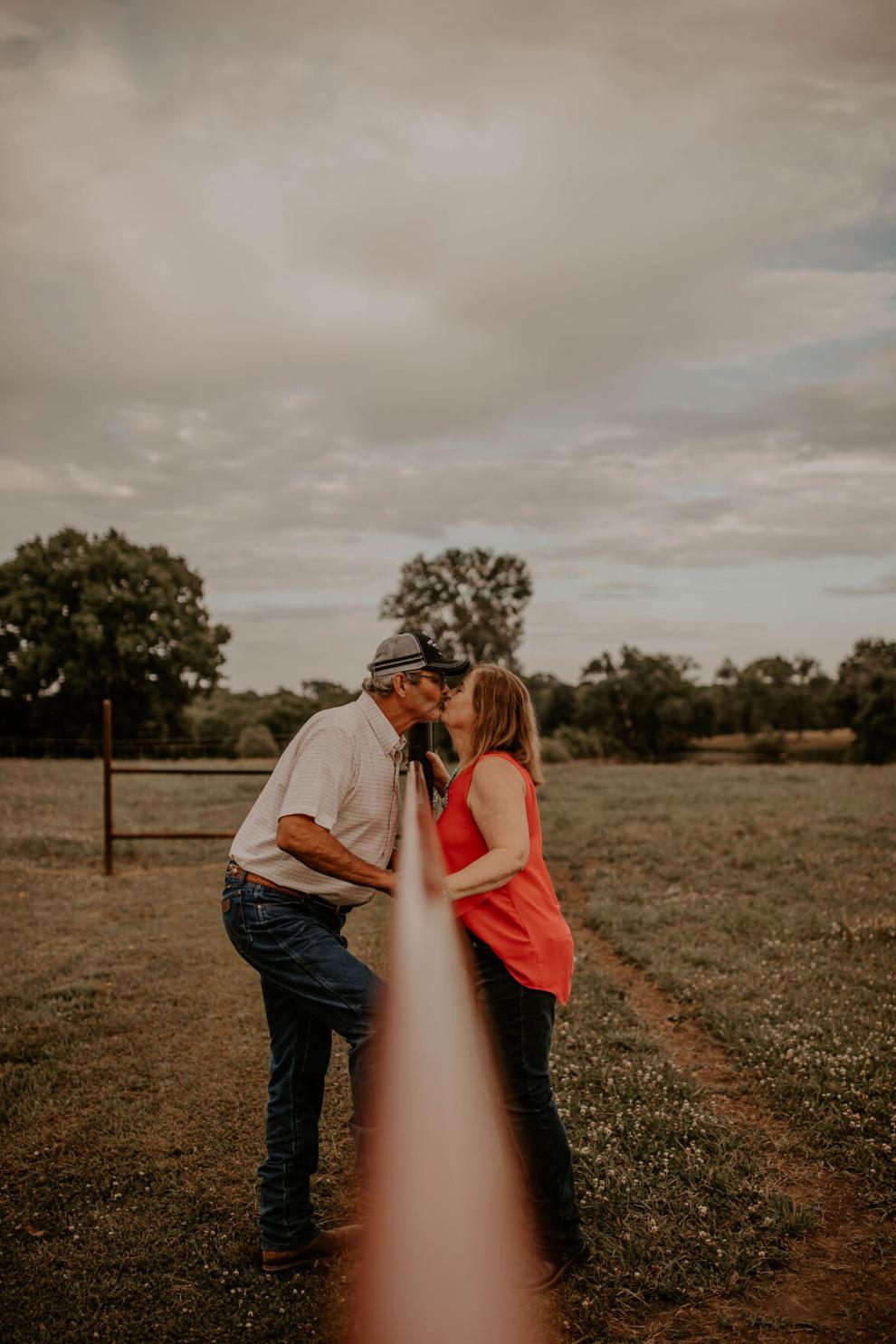 Marcia presented the idea to start a small herd when attending a local sale at the Mo-Kan Livestock barn in Butler, Missouri. John was fully on board with the proposition operating on the belief that she wouldn't like dealing with the big horns – neither of them expecting to fall in love with the animals.
"When I first saw them I'm like, 'Oh, we're never going to get very many because we've only got 30 acres here," John said. "We're not doing this to make money. We're never going to have more than 10 or 12."
"I loved having little kids come around that don't get a chance to see things like that," Marcia added. "There's a lot of city people that don't get to see a Texas Longhorn, there's really not that many Longhorn cattle around this area."
Raising a Passion Project
The Butels have found Texas Longhorns to be a very beautiful breed with a colorful coat. Learning to deal with the horns can be troublesome at times, but Marcia assures that these animals are very spoiled.
"The more you're around the cattle, especially with the calves as they grow, the better off you are," Marcia said. "They start trusting you and you can do more with them a lot easier, like halter breaking."
Livestock exhibition was a childhood passion for both John and Marcia, as such, the plan is to find a local open show accepting Longhorns to live out that dream.
"I would like to get into the ring and be able to show our animals," Marcia said. "That's the goal. We're not out there to actually try to win but just to be there."
The idea is to make the Longhorns docile enough to put on a saddle and start riding them in the future. For now, the beautiful view each morning doesn't hurt.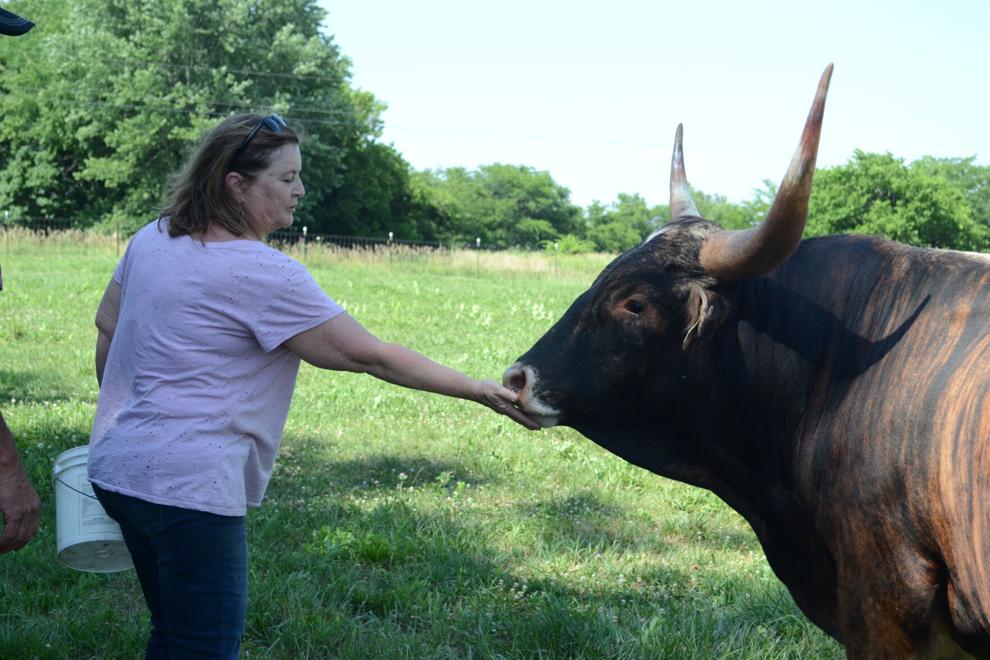 "One of the things about this land is the way this house is set up there isn't any window that I can't look out and see a view of the cows," Marcia said. "I love that."
As a hobby venture, John and Marcia didn't really have the desire to build a full-time profit operation. Even though Marcia was the one who truly wanted to own Longhorns, one of John's favorite calves goes by the name of "Tuxedo" and has wormed her way into his heart.
"It was raining and it was muddy. So, I picked that baby up and I took it to the barn. I don't know what happened there, but there was an instant attraction," John said. "She's my buddy and I'm her buddy."
A long-time family friend and photographer, Shelby Lynn Photography, helped to celebrate moments like those and used the opportunity to take some snapshots of the cattle. When she asked if she could share the photos on her social media pages and promote Pony Creek Longhorns as a photo destination, John and Marcia didn't think anything of it.
"[Shelby Lynn Photography] put on [her social media page], a couple of pictures of our Longhorns, and said, 'I'm going to do photo shoots (in July) and I'm going to open it up on Thursday morning at 10 a.m.' By 11 a.m., she shut it down because she had 75 booked appointments."
The amount of initial interest took John and Marcia by surprise, but they were overjoyed to see how many people wanted to learn more about their small operation. Prepped for an onslaught of people in July, the couple wants to feel out the process before moving forward into the fall.
"It gives me a lot of joy to know that other people are as fascinated as I was when I was a little girl," Marcia said. "I like to see that they turn heads. It really is kind of unusual. You don't see Longhorns as often as you do other breeds."
Longhorn Breed Characteristics
"You have to be respectful of the horns," Marcia said. "That's the first thing you learn."
Owning Longhorns has its own set of challenges. Small things are taken for granted. Day-to-day operations such as barn space, using a squeeze chute and loading onto a trailer now have a five, sometimes six-foot horizontal horn barricade.
"They are so smart about turning their heads," Marcia said. "It amazes me. They just know to do it when loading and unloading out of trailers. It's just amazing how they're pretty intelligent."
While Longhorn cattle aren't necessarily raised for the meat weighing an average of 1,000 pounds at harvest, they have many alternative uses.
"Their meat is as lean as chicken. It's a healthy beef to have, but there's less of it," Marcia said. "But when you butcher the Longhorn, unlike an Angus or Hereford, you've got the beautiful hide that people pay for different colors and markings. That's really a win-win situation. Those horns in and of itself are also pretty good money."
The farm was originally designed for horses with 30 acres of plastic fencing. Unfortunately, Longhorns were going to tear that up fast.
Over the last two years, John and Marcia worked to put the new methods and new fencing to make their dream work. The couple is constantly outdoors and spends a great deal of time admiring their unique breed – even in the summer months.
"[Longhorns] are more disease resistant and hardier to withstand the heat," John said. "They have very few problems with calving because their babies are smaller anyway. When you look at the way their hips are made, they're really narrow hips. That's why the birth weight is so low."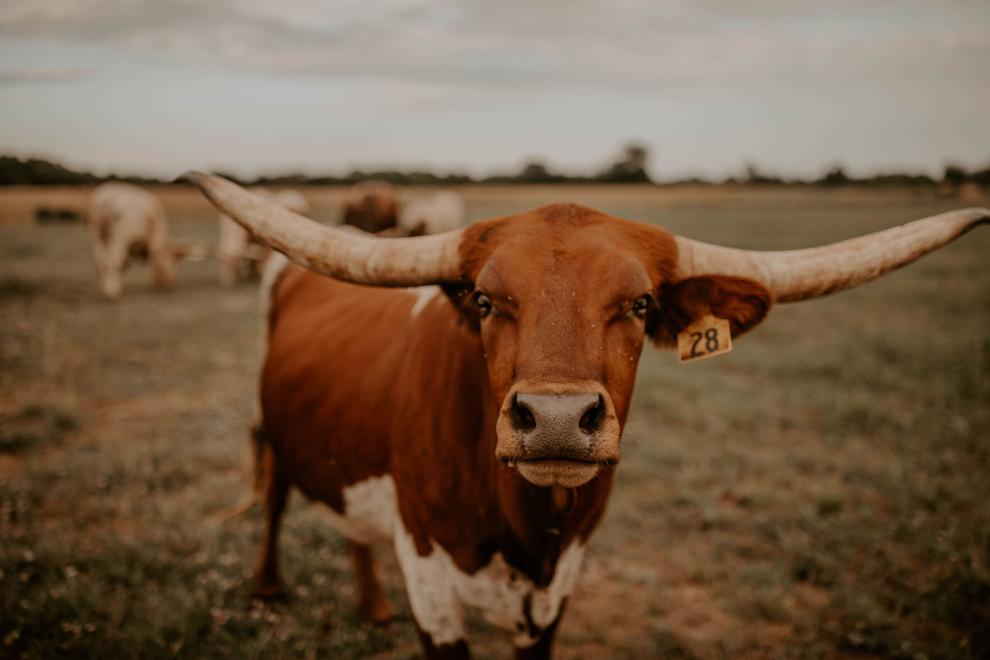 Calves weigh an average of 60-70 pounds at birth. However, they have a much longer lifespan and can live past 20 years of age.
From a passion project to a potential photography business, John and Marcia said they did it simply because they fell in love with the look of the breed.
"To tell you the truth, I didn't really want Longhorns," John said. "I wanted Simmental like back when I was raised, but once you kind of get around [Longhorns], you kind of get attached to them."
Marcia added, "We've been doing this just for two years. And I think wow, seems longer. "They're just neat creatures."