Polls focusing on Generation Z, or young people born after 1995, highlight a number of concerning cultural trends like a greater likelihood of extended screen times and preferring cool new products over meaningful experiences. For Generation Z members in rural communities like Tucker Leck, a 12-year-old from Neodesha, Kansas, 4-H clubs offer an outlet focused on skill building and extroverted hobbies.
For more than seven years, Leck has been involved in his family's beekeeping enterprise — a commitment that was honored when he was named the youngest top applicant for Bayer's Young Beekeeper Award. The award focuses on beekeepers who have been especially involved in their communities and educating on the importance of honeybees.
"The award is about how you make an impact with people and within the industry," Leck said. "My application focused on the presentations that I give to the kindergarten classes at Neodesha and to after-school programs."
When Leck applied for the Bayer award over two years ago, at just 10 years old, he had no idea how much his knowledge of beekeeping and honey production would change over the years or that he had a chance at the national award. Leck's fascination with beekeeping began as a kindergartener working alongside his dad and grew into one of his favorite projects.
"My dad had a good friend who got him interested in beekeeping and began going along with them so that's what got me into bees initially," Leck said. "I was interested in how the bees interacted and how each has their own job."
Leck's initial fascination with the science behind bees created an opportunity to share his experience with other 4-H members and potential beekeepers. The more he learned, the more his project and his family's honey business grew.
"As I gained more knowledge in the field, I also started meeting new people, learning new things, and having more responsibility for maintaining our bee hives," Leck said. "Right now we have about 15 hives, and I would say each hive has around 40,000 bees."
The Leck family harvests and markets their honey locally at town festivals and through word-of-mouth sales. The extracting and packaging process is one that requires all hands on deck, and Leck said similar to the bees themselves, each family member has a specific job during processing.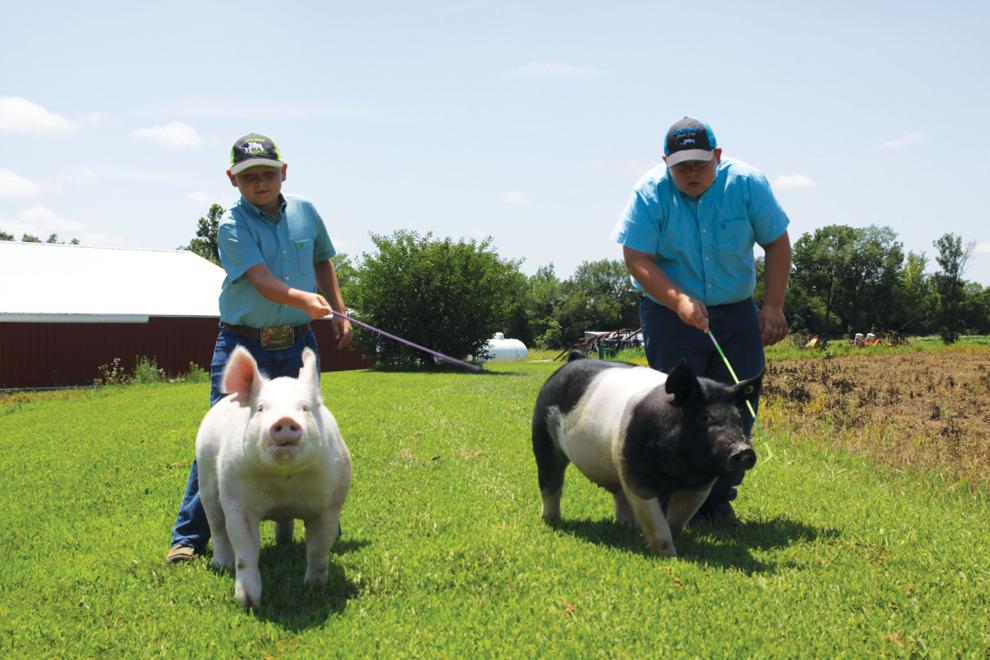 Pigs and Pumpkins
When the Leck family takes on a 4-H project, Tucker and his younger brother Tayte jump in with both feet.
"About four years ago, we bought my first pig, and then four days later we bought another pig, and then 30 days later we got two more pigs so it just kind of snowballed," Leck said. "We showed them throughout that year, and then as we started going to shows and getting more experienced, we started breeding our own."
Tucker and Tayte manage about 10 sows currently and handle everything from day-to-day feeding to assisting with piglet births. The brothers keep records about their pigs' show ring successes and put their ideas together at a family meeting where they make AI decisions.
"I make a lot of the breeding decisions and Tayte does, too," Leck said. "It's really high cost-wise to breed and AI but we still get to make a lot of the choices."
Leck said his time spent networking with other 4-H'ers as well as a lot of trial and error taught him the importance of nutrition for his pig projects. The Leck family keeps a complex feeding schedule tailored to each pig in their barn, and both Tucker and Tayte have learned the importance of being detail oriented.
"Feeding and supplements are one of the biggest parts of our pig program," Leck said. "We've learned how to take care better care of our animals, as well as to wash them and show them better."
The brothers show at a variety of shows throughout the state including the Eastern Kansas Swine Show Series, as well as national shows like the American Royal and the World Pork Expo. Eventually, their goal is to raise all of their own show pigs and expand the amount they currently sell to local 4-H'ers.
In addition to his pig and beekeeping projects, Leck and his family produce about 12 acres of pumpkins each year with over 20 specialized varieties. The family picks the pumpkins by hand and sells them at a nearby roadside.
"We just load the pumpkins and set up a sign with what we think they should be priced," Leck said. "It's a trust thing."
Picking close to 400 pumpkins per evening in addition to all their other chores keeps the boys busy in the fall after a long summer of pig showing, but they wouldn't have it any other way.
"The best thing for us was getting into contact with our local Extension and joining 4-H," Leck said. "Neither of our parents were members and getting to be a part has opened up a lot of opportunities for us."