Few businesses have stood the test of time to last 100 years. Nixa Seed and Hardware, however, has exceeded the 100-year mark and is celebrating its 120th year in 2019.
"We believe we're the oldest continuous seed processor in the state of Missouri," said Larry McCroskey, owner of Nixa Seed and Hardware.
At the core of the business' longevity? Family and a focus on the customer.
"We have a 500-acre research and production farm just west of Nixa," McCroskey said. "We like to try our products on that farm before we bring them to market, and we experiment with different kinds and varieties. We are a processor that sells directly to the consumer."
This business model allows Nixa Seed and Hardware to bypass wholesaler and retailer mark-ups for the benefit of the customer.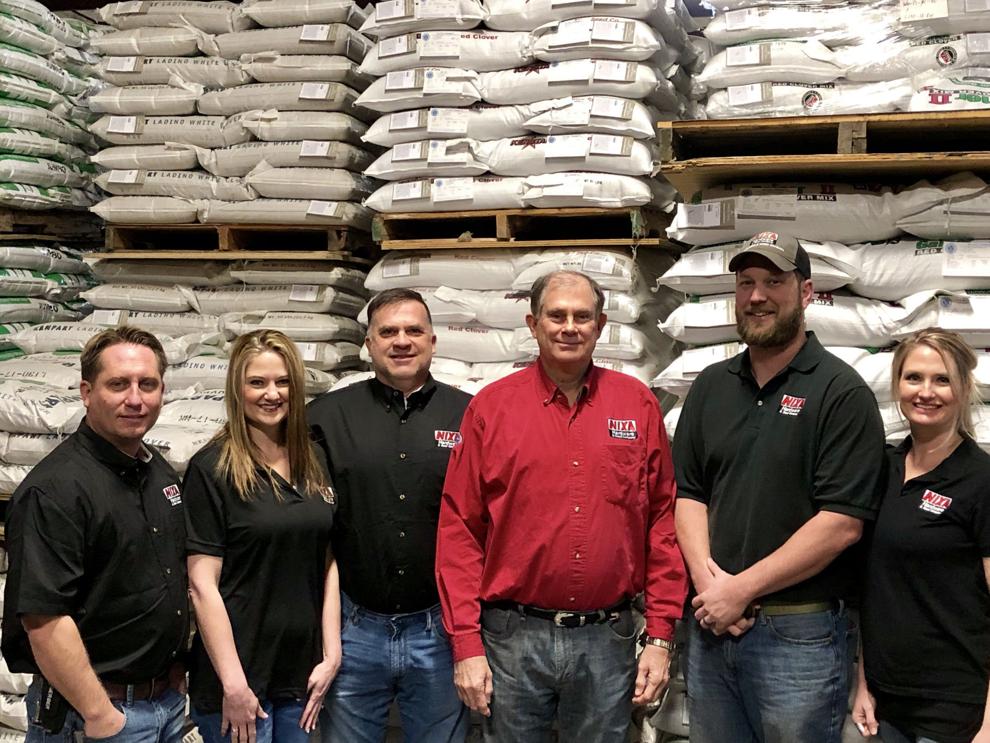 The business also offers a full line of grasses, clovers, alfalfas, summer annuals and native grasses as well as seed options for lawns and deer plots. In addition to its own line of seed and fertilizer, Nixa Seed and Hardware offers a full line of agricultural chemicals by the gallon up to a 250-gallon tote. Seed and chemical purchases are delivered within a 150-mile radius but truckloads have also been sold as far away as Alabama and Mississippi.
"We do help customize what customers buy to their farm's needs," said Josh Jenkins with Nixa Seed and Hardware. "We spend a lot of time making individual recommendations."
This involved approach aims to assist farmers in making important and economic decisions.
"We're trying to help them be more productive with their land as land costs go up," Jenkins said. "We're trying to help farmers be more productive with what they have."
McCroskey added livestock producers are trying to get higher stocking rates because buying land at current prices doesn't make economic sense.
Jenkins said he has seen a trend of more annuals being planted in the last two decades.
"It's so much more productive," he said. "It is a little more labor to replant but people are learning that it's productive and it's getting more popular."
Having a close relationship with customers also allows them to get feedback from customers and combine those reports with their own experimentation to improve recommendations, McCroskey said.
A dedication to the customer, however, is only part of the recipe for success. Nixa Seed and Hardware has been a family business for five generations, starting with McCroskey's relative, F.M. Wasson, who established the store in downtown Nixa in 1899. When Wasson decided to pass on the business to one of his nephews, it came down to a coin toss between his nephews, Efton and Herbert Hawkins.
"They flipped a silver dollar to see who would come in and help F.M. in the farm supply business," McCroskey said, adding as the result of the coin toss, Efton was selected to go to Nixa Hardware.
"Mack McCroskey — my dad — because of the drought of the '30s, ran up a seed and fertilizer bill that he couldn't pay so he came to work in 1935 for Efton Hawkins," he continued. Mack later married Efton's daughter, Averiel.
"My first job was sweeping the floor in third grade for ice cream money," McCroskey said. "Mostly, I grew up in the seed house with the seed cleaners and learned how to clean seed at an early age."
Today, the McCroskey family continues to be heavily involved in the business. Larry and wife Jeanne McCroskey and their three daughters and sons-in-law — Josh and Cami Jenkins, Christi and Allen Fairchild, and Jeremy and Casi Pinegar — are all involved in the business.
To celebrate the 120th year of the family business, they are taking a page from history and offering a Nixa Seed and Hardware silver dollar to commemorate the occasion. The 1 troy ounce silver coin will be offered around Thanksgiving and Christmas and will act as a "keepsake, advertisement and investment all rolled into one," McCroskey said.