Most ideas thought up in front porch conversations never make it past the daydream stage, but for one group of friends it kick-started a decade-long effort to minimize food waste and feed the hungry.
Seeds That Feed, a non-profit organization based in Fayetteville, Arkansas, was founded by young adults just looking to make a change.
"Our friend Aron Shelton, who is also a board member, had recently found out a lot of facts about hunger in northwest Arkansas," said Alyssa Snyder, Chief Seeder for Seeds That Feed. "He brought that up and we were all relatively recent college graduates and we decided that maybe we could do some little part in helping move that needle forward."
The idea started as a marketing campaign to bring awareness to food insecurity within the community but evolved as they learned more about food systems.
"We felt if we were unaware that probably a lot of other people were as well," Snyder said. "It was kind of one thing that led to another, and ultimately, we were going to do the plant-a-row idea with farms. That led to us finding out that there's actually a ton of food already produced that's not necessarily sold."
An experience at a local food festival brought to light the gap between food waste and food insecurity.
"What kind of shifted our idea was we went to this 'Dig In Food and Farm Festival'," Snyder said. "We were talking to some of the growers there. They were like 'this is a cool idea, but we actually have a lot of food that we aren't able to get rid of.' So that's where our first donation came from."
Today Seeds That Feed works with more than 70 partner farms to provide around 30,000 people with high-quality, fresh food.
"We work with all four of the major farmer's markets in the region: Fayetteville, Bentonville, Rogers and Springdale," Snyder said. "We work with farms like Cobblestone and the Food Conservancy. We go out and do pickups with them. But a big bulk of our aggregation is at the farmer's markets because of the concentration of farmers there."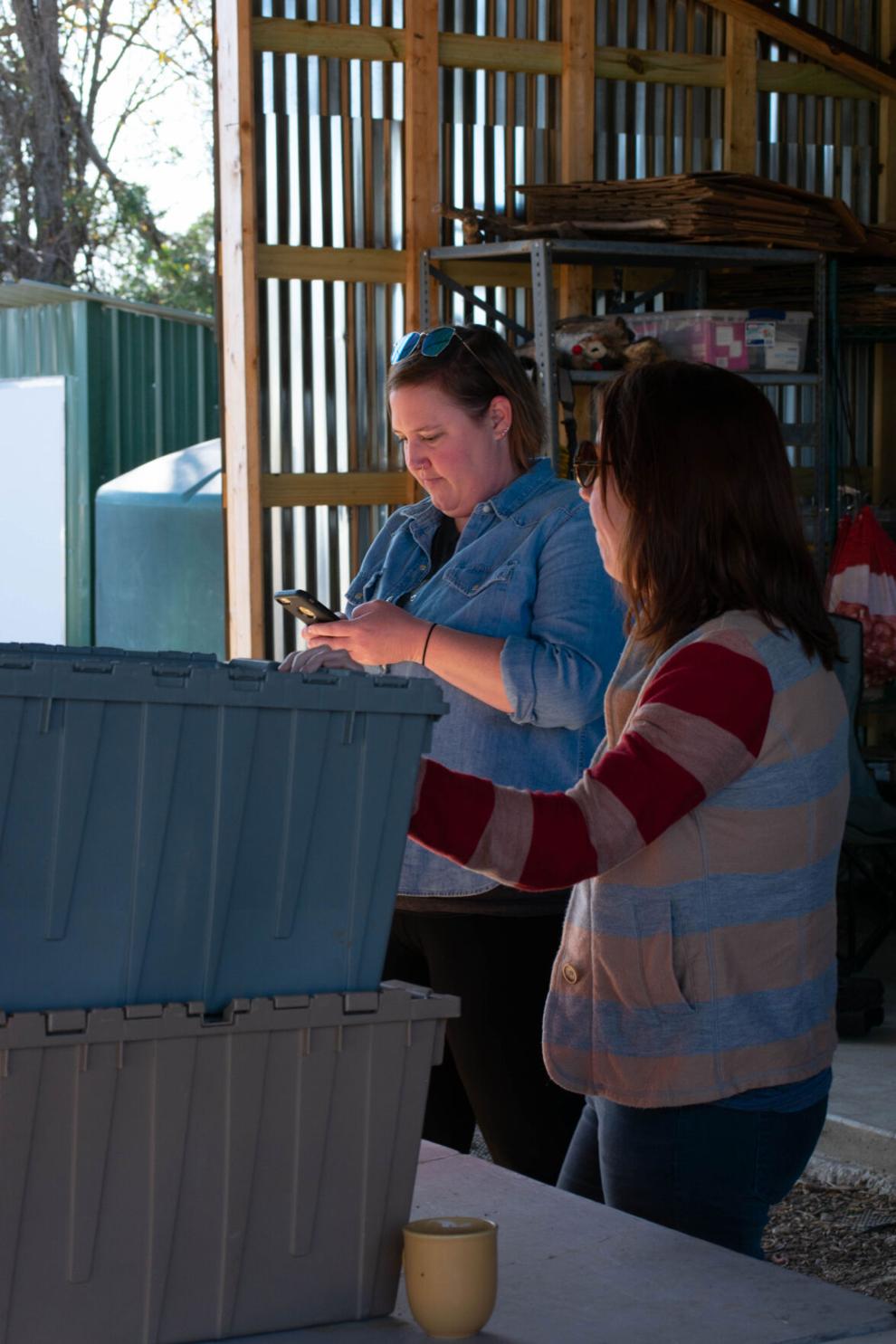 Originally, the organization would take food donations to food pantries, but found barriers like limited access to transportation and food pantry hours still prevented people from accessing the food. In 2015, a retrofitted box truck allowed Seeds That Feed to debut a mobile food network that can bring food directly to those that need it.
"I would work with the management of different properties to let residents know the day and time we were coming in," said Margaret Thomas, Chief Feeder for Seeds That Feed. "So people would be waiting outside for us when we pulled up. It just felt like such a welcoming event."
In addition to the mobile pantry, permanent farm stands have been built in areas of town with lower incomes. A mobile text system keeps people informed of what food is being dropped off in different parts of town.
"When we're doing our mobile pantries, we collect people's demographics and phone numbers," Thomas said. "We ask them if they want to be notified when we're back in the area. Say we drop off at Morgan Manor, which is south of Fayetteville. We can send a text to everyone who signed up there that says we dropped off apples, squash and garlic today."
Their innovative thinking has helped them stand out in the food recovery world. In 2019, Seeds That Feed was one of ten organizations awarded a place in the ReFed Nonprofit Food Recovery Accelerator.
"That was huge," Snyder said. "I mean here we were, this tiny little organization from Fayetteville, Arkansas. The other companies were from places like New York, Philadelphia, Austin with hundreds of employees and million-dollar budgets. It was kind of like okay we are supposed to be here."
A grant from ReFed allowed Seeds That Feed to implement their pHed Initiative, which aims to provide healthy food to home-bound and at-risk populations. All participants in the program are over the age of 65 and have one or more chronic illnesses.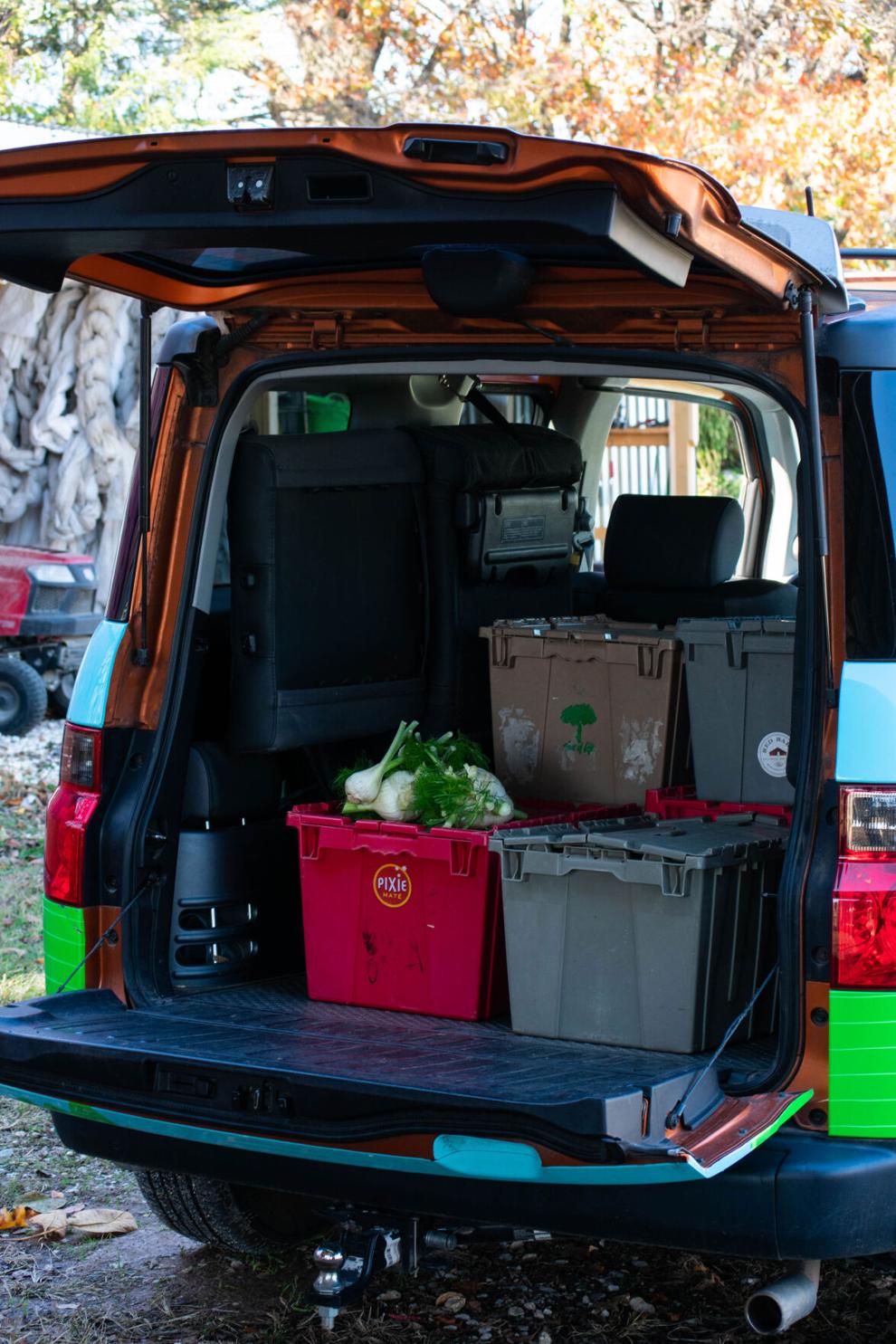 "We got connected with a senior lady in Bentonville who had type 2 diabetes," Snyder said. "Her A1C levels were at the high end of the scale and her doctors had told her to switch to a high vegetable content diet and kick the sugars. She said to me something along the lines of 'that's all fine and dandy and easy for him to say, because he doesn't know that you can't just go and buy vegetables on a fixed income.' She lived just a couple blocks from the farmer's market and couldn't get there because she couldn't walk. There were all these things that should not be the reason that she can't get herself healthy."
Within three months of Seeds That Feed delivering healthy food, her health saw significant improvements, Snyder said.
"That inspired the idea for the pHed Initiative," Snyder said. "We've got a small group of patients that were referred from University of Arkansas for Medical Sciences. We provide weekly to biweekly deliveries of fresh produce. We've been tracking them for over a year now, and the ultimate goal would be to showcase their health improvements and potentially work with health insurers to help fund these types of initiatives across the country."
Snyder and Thomas agree their connection with local farmers has been a part of their success.
"A huge part of our success is our relationship with them," Thomas said. "It's very trusting that they know we're going to take their hard work and make sure people who can't afford to eat healthy are going to be able to enjoy it."