A unique Made-in-Oklahoma yogurt is showing up in select stores, restaurants and coffee shops around the region and introducing locals to a rare taste of old-style European dairy craftsmanship.
Yogurt, a product made from fermented milk, is one of the fastest growing food categories in the U.S. Domestic consumption skyrocketed in the past decade, with total sales now reaching nearly $8 billion annually. Many different styles can be found in grocery store dairy sections, ranging from high fat cream-top yogurts blended with fruity jams to the bland, austere Greek-style yogurt that now makes up more than 50 percent of the market.
Tony Barros is riding the coattails of the trend but not without putting his own stamp on it. He insists you haven't really experienced what yogurt can be until you've tried his small-batch version. Amelia Natural French Style Yogurt, which his family produces in a 2,500 square foot creamery at their ranch near Nowata, is available in several Oklahoma stores and will soon add Whole Foods Market to that list.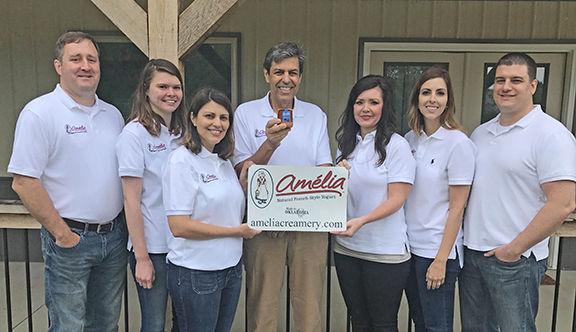 "We're in it for the long haul. We built the factory to accommodate growth," said Jenefier Wickham, a native of the Nowata area who has known the Barros family all of her life and now works as the company's general manager.
Amelia Yogurt, which is named after Barros' oldest granddaughter, is a distinctive product with a colorful backstory.
Barros and his wife Maria moved to northeast Oklahoma from Brazil in the mid-1990s, buying a bucolic property they named Canaan Ranch. Before immigrating to Brazil, his ancestors were originally from Italy; her parents came from Czechoslovakia and Yugoslavia.
A professional pilot, Barros traveled the world, including frequent trips to Europe. One of the culinary highlights of those trips was savoring European style yogurt.
"After he moved here, he couldn't find a yogurt that he liked, so he started making it himself," Wickham recounts.
While the yogurt industry is still in its relative infancy in the U.S., in Europe it is more of a staple food backed with a long tradition. Barros describes French-style yogurt as creamy, non-tart and rich, made with whole milk and pro-biotic cultured bacteria. Compared to conventional American yogurt, it is higher in fat, lower in sugar, and has a creamier texture.
Barros poured himself into learning the art and craft of yogurt-making before embarking on his business. He spent time with French craftsmen who have handed down their methods for generations. After five years of sharing the product with family and friends, he was ready to launch.
"Our products have an amazing taste that differentiates them from anything else in the U.S.," he said. "They taste more like dessert, a healthy dessert."
High quality ingredients are critical to the fresh, natural taste. Barros insists on procuring raw cane sugar directly from a mill in Florida and real maple syrup from the northern U.S. and Canada, as well as real fruit.
He begins the process with high fat milk from cows that have not received antibiotics or hormones. Using whole milk eliminates the need for fillers and additives commonly used in mass-produced brands.
Another thing that makes the product unique is the packaging. The 5-ounce biodegradable clay ceramic containers are made in Spain and imprinted with the company emblem. Clay is naturally abundant and more sustainable to produce than plastic, Barros said. Clay or glass packaging is also more popular in Europe because it insulates the contents, keeping the temperature more consistent.
"Everybody loves the jars, and they lend themselves to repurposing," Wickham noted. "People cook in them, serve dessert in them or use them as planters. We are working on starting a Pinterest page where customers can share their ideas." 
All of these features make for a premium product that comes with a premium price. The 5-ounce containers typically retail for $3 to $3.50 each, while the average retail price for a pint of yogurt in the U.S. is around $2.25, according to the most recent statistics. Barros said his company is able to recover higher production costs by focusing on specialty markets willing to pay more for better quality.
The company is still in "phase one" of a long-term business plan and poised to grow. Inside the metal creamery building is a 600-gallon Mueller bulk storage tank with a custom stainless clean-in-place system, a lab for testing for antibiotics, a 45-gallon chiller and a pasteurizer custom-made by Micro Dairy Designs. Batches of yogurt are moved from a stainless steel warming, or aging, room to a packaging room with a custom filling and sealing machine.
The current facility has the capacity to produce up to 1,200 small ceramic jars of yogurt a day. "When sales demand larger production, we will build a larger factory, while always preserving the quality of our products," Barros said.
Amelia-brand yogurt is earning rave reviews from prominent figures in Oklahoma's food community, including Kurtess Mortensen, executive chef at the Pioneer Woman Mercantile in Pawhuska, and Matt Burch, owner of the Urban Agrarian, a well-known local foods purveyor located in Oklahoma City's old farmers market district.
"I hadn't had anything quite like it," said Burch, who now carries the product in his store and also takes it home to enjoy himself. "They include the whey, which gives it a softer texture and adds to the nutritional content. It's just the right balance of sweetness and creaminess, and the packaging is interesting, too.
"My sons love it," he added. "The first time I brought it home, they went through a half-dozen jars in just a few days."
He's also appreciative of the close relationship the Barros family has with Swan Brothers Dairy, an iconic northeast Oklahoma farm that has been in business for nearly a century.
Swan Brothers carries the yogurt in their on-farm store in Claremore.
Barros hopes to leverage any long-term success he achieves to help boost the dairy industry in northeast Oklahoma.
"That's our goal," he said. "Since we make premium products, we would be able to pay a better price for the milk."
Amelia Yogurt is currently being sold at Akins Natural Food Stores as well as at Guns and Gals Bistro in Nowata, Jude's Java House and the Rolling Pin Bakery in Bartlesville, and The Perk in Ponca City. £