When self-proclaimed city girl Jamie Lindamood married her husband, Diltz and moved to the Lindamood family ranch near Eureka, Kansas, she quickly realized the gap in communication between her new neighbors and her Wichita friends. Determined to dispel myths about farm life and evoke change, Lindamood began "A Day at the Ranch," an initiative that has allowed over a hundred people each year to be inoculated with the realities of farm life and won Lindamood BEEF Magazine's 2017 Trailblazer Award.
"When I married Diltz, I started spending more time around the ranch, and I learned more each day while I continued to work and volunteer in Wichita," Lindamood said. "As I tried to connect with people, I began to realize how big the lack of communication was between the city and farmers and ranchers."
Her solution? Instead of trying to bring ranch information to the city, she decided to bring the city to the ranch.
"I had the idea but I knew it wasn't possible to do it alone," Lindamood said. "I ended up talking to our friends Matt and Amy Perrier during a Kansas Livestock Association leadership conference and pitching the idea — they immediately agreed."
The tour brings over a hundred people from urban and suburban Wichita by charter bus and caravan first to Lindamood Ranch and then to Perrier's Dalebanks Angus Ranch.
At Lindamood, the tour focuses on crop farming, equipment and technology, pesticides, GMOs and spring burning. Aided by neighbors, Natural Resources Conservation professionals and Kansas State University Extension, the Lindamood portion of the tour covers just about every aspect of modern farming aspect in as much detail as the timeline of the tour allows.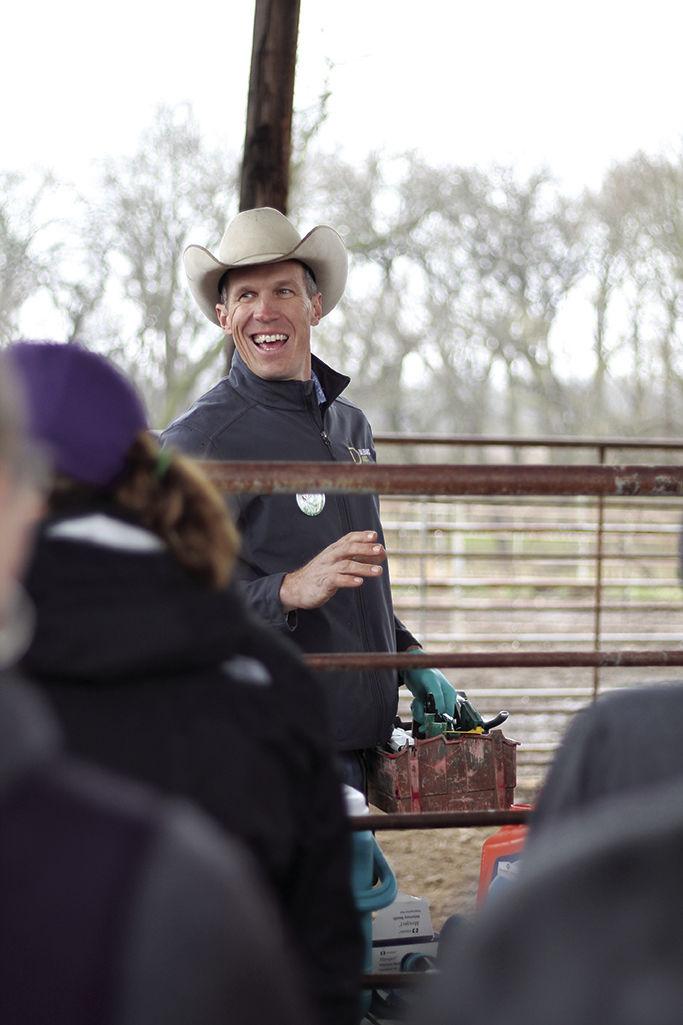 At the Dalebanks portion of the tour, participants view a live-action cattle working — both moving cows through a specially designed animal handling unit and working calves from horseback.
The tour, held in April each year, was designed to allow people access to a ranch at its busiest stages, in order to give a glimpse of rural life people rarely see. 
"If it's a busy time for us, it's a good time to show people what we're doing," Lindamood said.  "We specifically wanted an opportunity to talk about the importance of burning and the impact it has on every aspect of the ranch, which always leads to a good conversation."
The "A Day at the Ranch" tour is set apart from other tours, in part because of the long bus ride to the locations, which Lindamood and Perrier use as a way to facilitate conversations and build relationships with their guests.
"We feel that the bus ride is an incredibly important portion of the tour," Lindamood said. " Building a relationship with consumers is the entire goal of "A Day at the Ranch" and helping people become comfortable enough with us to ask tough questions contributes the success of the entire tour.
This year's 2018 tour in particular, themed "Beef: Earth's First Recycler" in honor of its proximity to Earth Day, flowed organically due in part to a rainy day and reduced group size.
"I say each year that the tour that year was my favorite," Lindamood said. "This year in particular though, people seemed very open and ready to hear the information."
During the tour, Lindmood often serves as the bridge between the technical information given and the participants' understanding, breaking down the information into terms or segments people can understand in their brief encounter with the farm. In those situations, Lindamood's background shines.
"The most important thing is understanding what they understand," Lindamood said.  "Sometimes I have to clarify or break down what we're talking about in the conversation because otherwise we would be losing them before we get to the point."
With what started as a seemingly wild idea, "A Day at the Ranch" has contributed greatly to educating consumers in the Wichta area — sending a ripple effect through the participants' communities. The initiative is one Lindamood doesn't see ending any time soon, and she encourages other farmers and ranchers to consider a similar involvement.
"This has been a wonderful experience and it has taught our farmers as much as the consumers about the communication gap," Lindamood said. "We all learn something when this happens and there is nothing but gain for us to talk to the consumer."
For more information about the "A Day at the Ranch" initiative follow @GWCCattlewomen on Facebook.