There is a romance to the purebred cattle industry that is often overlooked. A meet-cute moment, a striking quality, a spark of chemistry and a lifelong commitment, those are the fundamental building blocks of a life spent dedicated to enriching and improving one specific breed. It's not only about profitability, there's something deeply personal involved.
For David Marple, of Marple Simmentals near Buffalo, Kansas, his introduction to the breed happened almost at random.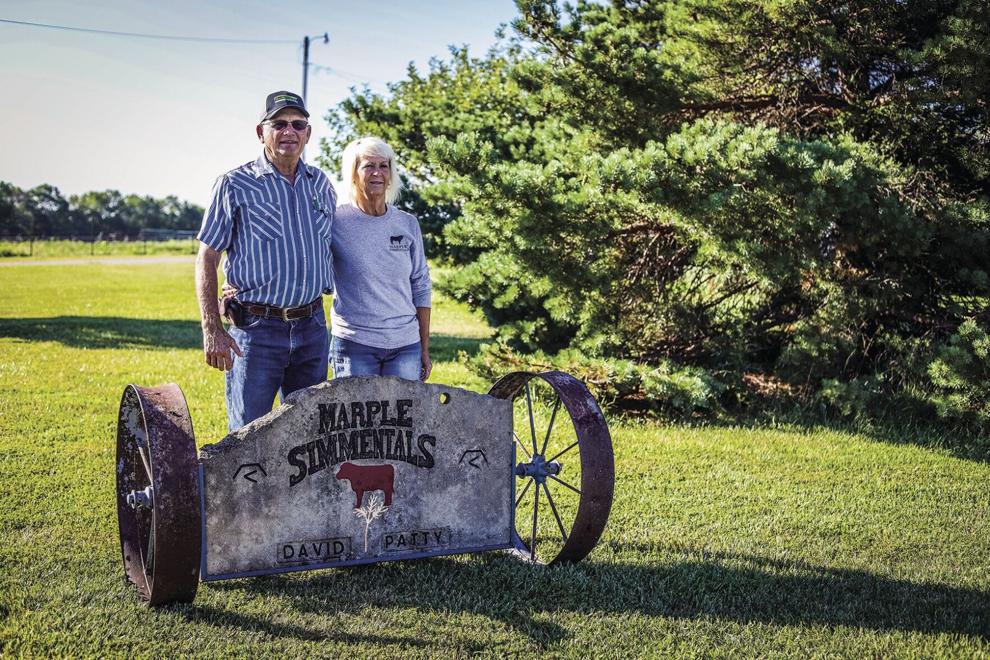 "My brother was in trade school down around Tyro and they were teaching him to AI," Marple said. "We brought home a lot of left-over semen from different bulls to try out at home, we had commercial cows then, and the Simmental calves were the biggest and most docile of the bunch when they were all born."
At the time, David, alongside his father, brother and other family members, was raising about 150 commercial cows. All of which were gradually bred to Simmental bulls.
"They had some bulls out of those cows that just turned out tremendous," Marple said. "My brother and I used those same bulls for a long time after that."
Eventually, David and his brother started their own farms. Today, Marple Simmentals, David's farm, runs around 350 head of cattle and farms around 2,500 acres with the help of longtime farmhand Trefan Francis.
"We're about 65% registered Simmental and the rest are commercial cows," Marple said.
Primarily, Marple and his son Kris, market the cattle alongside longtime friends Hal, Dallas and Klint Luthi of High-Bred Simmentals in a production sale each March.
"We're not partners with High-Bred, but we are good friends and we have a lot of the same philosophies and bloodlines where the cattle are concerned," Marple said.
The sale, called Cattleman's Choice Bull and Female Sale is hosted each year in Fredonia at Fredonia Stockyards, a place Marple is very familiar with.
"I've worked a lot of years at Fredonia sorting cattle in the back pens every week and any time I was able," Marple said. "I really enjoyed working with them, but my knees just don't like the concrete anymore."
Seeing cattle bought and sold each week at the sale barn only increased Marple's interest in bettering his own cattle and his eye for exactly what commercial and registered buyers alike are searching for.
"When we first started out, our cattle were almost all red, some even with a little bit of white on them," Marple said. "Over time, the push for black cattle at the sale barn changed the breed, and now we have mostly solid black Simmental, or some with white faces. But, we still like the red ones too."
In addition to quality genetics and an emphasis on selection, Marple said the land itself helps grow great livestock.
"We've got mostly bluestem pastures, and even though they might not be quite as productive as the Flint Hills, they are still good quality grass," Marple said. "We also grow some of our own corn for feed in addition to what we use for cash crops."
"I want to be sure that we're producing the best cattle we can be," Marple said. "So much of our business comes from word of mouth, one neighbor sees another that has one of our bulls and comes to the sale to get his own the following year. I like that our cattle are good enough to speak for themselves."