From 2 to 500-plus horsepower, Dale Roberds has witnessed and made a lot of history on his Cherokee County, Kansas, operation. At 90 years old, when Roberds isn't neglecting auto-steer in favor of leaving his younger farm employees in his dust, he's marketing soybeans in his office and participating in the day-to-day operations alongside his grandson, Greg Mowdy.
A lot has changed in southeast Kansas since Roberds officially began farming alongside his father in 1940, and even since Farm Talk's Mark Parker caught up with him in the 1980s. Today, Roberds has a lifetime of knowledge to pass on.
Good Old Days
"My dad farmed and I'm at least a fourth generation farmer," Roberds said. "Right after I graduated high school in 1940, I was farming and in 1942 we got our first tractor."
Roberds remembers that first tractor being primarily purchased for the headlights, since the two-horse team couldn't keep plowing into the night. He joked that his lawnmower today has far more horsepower than that first tractor.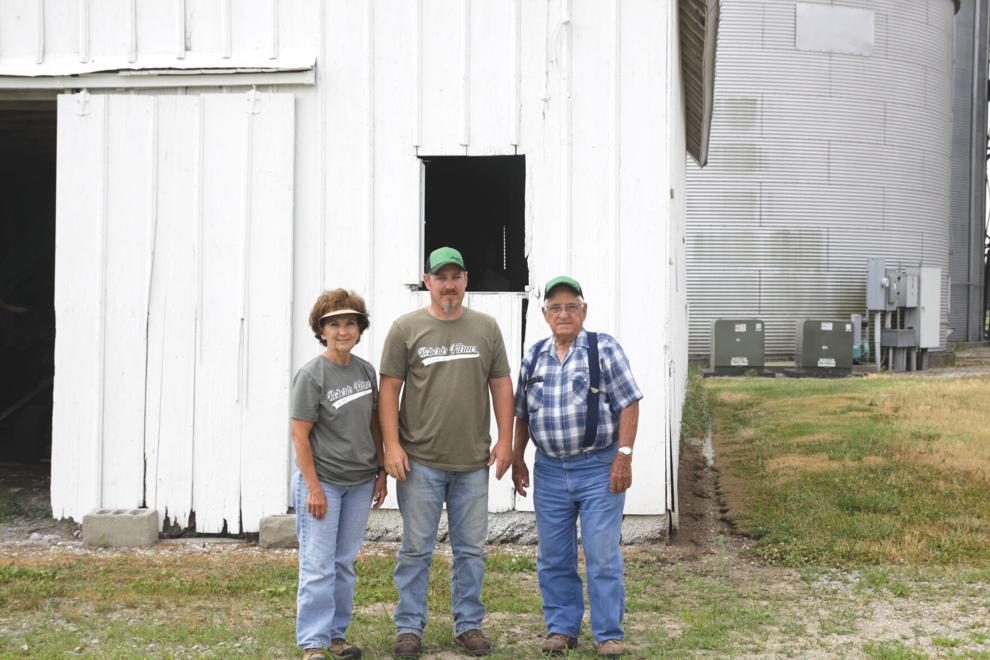 But, it marked several milestones for the family, as cost of production went up due to the cost of fuel, but production itself increased thanks to the efficiency of the machine. Those early lessons in management sparked a love for the finesse associated with the business side of farming that permeates Roberds' operation even today.
In the same year, another of Roberd's favorite farming aspects came on the scene as the family planted their first crop of soybeans. He was quick to point out that they were more of a forage bean and lacked the oil content he pushes for today — a lesson he no-doubt taught many times during his years as a United Soybean Board member.
"I went on the soybean board in 83 or 84; I was on it for nine years and was the national treasurer for two years," Roberds said. Roberds' time as a board member marked several milestones for producers across the nation, as they put in place the collection of national checkoff dollars and negotiated early trade with China.
Today, Roberds is proud that Cherokee County raises the most acres of beans in the state, if not the most total bushels. It's a far cry from the early years.
"There's so much more production that can be achieved today than there was when I first started farming," Roberds said.
New Traditions
While Roberds didn't officially farm full time alongside his father until after high school, like most farm kids, he put in a lot of sweat equity long before he was technically of-age. The same is true for his grandson, Greg Mowdy, who officially stepped into a management role after college but was pegged for the position much earlier on in life.
"It's always been my goal for the farm to go on after I'm gone," Roberds said. "When Greg was eight years old, he went with me to plow under some terraces and when he happily sat in the tractor with me for several hours still content and asking questions, I thought 'This boy is interested in farming,' and I let him drive on the way home."
Initially, Mowdy was in charge of technology acquisitions and paperwork, alongside his day-to-day duties. Today, Dale's daughter Diana Turnbull handles the bookwork and Greg has stepped up into a larger managerial role, alongside Roberds of course.
"I think Greg has taken the farm to levels I never could, but he also has access to technology that I never dreamed of when I was starting out," Roberds said. "In a lot of ways, I almost feel like I was born 50 years too late; In my early years, farming was purely physical labor but in the later years it's been built more on your ability to manage for greater returns and that's what I've enjoyed the most."
For Mowdy, the opportunity to work and learn alongside his grandfather over an extended transitional period has been the biggest blessing.
"I feel very fortunate that Grandpa has been around as long as he has and has been as active in the farm because we didn't have to have a very adrupt transition say 10 years ago," Mowdy said. "I've been able to gain another 10 to 15 years of experience alongside him."
Lessons Roberds has passed down have made big impacts for Mowdy, especially in the volatile weather and market atmosphere over the last several years. Lessons in stewardship, timeliness and market trends have all had an impact on the decisions the family has made together.
"Faith is one of the hardest things to maintain when you're farming," Mowdy said. "This year, it wasn't so much about faith as it was about stewardship, because wheat was the only crop we had guaranteed in the ground at one point this year and we wanted to honor that."
Roberds said having a mentality geared toward stewardship and management was advice he would give to any young farmer. "There's opportunities out there and we have to utilize them," Roberds said. "In this day and age being a good farmer requires as much management as it does hard work, maybe even more so."
Employee management is another aspect Roberds and Mowdy both take seriously. With a large farming operation, overcoming employee challenges is critical to the overall success of the operation.
"Back in the early days, if you couldn't do anything else you farmed, but today it's so much more technical," Mowdy said. "It's getting harder and harder for us to find good skilled labor and that's a must-have in this industry — it requires so much more than just someone willing to work."
With some employees staying on at Roberds Family Farms for 20 to 40 years, Roberds definitely has the formula figured out.
"We spend an awful lot of time talking about what's next for the farm and we take input from anyone out here, employees and family alike because you never know when someone will introduce an idea you haven't considered," Roberds said. "And because we listen to their input, we've been blessed with good employees, employees our business could not have been built without."