As Philip and Hollee Terry and their three kids were putting the finishing touches on a radiant rising sun at the center of a new mural on the west side of their shop, they had no idea the bright future that would soon dawn for their small meat processing business.
Last year they signed up to have the blank space transformed into an eye-catching scene as a tribute to the Chisholm Trail and part of a citywide beautification campaign.
Now they're in the process of expanding as they aim to take advantage of a unique moment in history, when new customers are streaming through the door and small plants like theirs are getting renewed attention at the highest levels of state and federal government.
"We're hoping this systemic shift in consumer behavior is here to stay," Hollee said.
A broad consensus has emerged within the beef industry that the U.S. needs more packing capacity, and any expansion will likely come in the form of more small-to-mid-sized plants.
Speaking to the Texas Cattle Feeders Association in early October, Randy Blach, CEO of CattleFax, observed, "The key thing we have today is that we are out-of-balance with the number of animals we are producing versus our harvest capacity… Market access is a big deal, and what we really need is some additional packing capacity."
Having additional smaller, more nimble plants would make the beef industry "less vulnerable to extreme events," he said.
Most small processors are now scheduled out for months in advance and even turning business away. Enid Packing operates a retail store, Big Country Meats, and wholesales to a few locally owned burger joints, but around half their business comes from area producers in need of custom slaughtering services.
"We have lots of farmers that are selling meat now and calling us booking kill dates. It's really been a boon for local cattle," Hollee Terry said.
But there's a catch; capacity is limited.
"Prior to Covid, the local ranchers could get their animals in within a week or two, and we were able to accommodate emergencies and also wild game and deer season," Terry said. "Due to Covid-19, we don't have the room. Demand has increased, and we are operating at max capacity."
Normally it's closer to 60 percent, but that changed overnight when grocery store shelves emptied, and shoppers came to them seeking an alterative.
"People were really genuinely scared, but we were able to assuage some of the fear because we owned the whole supply from beginning to end," Terry said.
Around that same time, the Oklahoma Youth Expo was cancelled midway through the show.
"All of those animals needed to be slaughtered," she noted. "The fact is there are very few slaughterhouses that will do it, and we were trying to help the kids."
Workdays at the plant have been long and grueling. Hollee's husband, a certified plumbing and construction contractor, moved routine maintenance to Sundays to free up as much time as possible to slaughter more animals. They never ran out of ground beef, despite a tripling of demand.
"We never changed what we ground, never compromised any of it, and that's a testament to our amazing staff and our amazing network of farmers," she said.
Customer calls came in from far and wide. One woman from North Dakota wanted 20 pounds of ground beef and convinced a family member who lived in the panhandle to drive to Enid, pick it up and deliver it to her.
"People had a real palpable fear. It was sad," Terry said. "But it wasn't that the farmers didn't have cows; they had them in spades. It was the bottleneck at the processing sector, where a cow gets made into an edible product."
State grants to the rescue
When demand surged, small meat plants everywhere went into overdrive, and many states have now stepped in to support them.
Oklahoma directed $10 million out of $141 million in Coronavirus Aid, Relief, and Economic Security (or CARES) funds to small meat processors, with Enid Packing receiving $350,000.
"I couldn't believe it. I really thought they missed a decimal point somewhere," Terry said. "I did not expect it, just because it's like winning the lottery. When you buy a lotto ticket, do you expect to get it?"
Though money was distributed to all corners of the state, it was still a selective process: only 41 out of 190 applicants received funding.
One thing that impressed Terry is how quickly the money became available: within a couple of weeks. As a former grant manager in grad school, she considers that truly remarkable given how slowly the gears of government normally turn.
"It was lightening quick. Everything was upended (by the pandemic) so for them to move that kind of money around that fast is amazing," she said. "They wanted the people of Oklahoma not to have to worry. They really did an excellent job of spending the money to benefit the most people."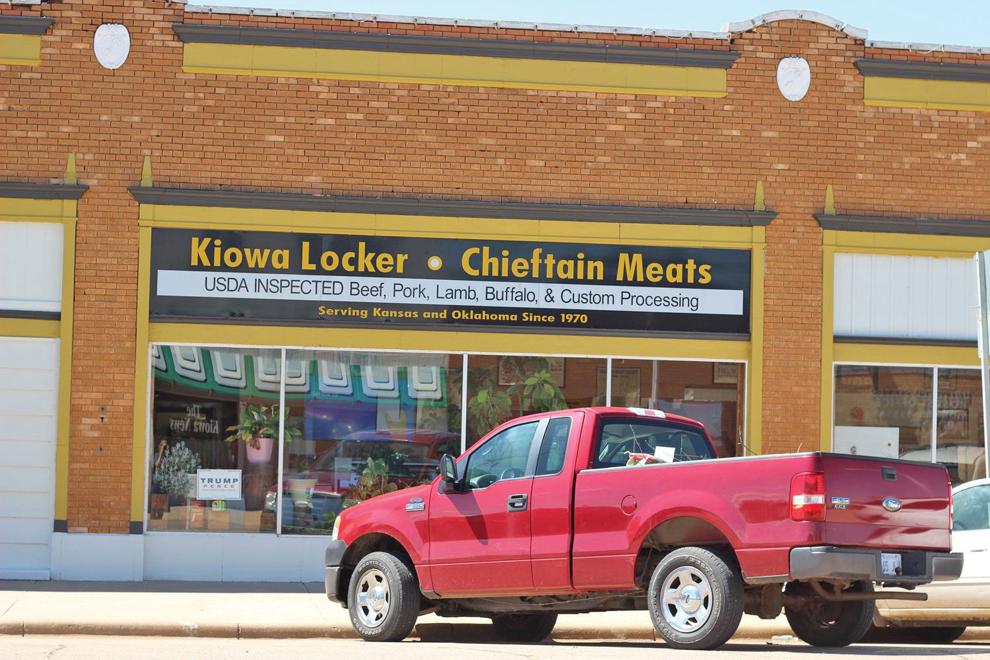 Oklahoma might be behind the coasts in picking up on the artisan-butchering trend, but the state has been a leader in addressing the butchering backlog, she said. Neighboring states are also taking action.
Rick Hitchcock is the second-generation owner of a custom locker plant in Kiowa, Kansas, as well as Chieftain Brand Meats, a store downtown. His plant is one of 800 federally inspected facilities left in the U.S.
"I've been doing this 45 years, and I've never seen anything like this before," he said of the pandemic-fueled demand.
He applied through the state's Securing Local Food Systems grant program to help cover some of the investments he's made to keep up, and received $100,000.
"The support is definitely a good thing, it makes you feel good," he said. "It will be a tremendous help to a lot of plants. It will be a tremendous help to me."
Hitchcock estimated he's spent more than a quarter of a million dollars since the spring on repairs and new equipment. In the case of a band saw, he was forced to buy a new one rather than wait around indefinitely for a replacement part.
Overall, the increased business has been a mixed bag.
"To be honest, we were better off before," he said. "We were getting along and paying our bills. Now we're running six days a week, with 300 to 350 hours overtime every week for our employees, and I'm paying $4,000 to USDA for their overtime."
When a federal meat inspector puts in more than 40 hours a week, the plant must cover the additional cost. Hitchcock added five new employees with current capacity maxed out at 60 head a week.
"It's a whole lot more stressful," he said. "I never had to keep a calendar a year out until this year. It's just made everything harder to keep track of and more paperwork."
"If it was a third less, everything would probably be perfect," he continued. "But if it continues like this, we'll probably end up working two shifts instead of one, and I'll be sleeping a lot less."
While things have changed dramatically, he doesn't expect to see a reversal of the trend toward more industry consolidation, especially with the ongoing decline in the number of small farms. In fact, he believes the ongoing health crisis might actually accelerate processing automation and consolidation.
"There's a need for businesses like this, but what the future holds is anybody's guess," he said. "I think, with Covid, these big plants will develop robotics faster than they would have otherwise."
Building toward a brighter future
In Enid, Terry said her family is pouring their grant money into a major expansion. They plan to at least double, and possibly triple, their current 5-head-a-day capacity.
"We already own the block and a half between the kill house and the store, and that's where we're putting a new facility with two dedicated processing rooms, additional coolers and a smokehouse," she said. "We would like to double our staff size. Right now we have 10 employees."
They've already started on the improvements. The grant stipulates the money must be spent by the end of the year.
Benefits of the expansion will overflow into the local community, Terry said.
"In the long term, I see a health benefit to people eating more natural meats," she said. "We cure our own bacon, hams and sausages, and you're not getting all of the preservatives. At Walmart, a package of ground beef has an ingredient list. Ground beef shouldn't have an ingredient list."
Like many small processors, Enid Packing has been integral to the community for many years.
"We are very large supporters and donors to local food banks, with thousands and thousands of pounds donated through several programs we sponsor," she said. Among them is "Hunters against Hunger," which distributes wild game meat to those in need.
Like the Kiowa plant, which Hitchcock took over from his father and hopes to pass on to his son, Enid Packing is a multigenerational business. Hollee's dad, Carl Lightfield, started the business in 1987. The couple stepped in to run it after he passed away in 2018.
He was a low-key guy and not one to toot his own horn. But he loved the community and instilled life lessons that can't be learned in a book, Hollee said.
When she told him how thrilled she was to get her first car at age 16, he warned her, "don't ever love anything that can't love you back." If she complained about not having the same stuff her friends had, he was quick with a comeback. "Evidently you need poorer friends," he'd say.
When she came in to help around the store, he set high standards.
"No matter where you go, always wash the floors like you own the place," he told her.
She can't help thinking now how thrilled he would be to see the reaction of customers, the brisk sales and the big expansion underway. The new mural, painted by local artists Ty and Kelly Tompkins, keeps him close.
The image features a real-life longhorn steer named Twister. Perched on one of his dramatically sweeping horns is a swallow-tailed flycatcher, the state bird. The two animals share a symbiotic relationship, just as Terry's parents did as they ran the business together for more than two decades.
"We like to say it's mom and dad hanging out with us," Terry said. £