For Sherrie and Rich Hagenhoff, growing elderberries started as a way to stay busy. Today, just outside of Springfield, MO, Sac River Valley Elderberry & Elderflower Farm has quickly grown into a small but mighty operation.
"We both grew up on a farm," Sherrie said. "I had always wanted to get back to farming. When we got married, Rich had just built this place and I thought 'I need to get my fingers in that dirt somehow.'"
Sherrie was first drawn to elderberries after having some positive changes in her health. Known for having high levels of antioxidants, elderberries grow in nearly every continent. In the United States, Missouri has been particularly successful.
"60% of American elderberries that are consumed come from Missouri," Sherrie said. "It just seems like elderberries and Missouri go together really well."
For the Hagenhoffs, the berries seemed like a perfect replacement for what had previously been a hay field.
"We just thought it was a good crop to grow to make a little money to go into our retirement," Sherrie said. "It's something very healthy, so we felt really good about what we would be selling."
The couple planted their first acre in 2015, but had to be patient to reap the benefits.
"When you put your first planting in, you want to let the plants go for a year without doing a whole lot to them," Sherrie said. "The fall after they've had a full year of growth, and every year after that, you prune them to the ground."
The Missouri climate allows plants to start re-growing in spring, with the first blossoms occurring in late May or early June.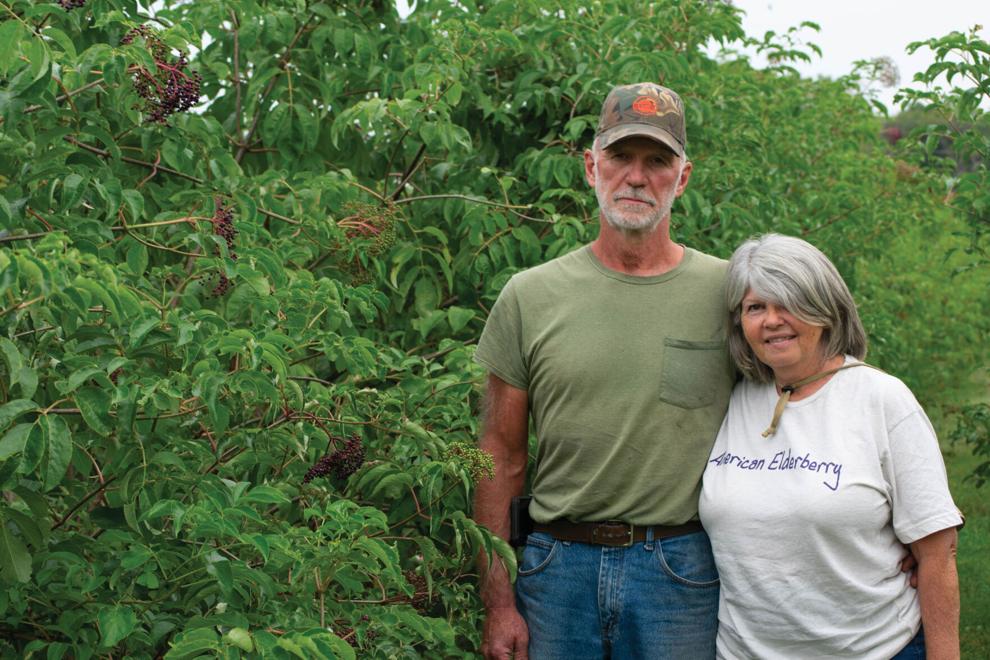 "We harvest and play around with the blossoms," Sherrie said. "The flowers are beneficial and they're marketable."
The summer months are spent maintaining the fields and prepping for harvest season.
"Rich weed eats 12,000 linear feet every week and mows between those rows," Sherrie said. "We irrigate all summer long and into the fall."
In an effort to maintain a more natural approach, the couple uses fabric as a means of weed control instead of applying herbicides.
"We sometimes have to use insecticides," Sherrie said. "Out biggest nemesis we have is the Spotted Wing Drosophila. This year we had some Plant Bugs and Sawflies, so we did have to spray a couple fields using organic sprays."
Depending on the year, birds can also pose a threat to the berries.
"Last year they were a horrible problem," Sherrie said. "This year they've barely touched them. It just depends on what other feed is available."
The berries are typically ready for harvest in late July, starting a frenzy that lasts over two months.
"Pretty much every day you are in the field harvesting," Sherrie said. "We have around eight people harvest for us. They start around 7 a.m. and sometimes it's four or five hours until they're done for the day."
Each year, the plants become more productive. While their first harvest saw about 800 pounds of fresh elderberries. As this year's harvest winds down, the total is approaching 3,000 pounds.
"It's good to start small and expand when you have a little experience under your belt," Sherrie said. "And to be realistic, it takes three to four years before you start seeing a return on your investment."
Fresh elderberries have a short life span, typically going bad within 48 hours of harvest. To combat this, the Hagenhoffs wash, destem and freeze the berries the same day they are harvested.
"That takes us anywhere from three to four hours, sometimes five hours," Sherrie said. "It's hard work. People have to be ready for the hard work if they want to get into elderberries."
While some customers initially request fresh berries, Sherrie explains that often times frozen berries are just as good, if not better.
"You can get more juice out of a frozen berry as opposed to a fresh one," Sherrie said. "We do sell fresh, unwashed berries to people who make wine, because they want the natural yeast on the berry."
Once the berries are frozen, the products that can be made with them are nearly endless.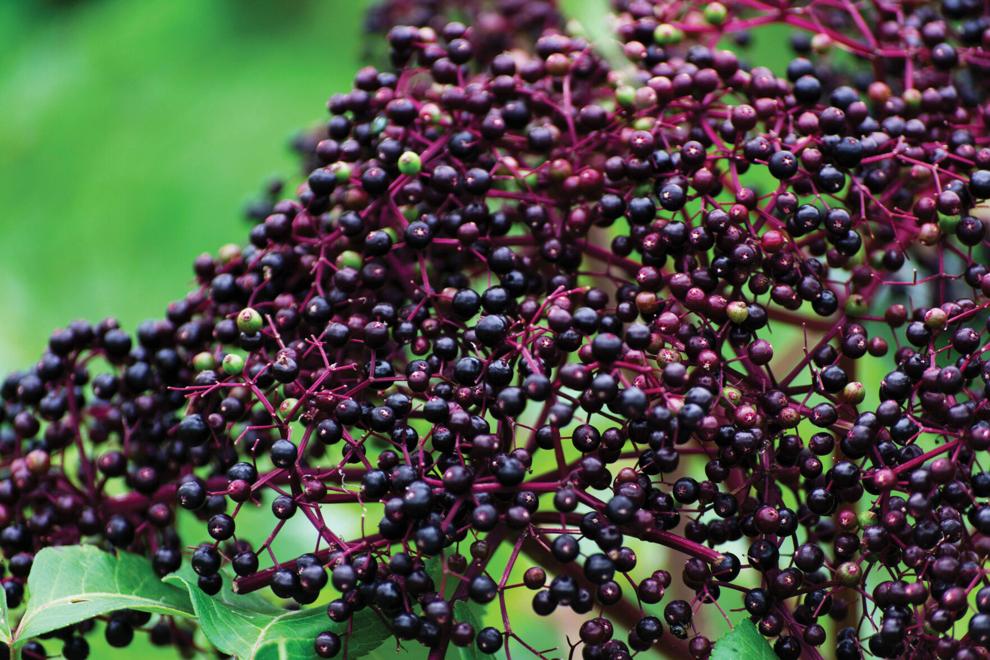 "You can make elderberry infused honey," Sherrie said. "Elderberry syrup or cordial, it has a lot of different names, people will consume a tablespoon of that a day for health benefits. Elderberry jelly and wine. But really, it is endless."
Sherrie said elderberries should be fermented or cooked before consumption, because they can cause GI distress if consumed raw in large quantities. However, just a small amount of the berries can have a positive impact.
"In recent years, they've become known for their antioxidant value," Sherrie said. "They have more than four times the antioxidant level of blueberries. The nice thing is, with elderberries a tablespoon is the serving size, compared to a cup or so for blueberries. So very small quantity of elderberries can provide a really power-packed nutrient profile."
For the Hagenhoffs, the greatest blessing has been the community they've found among other elderberry growers and consumers.
"I literally have it on our Facebook page but everybody does come as a stranger and they leave as some kind of elder-kin," Sherrie said.  "We've become real acquainted our customers and our elderberry grower friends. The industry people who provide our supplies from irrigation and everything else. It's a really nice, tight network of people who appreciate and help each other."
They've also worked to become a source of information for people interested in growing their own elderberries, from posting their journey on Facebook, to inviting people to the farm.
"We feel as we've learned and made mistakes, we've been able to share the mistakes and the 'this is how we think to do it right,'" Sherrie said. "I think I've taken people that wouldn't have had the courage or felt like they could do it, and maybe given them the idea that they can."