Nestled behind a subdivision on the eastern edge of Springfield, Missouri lays an oasis for young girls and experienced equestrians alike. Housed in a hilltop stable, The Libby Ferguson Training Center bustles with the activity of both riders and horses.
For owner Libby Ferguson, horses have been a lifelong passion.
"I've always loved horses, for as long as I can remember. I got my first horse when I was 8, and I started showing horses when I was about 11," Ferguson said.
Her career as an instructor started as a side project during her college years.
"I ended up getting back into it by a lady I used to show horses for," Ferguson said. "She had someone leave her barn and asked if I wanted to come give lessons. I was going to college at the time and thought 'Why not?' I had a couple horses at the time so I could do it. It was something fun to get back into it. So here I am."
Ferguson opened her training center in 1988, and has been in its current facility for 15 years.
"I love to teach people how to understand horses," Ferguson said. "It's a wonderful confidence builder. I just love animals in general, and I've always been infatuated with horses like a lot of little girls. It's a fun way to teach, I teach life lessons on a horse, not just how to ride."
Ready to ride
Today, the training center gives between 50-60 riding lessons a year to students of all ages, in both private and group formats. The hour long lessons give students a hands on experience from start to finish.
"They learn how to safely work around the horse, how to approach a horse, things to look out for," Ferguson said. "Then they learn to groom, and tack the horse themselves. We help, but eventually they learn to do it all by themselves. They usually ride about 40 minutes, and if you're really riding that's a pretty long time."
While they might not realize it, students are learning more than just how to ride a horse under Ferguson's instruction. Character, confidence and responsibility are all things that can be learned on horseback, she said.
"To be on a big animal and to control it, it gives them a sense of empowerment that I think is really important," Ferguson said.
Riding lessons present an opportunity for children to interact with animals they've been removed from.
"This is the third generation that we haven't needed horses for a purpose, so kids just aren't exposed to them as much," Ferguson said.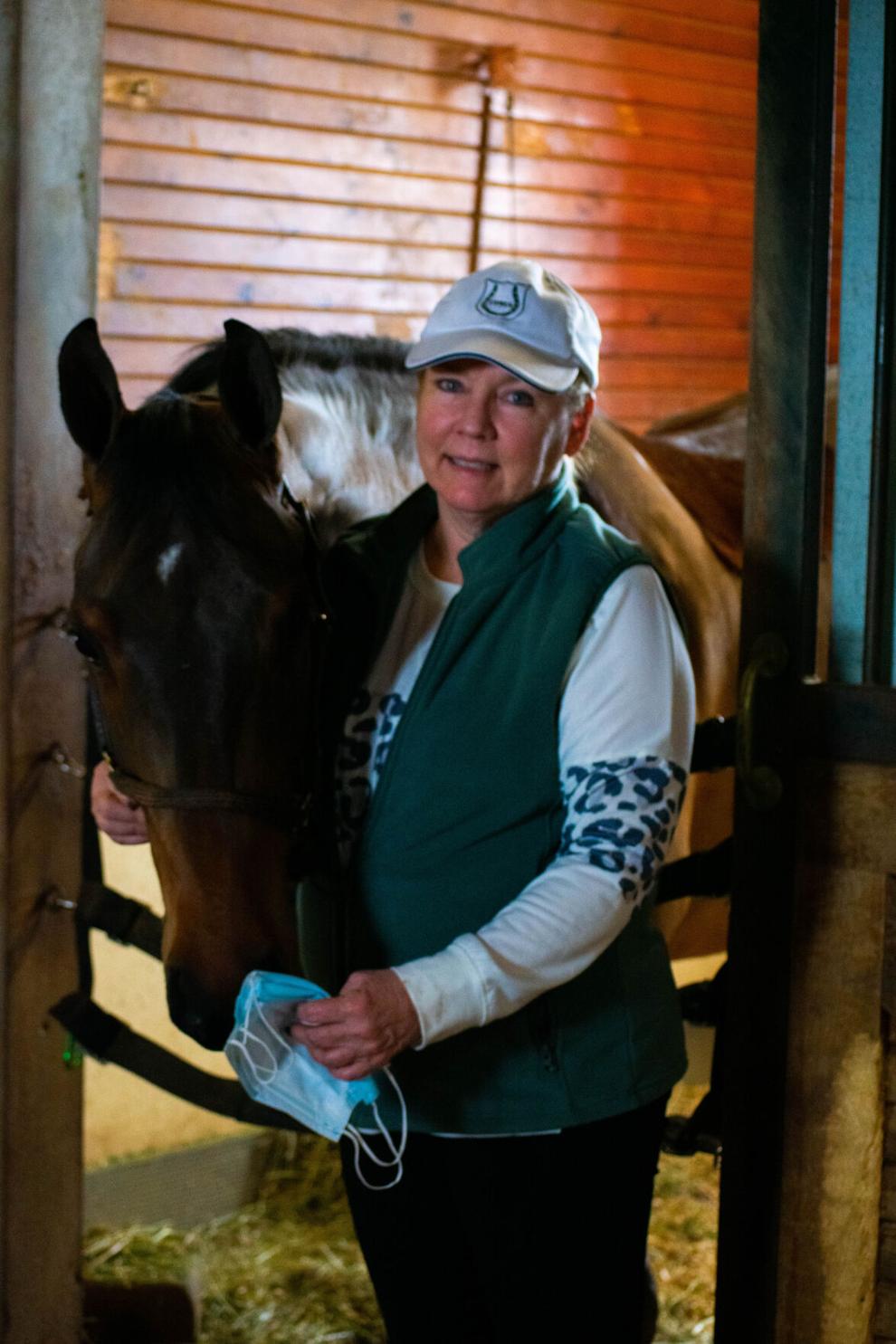 The lessons also offer the chance to work on skills that might not be developed in a child's everyday life.
"In this day and age, with kids always on their phones and computers, posture is such an important part of riding that has become more important than it used to be," Ferguson said. "People don't work on their posture anymore and you have to have good posture to ride a horse."
Her students aren't the only ones learning life lessons in the barn. Ferguson has seen personal growth from working with kids.
"You're always surprised by little kids and the way they look at things. It teaches you to keep an open mind," Ferguson said. "I've learned to be more flexible, I don't know if that's because of the kids, I think I've just become a better person."
Despite showing mostly Saddlebred horses in her youth, Ferguson turned to Arabians when looking for strong lesson horses.
"The only horses I could find that were safe enough and suitable for lessons were Arabians," Ferguson said.
Show ring stars
Investing in the Arabian breed eventually led Ferguson and her students to Arabian shows. Of the 40 horses owned by the trading center, 20 are reserved for lessons and 20 are show horses.
"Between 15-20 people are going to each of the shows," Ferguson said.
The training center specializes in saddle seat and hunt seat riding competitions, both English styles of riding.
"It's performance based," Ferguson said. "It's how well the horse moves, the quality of the movements, and the quality and manners of the horse. As well as how well the rider handles the horse and executes maneuvers."
The show ring brings its own set of life lessons for Ferguson's students.
"How to be a good winner as well as a good loser," Ferguson said. "Life isn't always fair and these kids learn how to handle those situations at a younger age."
Her over 30 years of experience in the show industry has led to excellence. She's been nominated for several awards, and was named the United Professional Horsemen's Association's Chapter 5 Instructor of the Year in 2020.
"That was quite the compliment," Ferguson said. "That was through Saddlebred which we're just getting back into. I've been doing mostly Arabians until 3 or 4 years ago, and slowly have just gotten back into saddlebreds because that's mostly what I showed as a kid."
Despite the personal awards, it's the accomplishments of her students that stand out for Ferguson.
"Stand outs, I think is just the success my students have had." Ferguson said. "I've had three students try out for the world cup, which is like the olympics for our industry."
Hardships with horses
Her years in the industry haven't been without struggle. Like many in the agriculture industry, funding her business and finding good help can pose a challenge.
"Financially, it's a hard business to run. It's just expensive taking care of horses," Ferguson said.
Industry-wide, breed associations are struggling with lower registration numbers and less attendance at shows. While Ferguson said this may call for a need for change in the show industry, she's confident in the resiliency of the lesson side of her business.
"Little girls are always going to be infatuated with horses, so I don't think that's ever going away," Ferguson said.
The COVID-19 outbreak brought its own set of obstacles.
"We were considered essential to take care of the horses, but we were closed to the public," Ferguson said. "We had, I think, seven shows cancel. So that was a big deal. We didn't start showing until the middle of June. It was hard for these kids."
Content with the present Regardless of the challenges, Ferguson is content with the state of her business.
"I think what we're doing right now is perfect," Ferguson said. "We're doing the right amount of lessons, the barn is full, the right amount of horses fill up the trailer to go to shows."
These days, most of the training center's new students come by word of mouth, although Ferguson is looking to update her online presence.