In the new era of agriculture, people skills will be as paramount as plowing skills and the National FFA Organization has been influential in instructing students in both areas since 1928.
In Kansas, six state officers serve as the link between the National FFA Organization and the state's more than 9,000 students enrolled in local chapters. In honor of National FFA Week, state officers Abby Goins from Labette County FFA and J.W. Wells from Sedan FFA shared some insight into their FFA experiences.
Different Journeys, Same Destination
Goins and Wells will be traveling the state this week, first attending a legislative session at the Capitol and then visiting with individual chapters in different regions of the state to participate in local National FFA Week events.
"FFA week has a great sense of community where every chapter and group come together and enjoy being around each other," Goins said. "I think the aggie breakfast Labette County puts on is one of my all-time favorite events. It's a great opportunity to just hang out together to cook and celebrate that community aspect of FFA."
Looking forward to meeting with members, Wells said the fellowship opportunities associated with chapter visits were also some of his favorites.
"My favorite thing about FFA week, and FFA in general, is that it provides community for high school students," Wells said. "I'm looking forward to traveling this week and having the unique opportunity to get to know other members, learn about their passions and what they learn though FFA."
One of the more exciting aspects of FFA members is the diversity and inclusivity the organization provides for its members. While Goins and Wells have similar travel plans and FFA Week preferences, their journeys to state office were very different.
Wells began his FFA journey as the son of an agricultural science teacher near Skiatook, Oklahoma, before moving to Sedan in high school. His familiarity with FFA allowed him the opportunity to identify goals early and execute them efficiently while planning for his future in the organization.
Goins grew up in Oswego, Kansas, on a small beef cattle operation and was homeschooled through eighth grade before attending Labette County High School. For her, FFA opened up new opportunities for school success as well as longstanding friendships.
"My ag classes were the place I felt most welcomed and comfortable during that transition time coming into high school," Goins said. "I'll always be grateful that the opportunity provided in those classes gave me the chance to identify my passions and become successful."
Given the chance to choose FFA all over again, Goins said she would take even more initiative to try new experiences and excel at her Supervised Agricultural Experience.
"I think if I could go back, I would want to be more involved in some of the leadership programs available to me outside my chapter," Goins said. "I would take more initiative and engage with more of the opportunities, especially related to my SAE."
Wells, too, said he would make his SAE a focal point and absorb all of the real-world experiences it had to offer.
"If I would do it over again or talk to someone starting off, I would tell them to invest in their SAE," Wells said. "Through five or six years, I've had many different SAEs but I didn't really hone in on any particular one but I have several other friends who specialized in one specific SAE that helped them gain a lot of basic skills to carry into being an adult."
Mission and Vision
Being a state FFA officer is both an exciting opportunity and a big responsibility, especially for students navigating the transition from high school to college while in office. Approaching the end of their year as state officers, Wells and Goins reflected on the goals they set at the beginning of their terms and how those goals evolved over the course of the year.
"My mission for being a state officer hasn't changed at all over time," Wells said. "I want to continue to learn as much as possible and be a positive influence throughout this process."
While his initial goal remains the same, Wells said the way he has followed through on fulfilling his goal has changed over the course of the year.
"I've found the best way to accomplish that goal is by having a stake in an individual person's life," Wells said. "Striking a personal connection and making each member feel like a part of the FFA community is essential to what we do as officers."
Goins' original state office goal reflects the poignancy of her introduction to the program, and the influence it had on her during a transitional time in her life.
"Initially my goal coming into state office was for every FFA member in Kansas to have an atmosphere where they felt at home and felt like they could be successful," Goins said. "I feel like those same opportunities helped make me who I am today and I wanted to spread that feeling."
Over the course of the year, Goins' initial goal didn't waiver, though she did discover new ways to serve her organization over time.
"That really didn't change much over time — I still wanted to have fun and change big things for our organization — but eventually I found the best way for me to accomplish that goal is to be the most effective officer I can be," Goins said. "My goal is to be as reliable as possible, execute things in a timely fashion, and to be someone people can count on when they have a need."
A year spent in state office provides opportunities and experiences that molds members in irreversible ways. Goins and Wells reflected on some of their favorite memories from their year of service.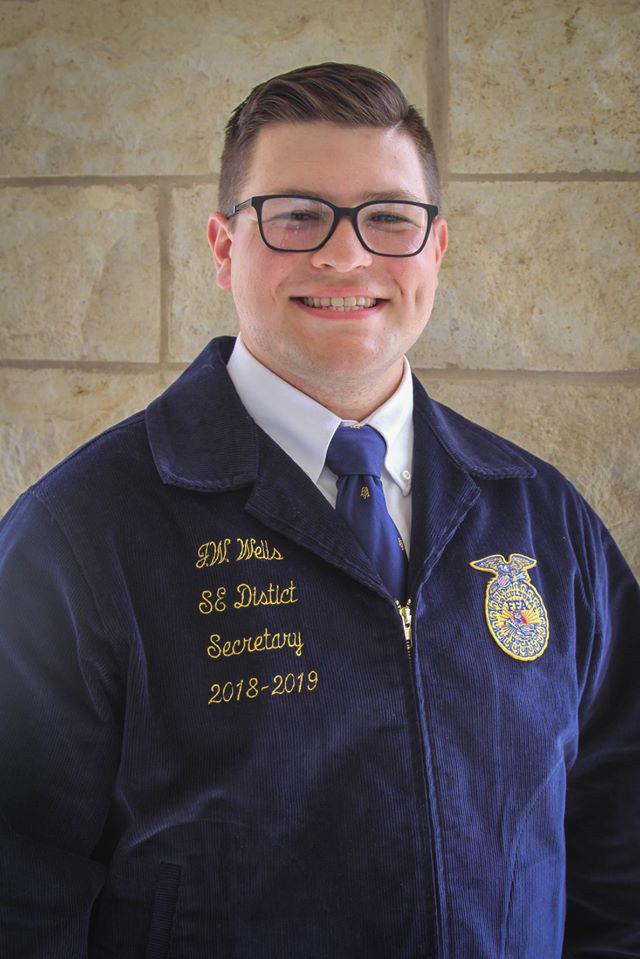 "My favorite state officer moment is probably a combination of smaller moments throughout the year," Wells said. "Over Christmas break, we went to Spain and Portugal — that experience made me consider adding on minor in international agriculture."
Wells said he felt like the moments he treasures the most wouldn't be big enough for a Facebook feed, but to him they were collectively worth sharing and remembering, especially thanks to the ways those moments allowed him to connect with others.
Goins had favorite memories from the same state officer expedition.
"We took an international trip to Portugal and were able to see the Atlantic Ocean for the first time, the first time ever seeing an ocean at all for some of the officers," Goins said. "Getting to see that and experience it together was one of my favorite parts of state office."
Overall, both Goins and Wells credited their time in FFA with teaching them life skills to carry beyond their year of service and forever altering the way they interact with other people, regardless of their background.
"Being a state officer has taught me the value of making a personal connection, and that has a multitude of different levels — it can be a working relationship, casual friendships, or deep connections that allow you to learn someone know their passions," Wells said. "I think the ability to engage in and appreciate those deeper personal relationships will be a skill I continue to use in life."