In the last hundred years, farming in southeast Kansas has evolved dramatically with new cultural, financial and ecological challenges for farmers to face each year. At its heart, however, farming stays true to the same values that defined the profession hundreds, even thousands, of years ago — community, family and stewardship of the land.
The Gordon family farm near Coffeyville, Kansas, has undergone a similar evolution over the years, beginning with Melvin and Carol Gordon's small start in the early 1970s and lasting in legacy today with their son Scott and his wife Lane continuing the farm's lineage of passion and production.
"I remember when I was small we lived on 10 acres and my dad would just go buy a few cattle at the sale barn," Gordon said, "and then in the early '70s he bought a few Limousin cows and farmed about 50 acres on the side."
Initially, the Gordons farming activities were just a few acres of corn and oats devoted to cattle feed and straw.  Melvin worked at the refinery full time and enjoyed the cattle and farmland in his off time, sharing his hobby with his three sons.
The interaction with farming was enough to let Scott know he had a passion for production agriculture, and while his family's farm wasn't big enough to support new members when he came of age, he knew he wanted to find a career in an agricultural field. After graduating Kansas State University in 1989, Scott started working for K-State Extension first in Fredonia, then Iola and finally in Montgomery County where he finished his career as an extension agent after 24 years.
"I don't think there is a job where you can learn more than in Extension," Gordon said. "Our job is to help people but they also come to you with issues that they are halving on the farm and you get to help them solve those problems."
Scott stayed involved in the family farm throughout the time he was an Extension agent, eventually taking over farming operations when his father passed away in 2011 and then devoting himself to the farm full time in 2014.
"In 2014 the family decided that I needed to be either full-time farmer or full-time with Extension and we would sell out," Gordon said. "No one wanted to sell out because we all felt like my dad would have wanted us to continue on and so I resigned to farm full time."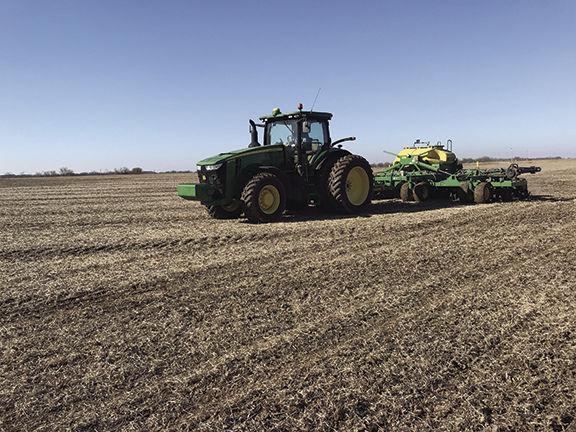 In 2019, Scott and Lane Gordon were voted one of Kansas Farm Bureau's Top 10 Farm Families of the Year. A far cry from the original 10-acre establishment, their Montgomery County operation farms about 1,800 acres of cropland primarily in double-cropped wheat and soybeans with some corn. Additionally they own a 160 head cow-calf operation and grow about 350 acres of grass hay.
Although Scott is the only full-time family member overseeing farm operations, the rest of his family continues to stay invested in the business. Scott's mother and wife oversee the financial and technological aspects of operating the farm, while Scotts younger brother, a veterinarian, oversees his herd health and nutrition protocols and his youngest brother comes home from Michigan to help out during planting and harvest.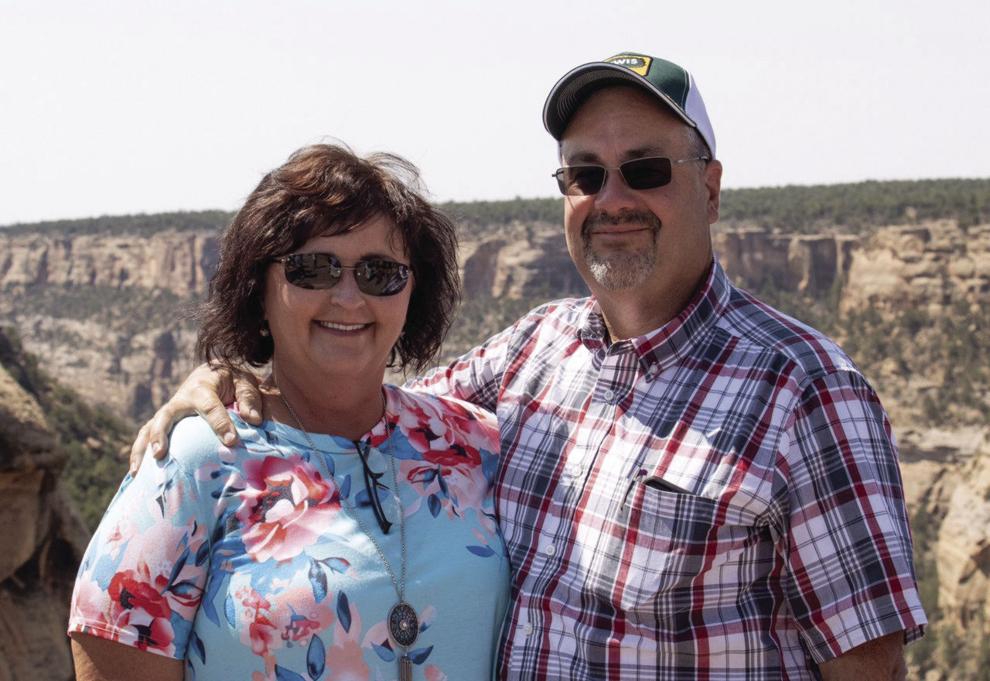 Farming is in the Gordon bloodline regardless of distance or age and that is a tradition Scott Gordon hopes to continue on to future generations.
"We would like to keep it going generation after generation but the kids have to have a passion for it," Gordon said. "Farming is too much work and too stressful to do if you don't have a passion for it."
Groundwork
During the 2019 growing season, Gordon said that passion for plowing and planting was put to the test.
"This year was like nothing I have ever seen and I don't know that you would talk to a farmer who would say any differently," Gordon said. "Yield wise, I think we won't be too disappointed but it took an incredible amount of effort to get there."
Gordon said weather conditions in 2019 challenged his normal growing protocols, forcing him to rethink his normal growing structure. High ground where his corn would normally be too dry flourished while his better, lower fields flooded.
Add in a third of his cowherd calving in the middle of harvest and you have a more-than-full-time arrangement — one that is wholly necessary during times of narrow margins.
"There is no doubt that margins are pretty tight right now and to me it all depends on having good yields," Gordon said. "If yields suffer some, then margins can get pretty tight."
Through it all, Gordon said he relies on his education from his time as an extension agent and counts himself as lucky to be able to be doing a job he loves.
"I've looked up to a lot of producers around this area for years and years and learned from what they have done," Gordon said. "I'm just glad that I can kind of be one of them now."
Outreach
Outreach and education were crucial parts of Gordon's work as an extension agent and they continue to be important in his career as a farmer. Gordon often participates in the Careers on Wheels program at Coffeyville schools where he brings a piece of agricultural equipment to the schoolhouse, typically a combine or a sprayer, and teaches a lesson about its role in farming.
"I think it's very important because more and more people are getting further away from the farm," Gordon said. "They just need to understand that we're trying to feed our families, too, and produce a wholesome and healthy product."
While most consumers may not fully understand the production of their food, they do care, Gordon said.
"I don't think we're giving people quite enough credit," Gordon said. "I think people do think about where their food comes and now it seems like they are considering it more than ever."
Providing curious consumers and their children with fact-based information is a key to protecting the future of farming.
"It depends on if it's fact-based information or emotionally driven information and consumers will make decisions on it regardless of which kind of information they have," Gordon said. "It is hard to combat emotions with facts."
Teaching children about agriculture and agricultural roles is a vital part of rejuvenating rural communities, Gordon said.
"What I hope that we find in our area is that kids want to come back and do something," Gordon said. "I know there are limited opportunities here but we need some of our talented, energetic kids to come back and be involved in our communities."
For Gordon, the foundation of farming is found in enjoying the simple pleasures of a day's hard work and devotion to the land.
"Enjoy what you do and do it the best you possibly can," Gordon said.