After visiting an Oklahoma pumpkin patch last fall, Ahlayna McPherson had a vision: a place in her own town for families to have an outdoor experience and spend time in the country.
A year later, with the help of her husband, Nick, and her in-laws, that vision has become a reality in The Pumpkin Patch at Prior Creek Farms just outside of Cherryvale, Kansas.
"We brought the idea to Nick's parents and they were like 'prove to us you can grow some pumpkins and we'll have a pumpkin patch next year,'" Ahlayna said. "But we wanted to have the pumpkin patch this year. So we planted the pumpkins in June and started building stuff out here in September, and here we are."
Deciding which varieties of pumpkins to plant was a trial by error approach.
"We really just went to the local garden center and grabbed every kind of seed we could and saw which ones grew the best the first week," Nick said. 
Once they knew what they could grow, the couple sourced seeds from local centers and online. From there, they were all in. 
"We started some in cups, and once we realized we could get them to sprout we realized starting them inside wasn't what we wanted to do," Nick said. "So we just tilled up a lot of ground and put the seeds in the ground."
The couple planted around 600 plants of different varieties, yielding over a thousand pumpkins to sell. They have everything from Jack-o-lantern pumpkins to mini pie pumpkins, and specialty colors and shapes.
Once the pumpkins were planted, the real work began.
"When we first started, we didn't have any irrigation system," Ahlayna said. "We were having to hand water every single one of those plants for two months until we got our irrigation system in."
The couple also worked with community members in hopes of improving their success rates.
"Pumpkins have to be pollinated from female to male flowers or they won't grow," Ahlayna said. "So I reached out to our local beekeepers association and one of the guys there offered to bring some bees out. I think that's why we had a pretty decent success rate."
Originally told that pumpkins typically see a 75% germination to growth rate, the McPherson's were able to see something closer to the high 90s.
"We didn't have a single plant that didn't grow," Nick said.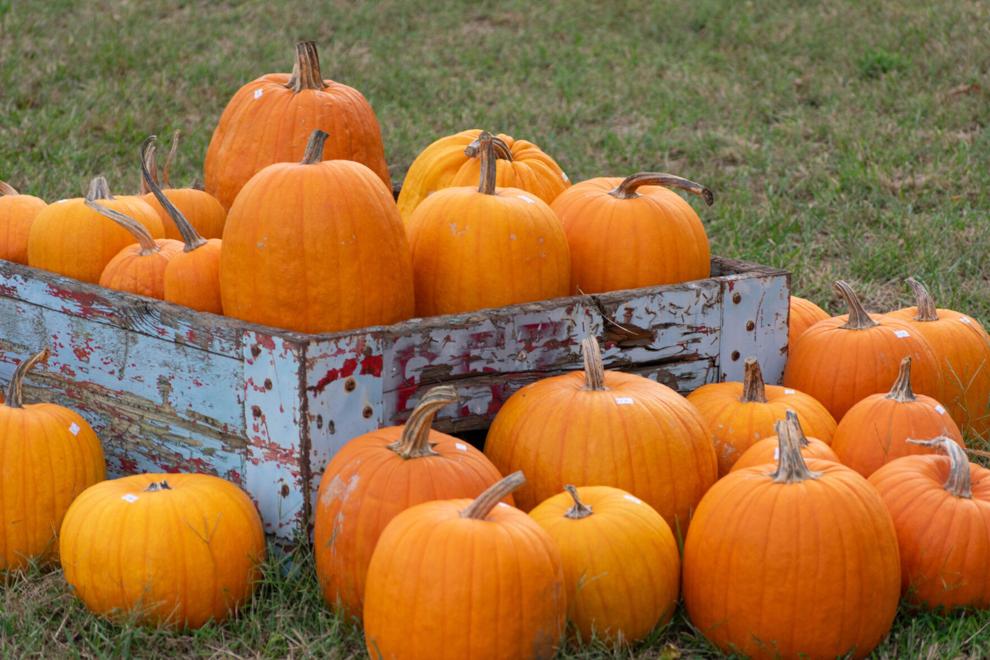 The couple started harvesting the pumpkins in late August, and stored them inside a building on site until they were ready to open.
Outside of pumpkins, the pumpkin patch also offers a variety of activities for families.
"We knew what things we did when we were younger. So we knew for sure we wanted the barrel train, a hay ride and the corn pit," Ahlayna said. "We also asked a lot of local people what they enjoy most about pumpkin patches and we also joined the International Agritourism Association."
Getting everything done outside of their full-time jobs was no easy feat. 
"It's hard and so busy," Nick said. "Especially because she's a full-time nurse. We're out here from daylight to dark every single day. I work on the farm with my parents so I have a more lenient schedule where I'm able to come do this or that."
Despite the long hours and busy days, to them it's worth it to provide families with memories.
"Watching a kid get out of the car and start jumping around is the best feeling in the world," Nick said.
For Ahlayna, it's even more special.
"I grew up in a not so good environment," she said. "I didn't get to have any experiences like this, so it's so heartwarming to be able to give that to someone else."