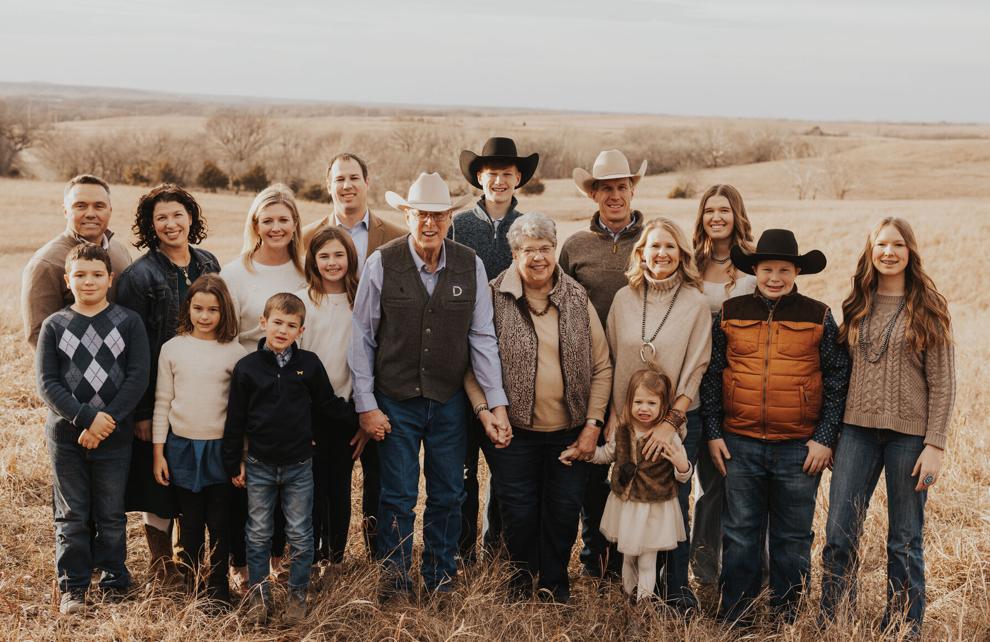 The Tom Perrier Family will be recognized Thursday, March 2 as the 2023 Stockman of the Year. The award is presented annually by the Livestock & Meat Industry Council (LMIC) at the annual Stockmen's Dinner that kicks off at 6 p.m. at the Stanley Stout Center. Register for the event by February 17.
Tom and his wife, Carolyn, (Graham) Perrier are fourth-generation ranchers in the Flint Hills. They were instrumental in implementing technologies such as performance recordkeeping, artificial insemination, expected progeny difference (EPD) use and ultrasound evaluation since their return from military service in 1969.
As confusing as it appears, the names "Dale" and "Banks" are nowhere in the Perrier family pedigree. Robert and Alice Loy and their first three children homesteaded a farm three miles northwest of Eureka, Kansas, in 1867 and named their farm "Dalebanks" — the same name of their ancestral farm and region in their homeland of England.
Just like three generations of ancestors, Tom and Carolyn have always believed in giving back to their community and industry through service in various organizations. Carolyn has served and led her PEO Chapter, the Greenwood County 4-H Foundation, Upper Fall River Jayhawkers 4-H Club, the Greenwood Preservation Society, Greenwood County Cattlewomen, Entre Nous, Music Club and the Sacred Heart Altar Society. Tom served as Kansas Angus Association president, additionally he served as a board member of the Greenwood County Fair Association, Eureka USD 389 School Board, Greenwood County Cattlemen's Association, Greenwood County Farm Bureau, Kansas Livestock Association and the Fall River Watershed District. He also served two terms on the American Angus Association Board of Directors. Their children have always been the true priority, and they are very proud of each of them.
Matt and Amy (Teagarden) Perrier and their children — Ava, Lyle, Hannah, Henry and Hope live on the ranch. Amy is a part-time physical therapist, working in the local school, hospital and rehabilitation clinic. She also advocates for the beef community through the Greenwood County Cattlewomen social media platforms, in addition to her full-time roles as ranch wife and mother. In addition to his managerial duties at Dalebanks, Matt recently finished his term as president of the Beef Improvement Federation, is a past-president of the Kansas Livestock Association, Greenwood County Farm Bureau and the Greenwood County Cattlemen's Associations. He currently serves on the Kansas Health Institute and hosts a bi-weekly podcast, Practically Ranching.
Michele and Russ Callejo and children, Luke and Alice, reside in Roseville, California. Russ serves as Deputy Regional Director for the U.S. Bureau of Reclamation and Michele, who served in a variety of research roles in both the animal and human pharmaceutical fields, now cares for their children and volunteers with numerous community organizations in the area.
Mark and Kelly Perrier and their children, Lauren and Drew, live in Wichita, Kansas. Mark is senior financial analyst for Rabo AgriFinance and Kelly is Director of Deli and Retail Channel Grocery Sales for Cargill.
To learn more about the Tom Perrier Family and their leadership in the industry, register for the Stockmen's Dinner by February 23. The cost to attend is $50/person. Registration is available online at asi.ksu.edu/stockmensdinner or by contacting 785-532-1267.
Plan to stay the night in Manhattan and attend the 109th Annual K-State Cattlemen's Day on Friday. Hosted in Weber Hall, the day will start at 8 a.m. with refreshments, educational exhibits and a commercial trade show. The program begins at 10 a.m. Lunch will be provided. Visit KSUBeef.org for a detailed schedule and registration information. Early registration deadline for Cattlemen's Day is February 24.
Following Cattlemen's Day, the 46th Annual Legacy Sale will begin at 4 p.m. at the Stanley Stout Center. The offering includes 42 bulls, one elite Angus heifer, 14 fall-bred females, 21 commercial heifers and three AQHA ranch performance horses. To learn more about this year's offering and to request a sale catalog, visit asi.ksu.edu/legacysale.