When Jason Wacha, owner of Wacha Farms LLC., and his family moved from Iowa to Ozark, Missouri, he noticed the lack of one forage in particular.
"My family had grown some alfalfa back in Iowa and it was always a really good crop for their cattle," Wacha said. "But you never really see alfalfa around here and I always kind of wondered why. Or you'd see people grow 10 or 15 acres, but nothing like what we do today."
When Wacha, who was running a custom hay operation at the time, was approached by a dairy customer about planting alfalfa, he saw an opportunity.
"I planted 50 acres of alfalfa that year," Wacha said. "It turned out really good, and that dairy guy bought all of it."
Encouraged by the success of his first crop, Wacha planted 700 acres the next year.
 "It just kind of took off," Wacha said. "Neighbors talk and before you know it, I had all kinds of alfalfa customers."
Today, Wacha Farms LLC. harvests an average 11,000 acres of alfalfa each year with five full-time employees and two or three part-time employees during harvest season.
"Dairy and beef producers are our two main clients," Wacha said. "But we also have a lot of horse customers and some sheep and goat people. Anyone that can use alfalfa really."
It's a labor-intensive, and sometimes costly, forage to grow which may be why its so uncommon to find in southwest Missouri.
"It costs a lot to plant it and it's hard to take care of," Wacha said. "You have to fertilize it, you have to spray it and then when you cut it, you have to get the moisture just right."
This year in particular, shortages have made inputs like herbicides and the white plastic used to wrap bales harder and more expensive to buy. 
"I'm interested to see if this is the new normal or if it's just the market trying to correct itself," Wacha said.
Alfalfa harvest typically starts in April and wraps up in September with an average of five cuttings, making weather a challenge every year.
"We talk a lot about the weather," Wacha said. "Every hour of the day we're checking our phones and looking at the radar. Putting up hay you have to, especially here because annually we get 40-45 inches of rain."
Rather than fight against it, Wacha works with the weather, letting it decide how the alfalfa is processed.
"We let the weather dictate it," Wacha said. "It works out where we'll put up so much in baleage when we can, and we'll put up dry hay when we have a good three- or four-day weather window. It averages out in the end of the year. About 30-40% is probably in baleage and the rest is in big square or round bales."
This range of products allows Wacha Farms to serve their range of customers with whatever they need for their operation.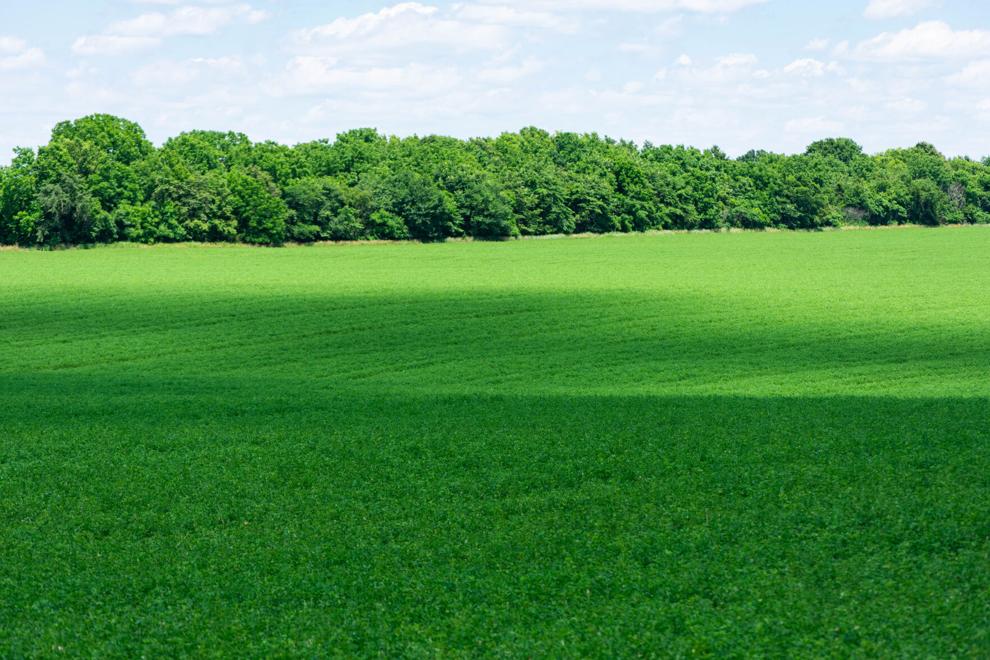 "We do cut a lot of pre-bloom alfalfa," Wacha said. "But sometimes you just can't get to the field, and our beef customers really like that. They don't need that high energy, really hot alfalfa. They want something lower quality for their rations."   
While dairies in the area have always used alfalfa, often trucking it in from western states at high costs, the presence of Wacha Farms in Missouri has encouraged other producers to add the forage to their operations.
"It's not like alfalfa is a new thing," Wacha said. "I think it wasn't used much in this area because it just wasn't readily available."
To help grow demand, Wacha has worked to educate producers on how alfalfa can fit into their operation.
"I do a lot of educating on alfalfa and its benefits to any operation, whether it be dairy, beef, goat or sheep," Wacha said. "It just depends on what you're doing."
He points to beef producers, who may have thought alfalfa wouldn't make sense in their cattle's diet.
"Beef guys used to think they couldn't afford to feed alfalfa, but the guys that do it have a lot of success," Wacha said.
Expanding his customer base has allowed Wacha Farms to thrive, even in the face of declining dairy numbers.
"It hasn't really affected my business at all," Wacha said. "I still have a lot of good dairy customers, but as people retire or go out of business, I've also picked up a lot of beef producers."
Wacha's quality product, as well as his dedication to his customers over the years, has been fundamental to his continued success.
 "You have to show people that you're going to be there every year," Wacha said. "That you can supply them every year and that you're consistent every year. I think we've done that over the last 10 to 15 years."