Two-time national wheat yield contest winner C.R. Freeman, owner of Premium Beef and Grain of Hobart, swings for the fences without compromising on grain quality.
The southwestern Oklahoma farmer won second in a nationwide dryland yield contest this year, the result of good land, good management and a versatile new wheat variety that thrives at diversity just like successful farmers do.
"I love farming wheat but it's just one tool in our tool belt," said Freeman, whose diversified enterprise consists of crops and beef cattle that are sold through the Whole Foods Market grocery chain.
Whether wheat, cattle or corn, he approaches it the same way. "My goal is to upgrade it somewhere along the food chain and capture a little better premium," he said.
A year ago last November Freeman planted 155 acres to an Oklahoma State University variety so new it was only being grown under contract for seed. At the time, the window for planting hard red winter wheat was closing fast. But the less-than-optimal timing turned out to be a stroke of luck: later-planted wheat dodged a bullet when a freeze hit in mid-April.
This fall Freeman learned the field had made it all the way to the Super Bowl of wheat, placing second nationally with a yield of 100.6 bushels per acre, 308 percent higher than the county average.
One of the variety's most unique features — and something that often causes passing farmers to pull over and take a second look — is the lack of awns, or "beards," that give wheat heads their distinctive look. When baled, those same spiky awns can irritate a cow's throat and reduce its feed value.
The new variety, named OK Corral, was bred to be as diversified as Freeman's farm. It produces vigorous forage in addition to high quality, high yielding grain.
"I'm really impressed by OK Corral and here's why," Freeman said. "It's a multi-purpose plant. It will make more forage than any other variety out there. I've never seen a longer, wider flag leaf. It's just beautiful."
The fourth leaf to emerge from the seedling, the flag leaf plays a key role in absorbing nutrients and fueling growth, he explained.
Freeman grew the field under contract for Null Seed Farm, one of his neighbors in the Hobart area. Owner Tom Null said he sold out of OK Corral this year and could probably have sold twice as much.
According to Null, Freeman's diverse operation is exemplary, but not unusual, in representing the needs and priorities of other farmers across the area.
"Most of my customers are looking for dual purpose types of wheat, wheats that will yield well and also graze well," he said. "With some of the privately developed varieties, you'll see them win the yield contest time and again, but that's because they only breed for yield. My customers need more than that."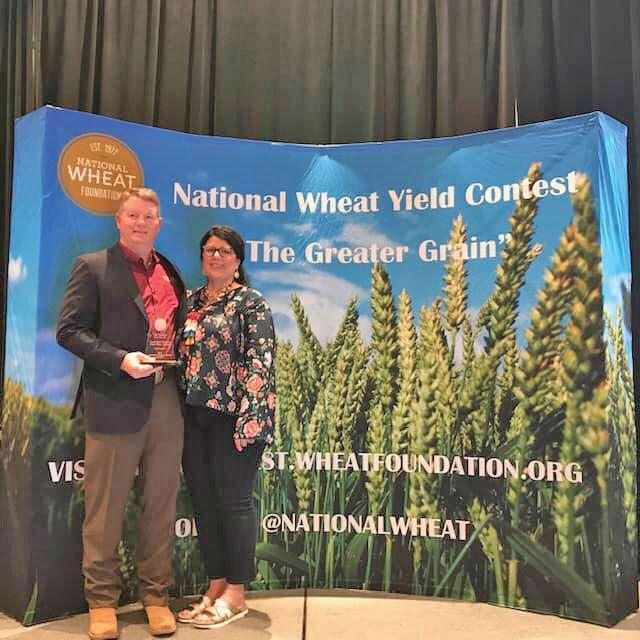 "In southwest Oklahoma we have to look for an all-around wheat that performs well in all aspects," including resistance to common pests and diseases, he added.
Null is not unlike his customers when it comes to being diversified. While he contracts with Freeman to grow seed for him, he also runs stocker calves on winter wheat pasture that will eventually go back into Freeman's pasture-to-plate beef program for Whole Foods Market.
Following a winning strategy
Producing an MVP-caliber wheat reflects hard work and attention to detail all the way along the supply chain from breeding nursery to harvest.
For Freeman, it began with planting into rich productive soil known to the locals as "Elk Creek ground." To get the most out of its potential, he follows a strategic crop rotation.
"I love wheat behind corn," he said. "It just seems like it picks up nutrients left over from the corn because of its deep root structure."
To boost soil fertility, he applies manure from his cattle operation.
"There's no better fertilizer in the world than cattle manure, in my opinion," he said.
Good genetics also contributed to knocking it out of the park.
"Seed genetics have changed a lot in the last ten years. I'm really pleased with the genetics that are out there," Freeman said. "If you have the fertility in your soil, it can really explode in terms of production."
OK Corral was 15 years in the making, the product of a game plan set in motion even earlier, when OSU's chief wheat geneticist Brett Carver conducted research in the early 1990s to find out if beardless wheat was worth pursuing.
"There are some myths out there about beardless wheat," Carver said "Farmers tend to think you don't get the same yield, because the awns are believed to provide a physiological advantage, perhaps through improved photosynthesis."
Carver's research showed that wasn't true. He decided that going forward no promising plant would be discarded from the breeding program just because it lacked awns. In fact, the OSU program released another beardless variety this year, a hard white wheat called Big Country.
Beardless wheat, which in the past was bred strictly for forage, tends to have a reputation for poor grain quality.
"The last thing I wanted to do was to put out another beardless wheat that fit that preconception," Carver said.
Instead, OK Corral has milling and baking credentials comparable to other leading varieties, a reflection of Carver's unwillingness to compromise end-use quality or functionality for any other trait. The beardless characteristic is a fluke of nature, entirely coincidental. Even so, it adds another dimension to what would otherwise be just another high performing, high quality wheat.
"What I wanted to do was create that total package," Carver said. "I'm all about giving the farmer more flexibility. That's the philosophy behind our grain-and-graze breeding program. I never want the farmer to suffer a yield penalty because they grazed it."
Playing the long game
This isn't the first time Freeman excelled in the National Wheat Foundation-sponsored yield contest. The previous year he was also recognized for out-producing the county average by more than 300 percent. But the success he's achieved in production is somewhat counterintuitive considering his priorities.
While he clearly enjoys a little friendly competition, he's focused on a much bigger goal: producing a winning agricultural product that will please his customers at the flour mill, behind the meat case or around the table.
"We've sold some wheat to Shawnee Mills in the past," he said. "That's a really neat Oklahoma-based company, and we do get a premium for supplying them."
In his cattle operation, Freeman aims for top grade choice or prime and hits it 95 percent of the time. He has similar ambitions for his wheat crop.
"I think the future is about achieving better quality," he said. "I'm not just talking about protein percentage, but all the other qualities that go into milling and baking it. The future is in specialty traits and quality factors, not in producing quantity."
In what will likely elicit a sigh of relief from other competitors, Freeman plans to sit out next year's contest. That's because he's sticking to the best rotation to enhance overall soil and crop health.
"We had a lot of wheat and barley planted last year, so next year we'll have more corn and milo," he said.
Regardless of what he grows, lord willing, he'll hit another home run.