Third generation baker Jay Fernandez knows bread. His hands can shape and score rolls like a well-oiled machine. By touch he can intuit when to add more water or flour to get the perfect dough. But he admits to knowing virtually nothing about the wheat required to make his artfully sculpted loaves.
"I've been baking for 45 years, and today is the first time I've ever been in a wheat field," he said recently. "That's how disconnected you can be from your food source."
Fernandez was an instructor — and a participant — at Oklahoma State University's first-ever "All You Knead to Know" artisan and grain workshop, which brought together roughly three-dozen home bakers and professional chefs, product developers and extension educators, for a one-day odyssey from test plot to pasta pot, that aimed to demystify wheat, flour and bread along the way.
Participants met inside a classroom at the OSU Botanical Garden and traveled in several vans to off-site locations around Stillwater.
As it turned out, the field in which Fernandez stood was not just any field but the equivalent of hallowed ground to agronomists. Brian Arnall, OSU precision nutrient management specialist, led a tour of the Magruder plots, which are listed on the National Register of Historic Places and regarded as one of the oldest long-term continuous agronomy research plots west of the Mississippi River.
They were started in 1892, well before statehood, by a young scientist named A.C. Magruder, who wanted to evaluate wheat production on native prairie soils. Although no commercial fertilizers have ever been applied to the check plot, researchers were preparing to harvest the 126th consecutive crop, a testament to the remarkable productivity of the prairie, Arnall said.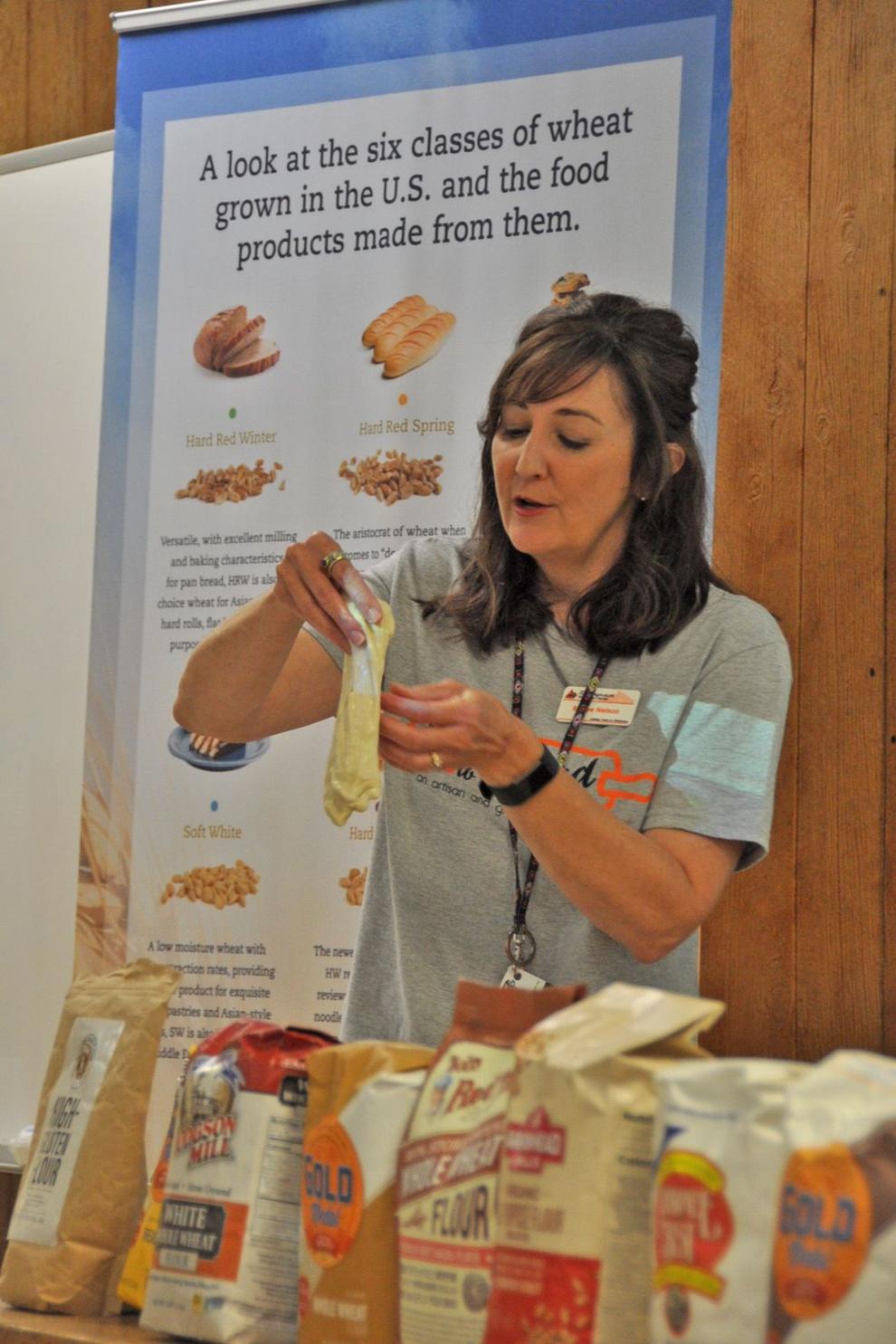 While at the field, Fernandez asked about organic wheat production. Arnall, who grew up in northeastern Oklahoma where poultry litter has been applied to the land for decades, said one of the drawbacks of manure or other organic fertilizers is the nutrient profile is not properly balanced for optimum nutritional uptake by plants. In other words, to get enough nitrogen, farmers end up applying excess phosphorous.
"You're essentially applying 10 times as much phosphorous as what the plant needs," he said. "You can ignore that for awhile, but eventually it builds up in your soil and becomes an environmental hazard."
"Then you need a way to remove it," he added, noting that growing legumes in diverse crop rotations can help.
Commercial fertilizers, on the other hand, allow farmers to be cost effective and precise, he explained.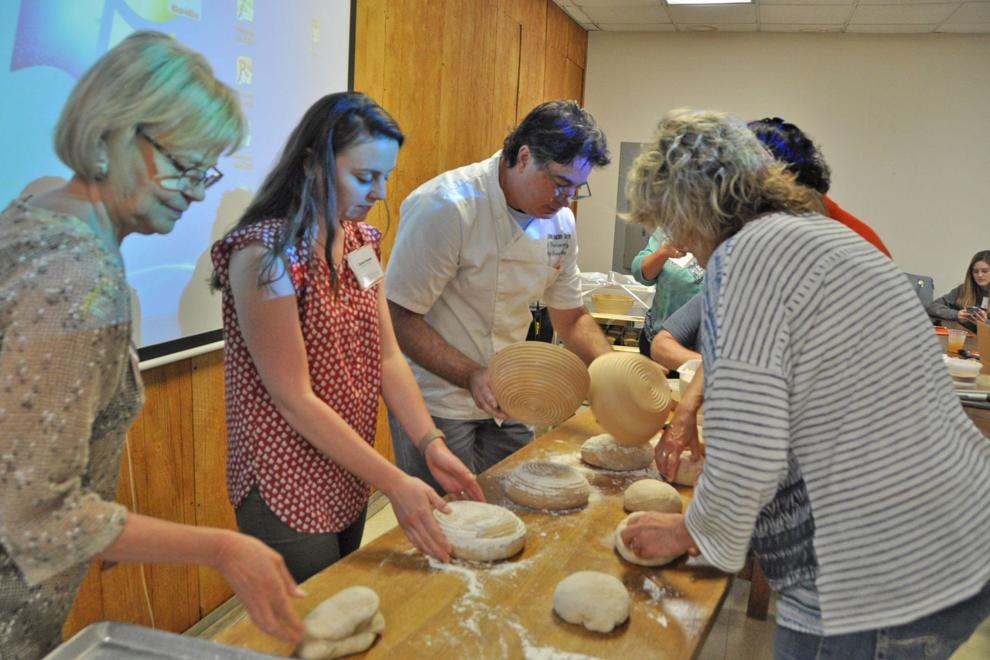 When Arnall mentioned roguing — the physical act of pulling rye plants out of the wheat by hand to prevent them from getting mixed with the grain — and explained that this backbreaking practice is still common across Oklahoma, gasps of surprise and utterances of "wow" went up from the group.
At an earlier stop, OSU chief wheat breeder Brett Carver went even further back in time, explaining the natural hybridization process that occurred 8,000 years ago to turn wild grass into grain.
At a demonstration plot planted next to the Stillwater Community Center, the group viewed small plantings of modern varieties side-by-side with ancient wheat ancestors like einkorn and emmer, which still grow wild in parts of the Middle East.
The fuller, fatter heads of the Smith's Gold variety were clearly distinguishable from the longer thinner heads of original Turkey Red, which also grow on taller stalks.
"One thing that I hear a lot that really bothers me is about how all of the hybridization we do is a bad thing. But if hybridization had not occurred in nature the way it did, we would not have the means to make bread. Maybe we would be able to make other things, but not bread," Carver emphasized.
"As breeders, we're not messing it up, we're trying to make it better," he added, explaining that modern varieties have plumper kernels that are easier to remove from the husk, and are higher yielding and more resistant to foliar diseases like rust, which he compared to the "common cold" of wheat.
Another modern science with roots in ancient times is the separation of the starch in the grain from the tough outer bran.
Back inside the classroom, Renee Albers-Nelson, a milling and baking specialist at OSU's Food and Ag Product Center, offered a crash-course in 13 flour types commonly found on store shelves. She pointed out that ancient Egyptians used papyrus leaves to separate off the bran from the endosperm, showing that the quest for whiter, less bitter flour predates the industrial age.
In fact, in ancient Rome, whole wheat bread was dismissively referred to as "pig food," she said.
She also played a humorous clip from the Jimmy Kimmel show, in which people on the street were asked if they were "gluten-free" and then stumped when it came to explaining what gluten actually is.
To answer that question herself, Albers-Nelson made a wet, stretchy dough-ball from bread flour and water as she explained that gluten is created when two key proteins in the starchy endosperm — glutenin and gliadin — are mixed with water.
At lunchtime, the group had a chance to sample specific wheat varieties transformed into sandwich rolls and pasta salads. The attractive spread was catered by Jeff Denton and Dustin Charter, owner and chef at fine-dining farm-to-table restaurant TS Fork, which is based at Tonkawa and recently opened a second location in Stillwater.
The lighter sandwich rolls were made from Stardust white wheat; the darker ones from the Showdown variety. The pasta for the salads came from Chris Becker, an Oklahoma City chef who started his own artisanal pasta company, Della Terra Pasta, in 2011. The featured pastas were made with Smith's Gold as well as standard semolina.
Becker, who appeared later on the program, explained that commercial pasta makers typically force the dough through extruders coated with Teflon to speed up the process, resulting in a very smooth noodle. By contrast, his pasta is pressed through traditional bronze dyes and has a rough surface, which allows sauces to cling.
When he started making specialty pastas, Becker said he was "mind-boggled" by all the different grains, wheat classes and varieties. Finding an OSU hard red variety suited to pasta came as a surprise, not only to him, but also to OSU wheat breeders and to the Oklahoma Wheat Commission.
"What we discovered (working with Chris) is that Smith's Gold has a less tannic taste and a unique texture and dough strength that makes it ideal for pasta," said Mike Schulte, the commission's executive director.
The experiment came about as part of a growing trend in which more artisan chefs and bakers are reaching out to the commission with an interest in procuring local wheat and developing unique products, Schulte said.
Cat Cox, pastry chef for the Living Kitchen Farm and Dairy, a rural farm-to-table restaurant near Depew, is an example of how the market is changing. She recently bought a cold stone mill to grind her own flour and teaches workshops in sourdough bread making at Tulsa's Mother Road Market.
"I think there's definitely an uptick in artisanal baking and people wanting to be more connected to their food," she said during a break.
The workshop was a deliberate exercise in furthering that connection, from Fernandez's morning in the field to the moment when he invited participants to try their own hand at shaping dough and scoring loaves.
As irresistible as touching and tasting can be, James Lockhart, an avid home baker from Tulsa, valued the agricultural lessons most of all.
"The science and the resources that go into growing wheat and developing new varieties was amazing to me," he said.
As for his impression of farmers, he said, "My hat's off to them. I can't imagine being a farmer. There are so many things they don't have any control over."
As a presenter and organizer, Schulte said his goal for the workshop was to make it comprehensive, affordable and consumer-focused. In the future, he plans to reach out to dietitians, physicians and other audiences in hopes of offering them similar training.
With so much ground to cover, Don Schieber, a wheat commissioner from Ponca City and the sole farmer in the group, said one of the biggest hurdles was simply deciding what to include and how much detail to provide.
But taking on that challenge was well worth it to he and his wife Cecelia, who value consumer education enough to invite dietetic students from OSU to visit their farm during wheat harvest every summer.
"The important thing is we've got to start somewhere," he said.